Fellowship Program Helps Train and Support Future Mental Health Providers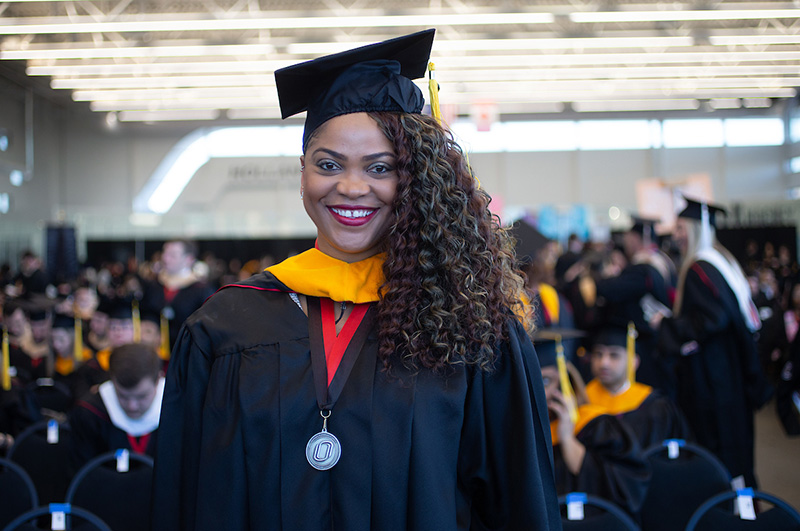 Through a fellowship program, UNMC's BHECN offers unique support for students in the Department of Counseling: a $10,000 stipend for completing clinical hours and experience at specialized internship sites.
---
According to the Behavioral Health Education Center of Nebraska (BHECN) website, 88 of Nebraska's 93 counties are recognized as mental health professional shortage areas by the U.S. Health Resources and Services Administration.
In 2009, the Nebraska Legislature created the BHECN program to address Nebraska's shortage of behavioral health professionals in rural and underserved areas by recruiting, retaining, and increasing the competency of the state's behavioral health workforce. Located at UNMC, BHECN is a collaborative of academic and professional stakeholders.
Through their fellowship program, BHECN partners with educational institutions across the state by offering stipends to students studying in specific mental health programs.
In the College of Education, 15 students from the Department of Counseling have received funding from BHECN since 2016, with five currently holding these fellowships at BHECN-affiliated sites as part of their clinical internship requirements.
BHECN-affiliated internship sites provide Counseling students with valuable opportunities to gain advanced clinical training in a variety of mental health settings, including the Munroe-Meyer Institute (MMI), integrated health care clinics, and at correctional facilities run by the Nebraska Department of Corrections, the largest provider of mental health services in the state.
Recent graduate and 2018 BHECN Fellow Ashley Weich-Petti interned at the Omaha Corrections Center (OCC), learning to apply different theoretical models and interventions to the issues presented by clients in a correctional setting.
"I saw clients individually and co-facilitated [behavioral health] treatment groups for clients in the Violence Reduction Program, Anger Management Program, and oHeLP Outpatient Sex Offender Program," said Weich-Petti.
"The clinicians at OCC helped me become more familiar with Dialectical Behavior Therapy, which has been helpful in my practice. I was also grateful for the opportunity to be supervised by an accomplished, very knowledgeable psychologist."
Recent graduate and 2018 BHECN Fellow Gina Mujinga Kadima also appreciated the opportunity to work in tandem with the mental health and medical professionals at her internship location, the Children's Physicians Dundee Clinic. Her favorite undergraduate class was Behavior Moderation, and it was valuable to see that therapy in action with the children, teens, and families served at the clinic.
"They used a behavioral model and a 6-week, solution-focused therapy at the clinic. It looked very different from what I learned in school, so I liked seeing the application and the changes compared to the theory. I also liked the experience of working in a medical setting," explained Kadima.
"The doctor can see the behavior discussed by the parent or caregiver, and clients receive immediate mental health treatment right next door. Catching issues faster means better outcomes."
According to BHECN Clinical Director, Dr. Joseph Evans, "We are proud to offer opportunities for Counseling students to do their internships with our BHECN programs in Corrections and Integrated Behavioral Health in Primary Medical Care. There are major opportunities for graduates to work in these fields and BHECN has invested grant and state funding to support students, all with the support and cooperation of an excellent UNO faculty."
UNO Department of Counseling Chair, Dr. Dan Kissinger, explains the impact of this partnership on students and the community, "Collaboration between medical and mental/behavioral health programs is critical to the prevention and care of our citizen's medical, behavioral, and mental health needs—and their ultimate wellness.
"Our partnership with BHECN provides students with opportunities to provide direct care to a diverse range of clients in a variety of clinical settings. Students also benefit from the opportunity to work, learn, and train alongside skilled clinicians, educators, and researchers. As a result, our students are better prepared to provide care to clients across different treatment settings and to work with interdisciplinary teams of medical and mental/behavioral health professionals."
Contact Us
If you have a story idea, news tip or inquiry please contact us at: