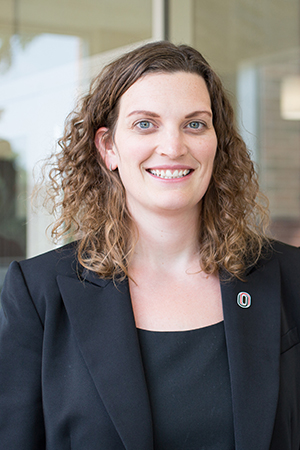 email:
office:
EAB  202
office phone:
fax:
402.554.3693
personal website:
digital commons:
note:
This profile is pulling in data from Digital Measures. Postings on personal websites or social media do not indicate that the individual is speaking on behalf of UNO.
General Information
Biography
Sara A. Myers, received her PhD at the University of Nebraska Medical Center in 2011 while using biomechanics to better understand functional impairments in patients with peripheral artery disease. Dr. Myers is currently the Assistant Vice Chancellor for Research (focus on STEM disciplines) and a Professor in the Department of Biomechanics. Her current research is focused on improving quality of life in older individuals and those with peripheral artery disease. Her research has been funded by the National Institutes of Health, Department of Veterans' Affairs, and NASA. Dr. Myers is a native of rural Hampton, Nebraska and she currently resides with her husband Matt and their five children.
Teaching Interests
BiomechanicsAnatomy and Physiology
Research Interests
lower extremity function in peripheral artery disease, human movement variability, gait biomechanics, rehabilitation, movement related pathologies
Service Summary
Dr. Myers has been a Health Sciences Councilor for the Council for Undergraduate Research since 2013. She also served on the Education subcommittee (2020-21) and the Predoctoral Award Committee (2020), and the Grant-in-Aid Review committee (2019-2020) for the American Society of Biomechanics.
Awards and Honors
40 Greater Omaha, Sarpy County and Council Bluff Entrepreneurs, Executives and Professionals Under the Age of 40, Service, Professional - 2014
Education
Ph D, University of Nebraska Medical Center, Omaha, NE, Biomechanics, 2011
MS, University of Nebraska at Omaha, Omaha, NE, Exercise Science, Biomechanics, 2007
BS, University of Nebraska at Omaha, Exercise Science, 2004
Scholarship/Research/Creative Activity
Selected Publications
Myers, Sara, Johanning, J, Stergiou, Nicholas, Lynch, T, Longo, G, Pipinos, Iraklis. 2008. Claudication distances and the Walking Impairment Questionnaire best describe the ambulatory limitations in patients with symptomatic peripheral arterial disease..
Bashir, A, Dinkel, Danae, Bapat, Ganesh, Despiegelaere, H, Hassan, M, Johanning, J, Pipinos, I, Myers, Sara. 2021. Considerations for Implementation of an Ankle-Foot Orthosis to Improve Mobility in Peripheral Artery Disease., Archives of rehabilitation research and clinical translation, 3, 1, 100092.