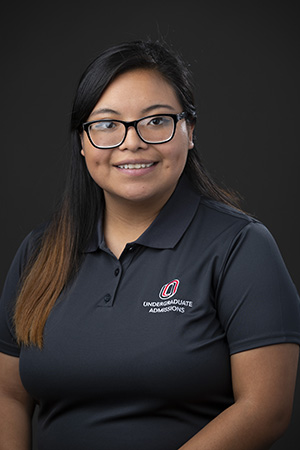 Catarina Diego Francisco
Transfer Admissions Representative
---
Additional Information
---
High School
Omaha South High School
About Catarina
What was your first connection with UNO?
I ended up doing my undergraduate at UNO. I have been at UNO since 2013 when I started college and graduated from UNO in 2017. I worked on campus right after I graduated through College Possible an Americorps position at the Multicultural affairs office. I did that for about two years and now I currently work in admissions.

How did you learn about UNO?
I learned about UNO through my older brother who attended college before me. Before that, I didn't even know where UNO was or even heard of it.

What is one of your first experiences with UNO?
My first experience was probably taking a tour of UNO at orientation and realizing how big it was. Even though at the time it wasn't as big as it is now. Not only that, but my first week as a UNO student and having to enjoy all of the back to college day events like Durango Days.

What is one of your best experiences with UNO?
Some of the best experiences I had with UNO was having the opportunity to study abroad as a student. As a first generation student, I never in 100 million years thought I would have the opportunity of going abroad to London and seeing that part of the world before. I also did a lot of touring different cities with my sorority to attend conferences so that was also a great experience I enjoyed while attending UNO.

What do you enjoy most about working with students?
What I enjoy most about working with students is the dedication every single one of them have. They always look at the brighter side of things and almost always put the most effort into what they are doing. They always persevere when things get tough and no matter what they have going on, they always find a way to get through it.

What do you enjoy most about working at UNO?
I enjoy getting to know my colleagues and getting to know them as a professional/person. They always have a smile on their faces and I enjoy talking to them about their passion for higher education.

What makes UNO unique from other universities?
I think what makes UNO different from other universities is the people that work here. They are always looking out for the best interest of the students and making sure that each student feels welcomed on campus.

Share a little bit about your student experience.
I had an older brother who attended college before me. Even so he wasn't as helpful as he could have been. The first year was tough on me since I honestly did not know what to expect. I was on academic probation my first year which made me realize that I needed to step up my studying habits if I wanted to be a successful college student. I also realized that I needed to find a community where I could have people to connect with. I ended up joining a sorority which was the best decision I made because without them, I believe I probably would have given up on a higher education. These ladies kept me accountable and always made sure I was sane throughout the four years I was at UNO.

Were you a first generation student?
I was a first generation student and now I have two younger siblings who are currently in college. I enjoy helping them through the college process and giving them advice on what not to do.

Were you a part of program here?
I was part of the Thompson Learning Community and Fraternity/Sorority Life with Lambda Theta Nu Sorority Inc.

Why did you choose to come work here after you graduated from here?
I enjoyed working so much with UNO students that I decided I was not ready to leave UNO yet. My experience as a student and as a staff member have all been positive. I am not ready to leave all the wonderful students that I had the opportunity to work with and get to know just yet.