Benefits of a Campus Visit as a Graduate Student
Explore university grounds, tour facilities, meet with faculty, and learn about student life and resources during a campus visit.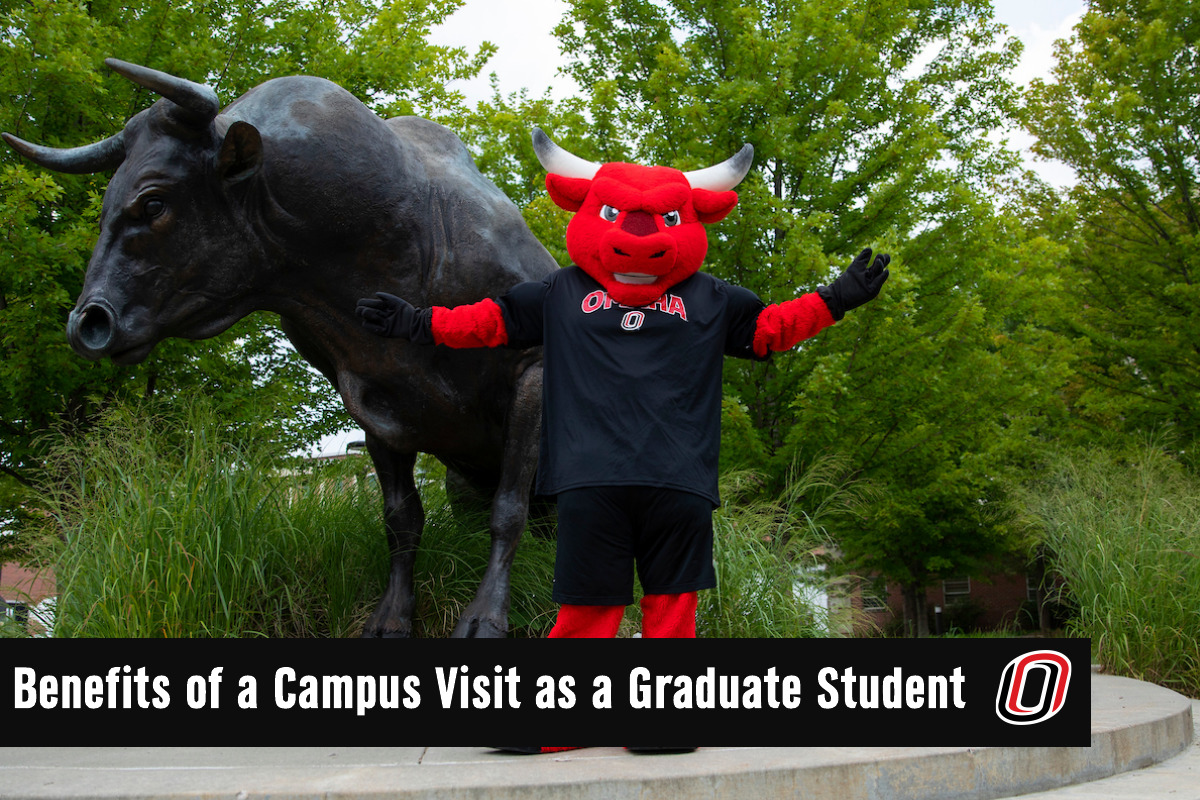 Value in Visiting Campus
Graduate school is a major investment of time and money, and a campus visit can go a long way in helping a prospective student find the right school, program, and faculty for their academic and career goals. Prospective students who experience an on-campus visit will see first-hand what the college offers for student resources, facilities, and the overall campus environment.
Prospective students can talk to current students, faculty, and staff. They can explore classrooms, check out the food options, step into the library, and wander around the campus grounds. According to a U.S. College Statistics: 2023 survey, visiting a college campus was considered immensely helpful by 68% of students.
The advantage of registering for a formal campus tour with an official tour guide is that they will have a sense of what a prospective student is interested in seeing and can often give insight of the university's history and fun facts about campus.
Prospective students can look at the admissions calendar or graduate studies website to see when there are events like an open house weekend for prospective graduate students or alumni panels that may be offered. Visiting campus on one of these days will also give students the chance to meet other prospective graduate students who are interested in the same or similar programs. Students will be surrounded by others going through the same process as them and have the chance to meet and discuss their experiences, questions and more.

Planning a Trip to Campus
Choosing a graduate school is different than choosing a university to earn an undergraduate degree. Graduate school is heavily focused on a student finding the best fit for their research needs and career goals. Planning a trip to experience the campus environment can help students determine the pros and cons of each college they are considering.
Connect with Departments, Programs, and Faculty
Once prospective students find themselves on campus, they have many opportunities to make connections within the university community. Students can speak with faculty members within the program of interest, admission counselors, enrollment specialists, and current students or student ambassadors.
Students can also stop by the financial aid office for quick questions or make an appointment to go over affordability options for graduate school.
Prospective students should swing by the department office of the program they are interested in and pick up copies of any journals or other publications the department has created. These can offer valuable insights into the program's character and feel. For conversations with faculty, students are suggested to do some research ahead of time about the professor's area of research and recent publications and be prepared to share about their specific professional and academic interests and how they relate to the program.
Explore Off Campus
With each college visit, students should plan to set some time aside to explore the surrounding area outside of campus. When a student chooses their college, they are also deciding on a community where they will be spending most of their time for the next few years, so it is important to get to know all of what a university, city, or town has to offer them.
Neighborhoods and Housing
Choosing a graduate school can also mean students are picking a new home base. When a student is visiting a campus, they can explore different off-campus housing. Keeping in mind transportation from home to campus. Learning if there is a need for a car or figuring out public transportation and overall ease of getting to and from campus.
This insight can help students clarify what they are looking for in a college and community that is best aligned with their needs and decide which schools to apply to and eventually enroll at.

After Completing a Campus Visit
After a student wraps up a campus visit and tour, it is suggested to send thank you notes to the faculty, students, and staff they met with. Following up with a thank you note can help prospective students keep channels of communication open and help build relationships with their prospective programs and faculty.
Students should take time to reflect on their campus visit experience and take note of key points they liked and disliked about the university, program, or faculty to help look back on during their final decision process.

UNO Graduate Student Campus Visit Experience
Visiting campus is the best way to get a glimpse into Maverick life and all that graduate students can accomplish at UNO. There is also a virtual campus experience for international students or for those who cannot travel to campus.
The graduate student on campus visit is offered the first Friday of every month and includes the following:
A presentation from the Office of Graduate Studies about everything a student needs to know if they are

considering graduate school at UNO

.

A tour of campus and opportunities to meet professors from their program of interest

Each attendee will receive our viewbook and various other items to help a student on their journey through graduate school.
Sample Itinerary:
3:00 P.M. – Office of Graduate Studies presentation
3:30 P.M. – Tour of campus begins
4:15 P.M. – Meeting with a professor or advisor
5:00 P.M. – Visit ends

About UNO Office of Graduate Studies
The UNO Office of Graduate Studies has more than 110 years of experience educating professionals and academics, and helping individuals succeed in their careers. The mission of the Office of Graduate Studies is to develop, enhance, and promote outstanding graduate education; to ensure a rich environment for learning, creative activity, and the discovery and communication of new knowledge; and to be recognized for excellence in regional, national, and global engagement and contributions. With over 90 graduate programs at all levels, UNO has numerous opportunities.
About the University of Nebraska at Omaha
Located in one of America's best cities to live, work and learn, the University of Nebraska at Omaha (UNO) is Nebraska's premier metropolitan university. With more than 15,000 students enrolled in 200-plus programs of study, UNO is recognized nationally for its online education, graduate education, military friendliness, and community engagement efforts. Founded in 1908, UNO has served learners of all backgrounds for more than 100 years and is dedicated to another century of excellence both in the classroom and in the community.