UNO Center for Public Affairs Research Receives Inclusive Ecosystems Grant
published: 2022/10/10
contact: Josie Schafer - Center for Public Affairs Research
email: jgschafer@unomaha.edu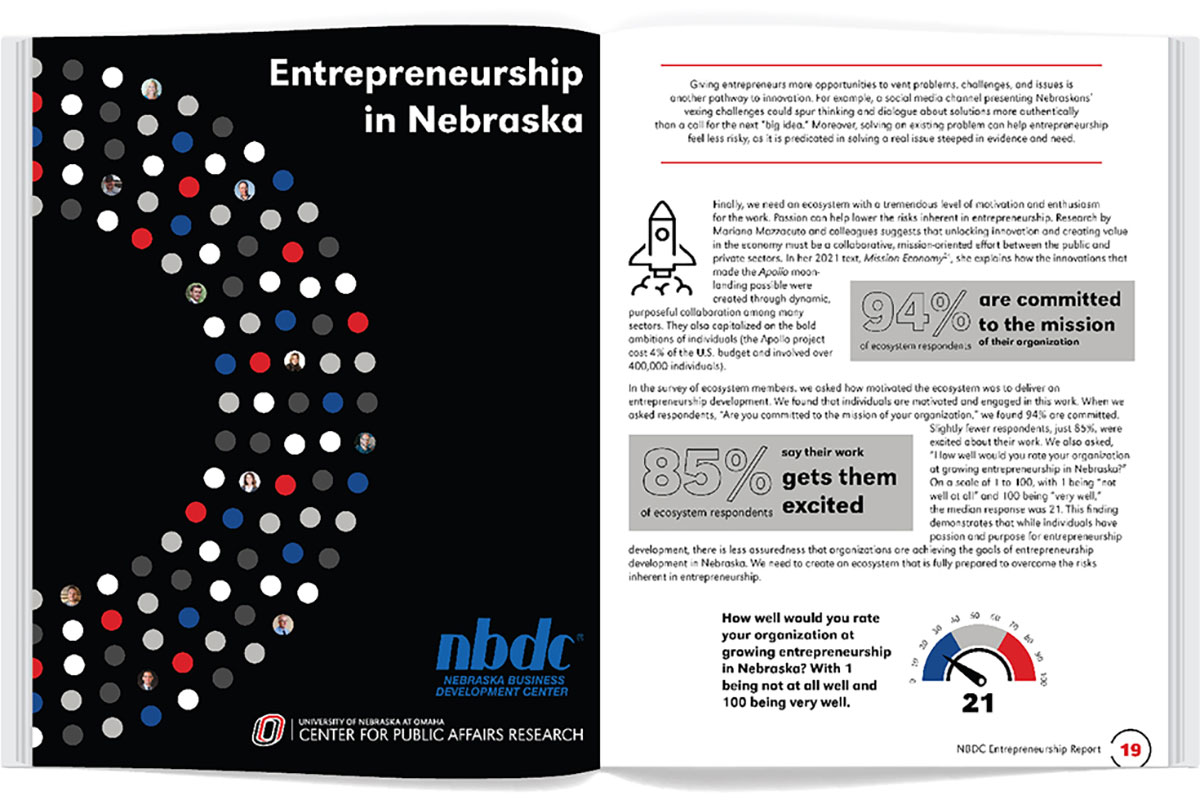 Growing the number of entrepreneurs in Nebraska is a tremendous opportunity for economic development; however, Nebraska has struggled to attract and grow new businesses over the past several years. These findings and more were published in a 2021 report from the University of Nebraska at Omaha's Center for Public Affairs Research (CPAR) in collaboration with the Nebraska Business Development Center. Now, the Ewing Marion Kauffman Foundation is granting UNO CPAR $310,000 to conduct original research on the impacts of representation and decision-making in the entrepreneurship ecosystem.
Josie Gatti Schafer, principal investigator and director of CPAR explained, "This research will offer in-depth evidence of how entrepreneurial ecosystems and their members work to grow entrepreneurship in Nebraska with a focus on who is included in the process and how individuals and organizations work together to ensure their efforts maximize value." Schafer went on to explain, "… previous research suggested that many efforts to grow entrepreneurship in Nebraska are currently underway with some successes; however, some felt the system was disconnected and not all potential opportunities were realized and acted upon. As a result, this research will generate practical evidence for ecosystem practitioners to ensure we equitably capitalize on all opportunities to grow our economy."
Inclusive Ecosystems Grants were awarded by the Kauffman Foundation to bring focus to a less-studied area of research: the impact of systemic forces on entrepreneurial ecosystems. Chhaya Kolavalli, senior program office, entrepreneurship explained, "We look forward to seeing where research can help provide additional support and exposure to the innovative work ecosystem builders are already leading in Heartland communities. By prioritizing community voice and perspective, these projects will ultimately continue to embed equity into the foundation of the research we support."
About UNO CPAR
CPAR collaboratively produces and disseminates high-quality public scholarship about topics that impact the lives of Nebraskans. Ongoing projects from CPAR include policy analyses for the Planning Committee of the Nebraska State Legislature, the Nebraska Rural Transit Project, governing.unomaha.edu, and designation by the U.S. Census Bureau as a statewide liaison for disseminating a range of data products. Visit cpar.unomaha.edu to access CPAR's extensive data resources on state and local issues in Nebraska.
About the Kauffman Foundation
The Ewing Marion Kauffman Foundation is a private, nonpartisan foundation that provides access to opportunities that help people achieve financial stability, upward mobility, and economic prosperity – regardless of race, gender, or geography. The Kansas City, Mo.-based foundation uses its grantmaking, research, programs, and initiatives to support the start and growth of new businesses, a more prepared workforce, and stronger communities. For more information, visit www.kauffman.org and connect with us at www.twitter.com/kauffmanfdn and www.facebook.com/kauffmanfdn.