Dowell Tabs Dowling As Men's Soccer Head Coach
published: 2022/06/28
contact: Omaha Athletics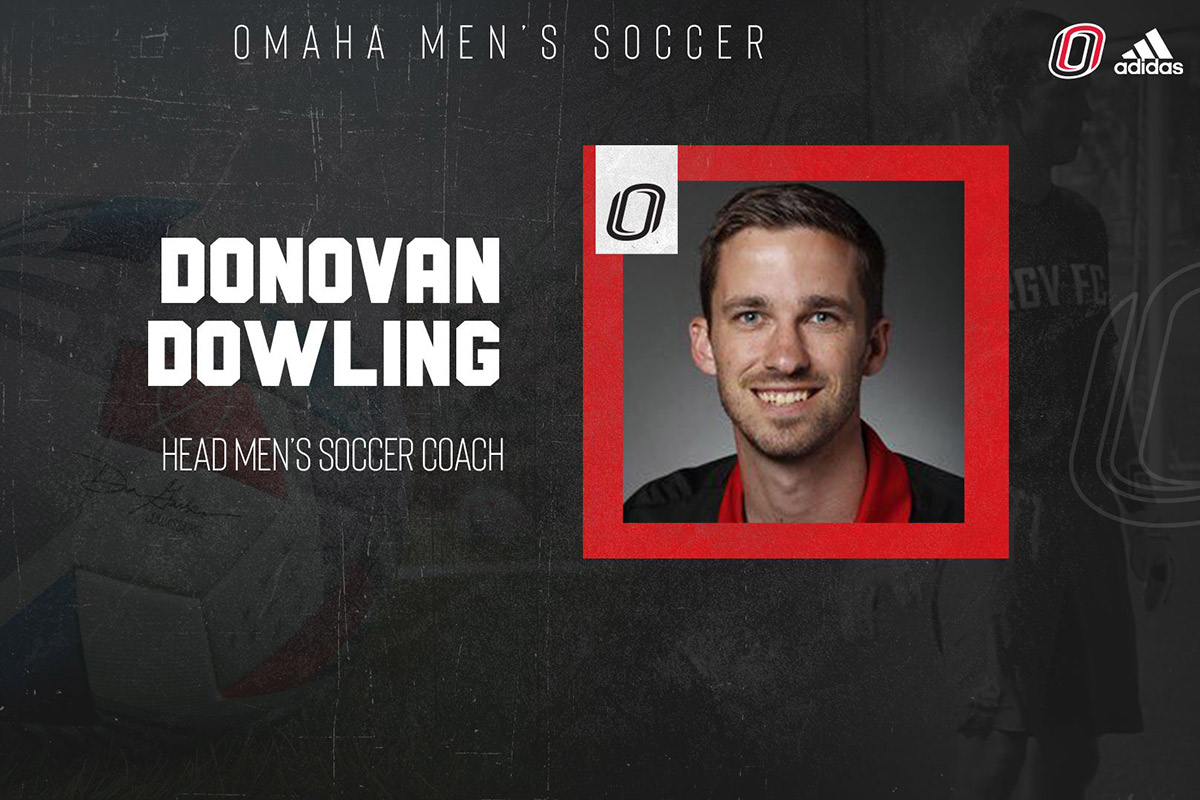 From OMavs.com – Vice Chancellor / Director of Athletics Adrian Dowell announced Louisville assistant coach Donovan Dowling as the new head coach of Omaha men's soccer. He is the third head coach in the program's history.
"It's another exciting day for Omaha Athletics as we welcome Donovan to Omaha to lead the men's soccer program," said Dowell. "Over the past decade, coach Dowling has played an integral role in the success of several programs including Louisville, UTRVG and Fort Hayes State. In addition to previously serving as a head coach at the Junior College level.
"Donovan is recognized as one of the top recruiters in the sport and has demonstrated a commitment towards developing student-athletes on and off the pitch throughout his career."
"We are thrilled to have someone of Donovan's coaching acumen and experience in the Summit League as a student-athlete lead our team as we strive to use the program's momentum to reach unprecedented heights for Maverick men's soccer."
Dowling comes to Omaha after a four-year stint with the Cardinals serving as an assistant coach and recruiting coordinator. He helped lead the program to 36 wins, three NCAA tournament appearances, and a Sweet 16 finish.
Louisville made the NCAA tournament in three of Dowling's four seasons with the program. Last season, the Cardinals earned a share of the regular season title en route to a NCAA tournament appearance. In 2019, Louisville made a run to the Sweet 16 with wins over USF and UC Davis.
In his first season, the Cardinals clinched the program's first ever ACC title after defeating No. 18 Notre Dame, No. 1 Wake Forest, and No. 4 North Carolina. They advanced to the second round of the NCAA tournament that season.
Dowling also led the charge for Louisville recruiting and is recognized as one of the nation's top recruiters. In three consecutive seasons, he brought in recruiting classes ranked in the national top-20. The 2020 recruiting class ranked sixth, the 2021 recruiting class ranked eighth, and the 2019 recruiting class ranked 20th. Twelve of Dowling's players went on to be drafted or signed by MLS or USL Championship teams.
While at Louisville, Dowling helped Cardinal student-athletes achieve a 3.2 team GPA to go with an APR over 975. He led the squad in community service efforts posting the most community service hours of any male sport at the university. He also served as chair of the Louisville Assistant Coach Academy and participated in the ACC Coaching the Whole Athlete Winter Cohort.
"I would like to thank Adrian, Brian Carey, Mike Kemp, and the rest of the search committee for entrusting me with this tremendous opportunity," said Dowling. "I am humbled and honored to work for such a special academic institution and athletic department. I look forward to continuing to build on the tremendous foundation that has been previously established while growing a program that is synonymous with academic achievement, community engagement, and athletic excellence."
Prior to Louisville, Dowling served a three-year stint with UTRGV. He helped restart the NCAA Division I program in 2015, serving as the team's top assistant coach. With UTRGV, he was the lead recruiting coordinator overseeing all recruiting efforts and managing scholarship offers.
Among his other duties, Dowling was responsible for opponent scouts, scheduling on-field training, team periodization and sports science, compliance, team academic, admissions and financial aid support, equipment oversight, and team travel.
While coaching at UTRGV, Dowling simultaneously served as the goalkeeper coach for Rio Grande Valley FC. He spent the 2016 and 2017 MLS preseasons training with the Houston Dynamo.
From 2013-14, Dowling served as the head men's and women's soccer coach at Northeast Texas Community College. He helped the men achieve a 2014 DI NJCAA National Tournament appearance and was named a finalist for the NSCAA Junior College National Coach of the Year award. He coached both teams to the most wins in program history after his arrival.
Dowling's collegiate coaching career began in 2011. He served as an assistant coach with Fort Hays State in Kansas through the 2012 season. There, Dowling helped start the soccer program, eventually leading the squad to a NCAA Division II Sweet 16 appearance in 2012.
Dowling played four years of college soccer. He closed his career with two seasons at Fort Wayne earning All-Summit League recognition. There, he holds the all-time record for goals against average and shutouts in a season.
He played his first two collegiate seasons at Barton County Community College, where he was a Third Team All-American and First Team NSCAA All-Region and All-Conference honoree, leading his team to the No. 2 ranking in the nation while serving as the sophomore captain. A two-year starter, Dowling compiled a 39-4-2 record during his career.
A native of Olathe, Kansas, Dowling earned his bachelor of general studies from Indiana and added a master of science in sports and human performance from Fort Hays State.
"Our program will be one that is not only talented and exciting to watch on the field, but one that is also character driven and represents the ethos of Omaha," Dowling continued. "We will carry ourselves in a way that makes the alumni, university, and Omaha community proud."
A press conference will be held at Baxter Arena in the Club Lounge at 10 A.M. Thursday, June 30. Media and public are invited to the event. Doors will open at 9:30 A.M. A stream will also be made available at OMavs.com and on Twitter @OmahaMSOC.
About the University of Nebraska at Omaha
Located in one of America's best cities to live, work and learn, the University of Nebraska at Omaha (UNO) is Nebraska's premier metropolitan university. With more than 15,000 students enrolled in 200-plus programs of study, UNO is recognized nationally for its online education, graduate education, military friendliness and community engagement efforts. Founded in 1908, UNO has served learners of all backgrounds for more than 100 years and is dedicated to another century of excellence both in the classroom and in the community.
Follow UNO on Facebook, Twitter, Instagram, TikTok, LinkedIn, and YouTube.