Service Learning Academy Recognizes Faculty, Partners at Showcase
Attendees shared examples of overcoming the challenges presented by the pandemic to continue creating positive change in the community and the classroom.
contact: Office of Strategic Marketing and Communications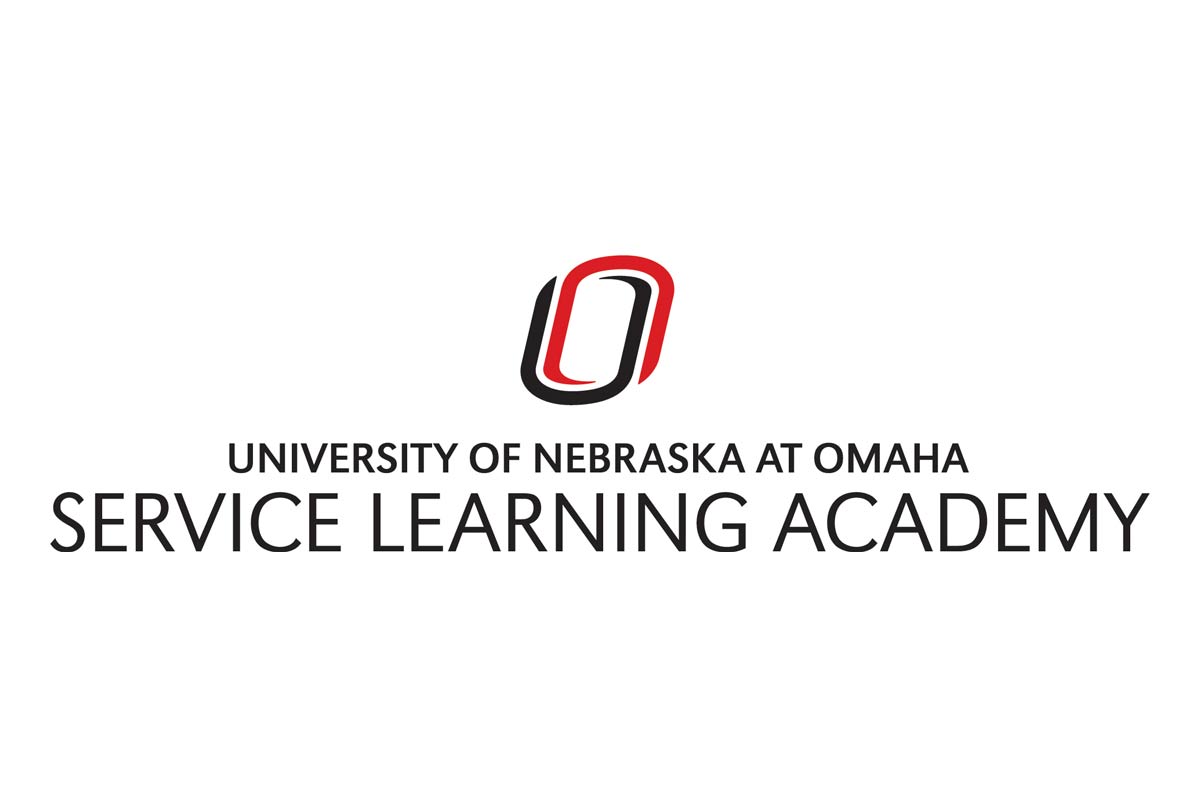 Through the pandemic, people and organizations have been defined by how they pivot. From in-person learning to social gatherings to community service, every activity where people normally engage face-to-face has been upended.
Since March of 2020, UNO's Service Learning Academy has worked to help faculty members and community partners pivot and continue their important work as the demands caused by the pandemic have ebbed and flowed. The office recently held a celebratory service learning showcase on Monday, April 18, to recognize the students, staff, faculty, and community partners who have worked hard to continue serving the Omaha community despite the challenges presented by COVID-19.
"Your efforts show our metropolitan mission is really activated within a global pandemic, where there are assaults on brown and black communities, social justice attacks, war, and a myriad of other challenges," Julie Dierberger, Paul Sather Distinguished Director of the UNO Service Learning Academy, said. "Your efforts have provided a space and opportunity for long overdue conversations about these issues that build the skills and prepare our students for the leadership in this global world that we know they need."
Despite the pandemic, the number of service learning courses offered at UNO has continued to increase, with the Service Learning Academy working to support the faculty and community partners adapting to various safety measures. With 249 service learning courses being taught at UNO in just the last year, and continued growth on the horizon, this support means more students can serve their community while developing new skills and furthering progress towards their degree.
"We learned to adapt to what the rest of the world was doing: looking at their screens and finding interconnectivity online," Jackson Hardin, a senior communications major and Service Learning Academy student worker said. "It's my hope for the future that we will continue to bring the lessons that we learned in this virtual environment in our in-person environment, because for me, it was an extremely meaningful service. Even though we were separated, I never felt closer to my community at Omaha."
Just one of the many community partners that had to adapt was Blackburn Alternative High School, which has been heavily involved in service learning with UNO for over a decade, including co-creating murals in the community, collaboratively serving meals to senior citizens, and working with shelter animals. One of the projects that was added to adapt to the pandemic was having UNO students help Blackburn students write letters to community partners all while learning about how color and language can convey messages.
"Our students have really become involved in the community and there's nothing on Earth more powerful than that," Cathy Nelson, Service Learning Coordinator and Teacher Leader at Blackburn Alternative High School, said. "We see what it does for kids and how much it helps them integrate what they're learning."
With the help and flexibility of so many, and the dedication of the faculty members and community partners choosing service learning as a method of teaching, the Service Learning Academy has continued to make engaged teaching and learning a priority and adapt to many challenges over the years.
It is these experiences that not only build workforce skills, preparing UNO students for their futures, but develops skills such as critical thinking, interpersonal communication, problem solving, and empathy. It is something that UNO Chancellor Joanne Li said has not only benefitted our community but been a true asset to students as well.
"Service learning is truly the core of a university, something that we're proud of," she highlighted at the event. "Our success rests with and rests on the partnerships we have with business and the community because we know resources are limited. It is only through our partnerships that we get the talent, the time, the stretch resources for us to do more for our students."
About the University of Nebraska at Omaha
Located in one of America's best cities to live, work and learn, the University of Nebraska at Omaha (UNO) is Nebraska's premier metropolitan university. With more than 15,000 students enrolled in 200-plus programs of study, UNO is recognized nationally for its online education, graduate education, military friendliness and community engagement efforts. Founded in 1908, UNO has served learners of all backgrounds for more than 100 years and is dedicated to another century of excellence both in the classroom and in the community.
Follow UNO on Facebook, Twitter, Instagram, TikTok, LinkedIn, and YouTube.