CPL Summer 2021 Services Update
To safely meet the media and creative needs of the UNO community, the Creative Production Lab has shifted to a remote assistance focus. Core services, software, and equipment are still available for use in an altered format.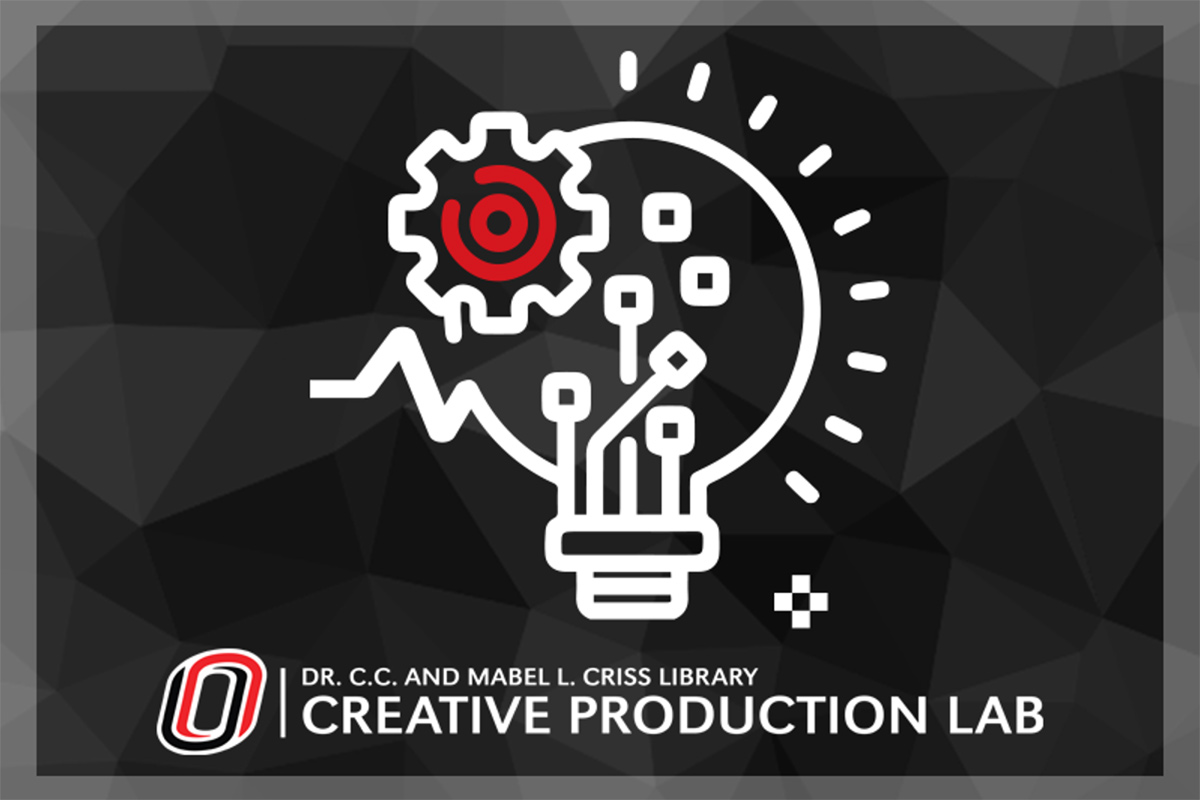 For the Summer 2021 semester, the CPL will continue to provide remote or distanced services to all patrons. We wish to maintain our high quality of one-on-one project assistance and media production education in the safest manner possible for our staff and patrons. To this end, some of our services have been altered in terms of availability or staff-time focus.
At this time, all services in the CPL are by appointment only. There will be no walk-in availability. No patrons will be allowed in the space without a mask worn at all times. Staff will primarily offer aid from an online work-at-home structure, and may only be in the space to complete a prior request or assist with an approved appointment. To offset this inconvenience, we are making ourselves and our student assistants available by direct email and video conferencing. If a digital project can be completed through screen sharing or a link to pre-recorded video assistance, that course of action will be our first option presented before making an appointment to meet in the space for use of equipment or computers.
To ask questions, get project help, or to set up a video session, email our team at unolibrarycpl@unomaha.edu
CONTINUED SERVICES
Our most popular service for faculty in aid to student learning is Video Streaming. We can take physical media such as a VHS, DVD, or Blu-ray disc, convert it into a digital format, and provide you with a weblink to be shared with students to allow at-home viewing of media. Faculty can drop off personal media with our circulation desk or find a title in our collection online.This is done on a per-semester basis, and the link provided to you will only work for the time period the class is offered. To begin the process, fill out our form, or email the team with questions. We generally make links available a minimum of 5 business days from when we receive physical media. Given the current request load, we ask that you make any media requests 2-3 weeks in advance of any assignment that students may need access, and preferably the semester prior to the course. We have made this service a priority for staff time given the shift to partially online delivery of many courses on campus.
Our Large Format Printing and 3D Printing services are operating as normal, albeit with slightly extended completion times. 3D scanning services using our NextEngine scanner are available on request, but objects must be able to be sprayed with disinfectant prior to handling.
ALTERED SERVICES
We will not be offering tours or workshops in person. Should your class require a software overview, mini workshop, or virtual tour of the CPL, please contact our supervisor to coordinate a web-based presentation or video solution.
Given the lack of student access to Adobe Creative Cloud software outside of limited computer stations on campus, we've compiled an actively updated list of Open Source software for all media creation purposes. It is available for access HERE. Staff is available to assist with learning and transitioning to the majority of these offerings.
For those in need of using software on our computers, we have three Mac Pro units and one Windows 10 PC available on an appointment-only basis. If you need document/art scanning, digitization equipment, or access to our full suite of software, you can make an appointment 24 hours in advance on our LibCal page. These computers have been set up with CDC recommended spacing and with appointment gaps for additional cleaning measures. Should you require access to our computers to retrieve media from past work, please email our team to set up a special appointment in the instance that your work is on a computer not available via our regular appointments. Staff will be available during your appointment to assist from a distance.
We have changed the accessibility measures of our GreenScreen recording space. Like our computers, this space can be booked for an appointment via LibCal 48 hours in advance, and must be approved by staff. We are limiting use of the equipment and space to a maximum of 2 patrons at any time, with a maximum video recording time of 1 hour, with 30 minutes reserved for media retrieval. Patrons will be required to wear their mask at all times, even during filming. No exceptions will be made to this requirement. Patrons will be responsible for the operation of all equipment on their own. Staff will set up lighting, backdrops, and cameras, but will not be actively present within the greenscreen area during recording. Until further notice we will not engage in 3D scanning of human subjects with our Sense scanner in the area. Projects requiring only photography where a patron does not need to remove their mask or use microphones will be given priority. Editing of media must be done as a separate appointment if it will take longer than the requested appointment time.
Faculty needing assistance on recording class materials or editing videos for online class applications should email our team directly so we can set up multiple or longer appointments to meet your academic needs.
Our multimedia inkjet, laser engraver, vinyl cutter, and cricut units have been moved to a by-request and case-by-case basis. Patrons will not be allowed direct operation of any of these services, but can coordinate project completion with CPL staff on a patron's behalf. To limit staff-on-campus, we will only be processing academic projects. Projects requiring patron-provided objects or media will not be undertaken at this time. To coordinate your project with CPL staff, please email our team directly.
Current use of the laser has been for the express purpose of assisting faculty and students in the creation of at-home learning kits to enable distanced learning. If the course you are taking or teaching would be benefited with custom-cut project kits or equipment, please reach out to our supervisor to see how we might assist.
CLOSED SERVICES
For the safety and health of all, our Virtual Reality and Augmented Reality headsets have been deep cleaned and placed in storage. Direct facial contact with a shared device for extended periods of time in an inclosed area is simply too much of a risk even with enhanced cleaning measures.
Heatpress vinyl (t-shirts and other cloth items) will not be in operation at this time due to extended physical contact with patron-provided materials. Because heatpressing is prone to unintended error or damage to personal goods, staff will not undertake these projects on a patrons's behalf.
Our Whisperbooth and audio recording equipment are not available for patron use at this time. Given the need to remove your mask, vocally project onto a porous surface, and be fully enclosed in a self-circulating micro-room, there is no way to confirm safe operation of this service at this time.
For additional questions, project assistance, or special needs please reach out to the CPL Supervisor, Charles Fisher, at cfisher@unomaha.edu