3D Printing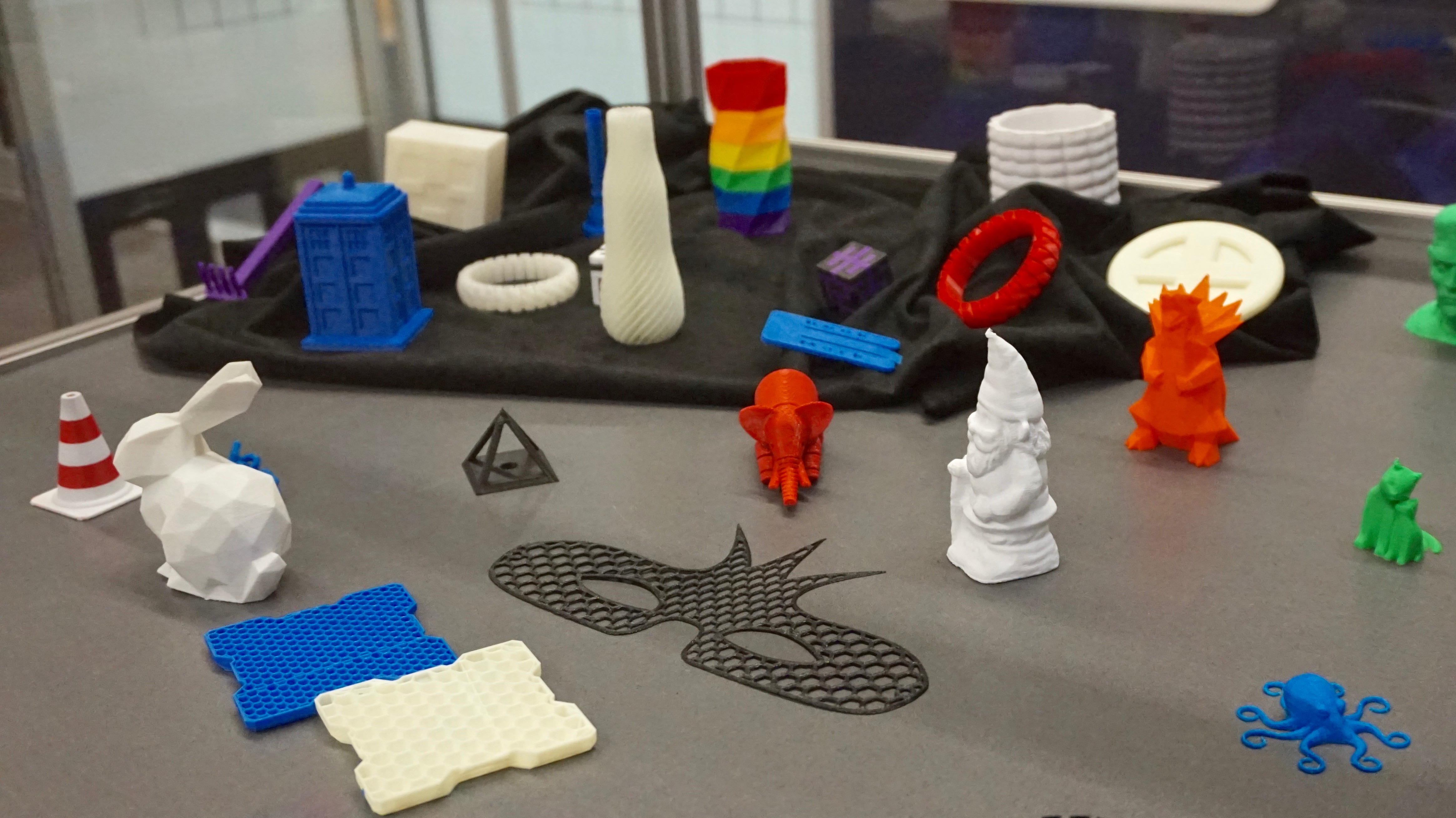 Printer Type
Cost
Dimensions
Material
Lulzbot Taz 6
$.10/gram
280 mm (x) x
280 mm (y) x
250 mm (z)*
ABS, PLA, NinjaFlex ($.15/gram)
Lulzbot Mini
$.10/gram
150 mm (x) x
150 mm (y) x
150 mm (z)
ABS, PLA, NinjaFlex ($.15/gram)
LittleRP
$.20/mL
60 mm (x) x  
40 mm (y) x
100 mm (z)
Resin
Makerbot Replicator 2x

$.10/gram

150 mm (x) x




150 mm (y) x




150 mm (z)

ABS
Submit requests as STL files.  Prints take an average of 3-5 business days.  Prints not picked up within 10 days of completion are subject to a fine on the patron's library account.
*Requests within these dimensions may need to be sized smaller due to time limitations.
---
Start Your 3D Project
Take note of our policies for 3D printing.
Choose the file you want to have printed. 3D models can be found here:
Thingiverse: This site offers free 3D models available for download.
Yeggi: This site is a compilation of 3D model sites. Many are free, but some require payment.
Want to create your own file?
---
Once You Have a File
Patrons can request an appointment to watch their 3D print or go through the 3D printing process with the lab staff.
Pick Up Your Completed 3D Print
Lab staff will contact you when the print is finished. 3D printed items can be picked up at the Circulation Desk in the library. Cash and MavCard are accepted.
---
Create Your Own 3D Models
Available in   
browser

Basic, Easy-to-use; good for beginners

Available in
the CPL

Offers more control,but still a good  place for beginners.
Available in
the CPL

Complex. Allows for the most control and development 
of the models, but most difficult to use. Suite includes 
popular software such as Inventor, Maya, and 3DS Max.
Free three-year licenses for students.

Available for
download
A less user friendly version of Maya. For those who want
complex 3D modeling but do not have access to Maya.
---
Scanning an Object in 3D
Create a 3D model of yourself by using our 3D body scanner.  
Set up an appointment to come in and get scanned.
Allow 2-3 business days for us to clean up the model.
Request a 3D printed version to take a mini figurine with you.
Questions? Contact lab staff and we can help you with your project.
Policies for 3D Printing
The library's printers, and all other systems, may be used only for lawful purposes. Patrons will not be permitted to use the 3D printers to create material that is: 
Prohibited by local, state or federal law.
Unsafe, harmful, dangerous or poses an immediate threat to the well-being of others. (Such use may violate the terms of use of the manufacturer.)
Obscene or otherwise inappropriate for the library environment.
In violation of another's intellectual property rights. For example, the printers will not be used to reproduce material that is subject to copyright, patent, or trademark protection.
Additionally:
Our Campus. Otherwise Known as Omaha.
The University of Nebraska does not discriminate based on race, color, ethnicity, national origin, sex, pregnancy, sexual orientation, gender identity, religion, disability, age, genetic information, veteran status, marital status, and/or political affiliation in its programs, activities, or employment. Learn more about Equity, Access and Diversity.
scroll to top of page