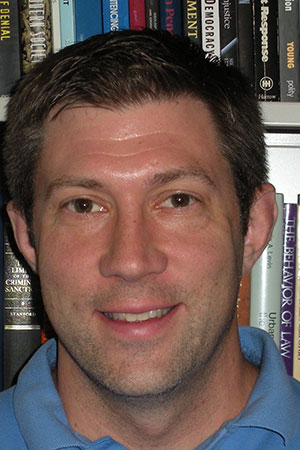 Additional Information
In Memory
Benjamin M. Steiner passed away on January 22, 2019, at the age of 43 after a hard-fought battle with cancer. Ben was born on March 3, 1975 to Kathy (Jarolimek) and Stan Steiner in Bismarck, North Dakota, where he also spent his formative years of schooling.
Ben received his B.S. in Sociology from North Dakota State University in 1997 and worked as a youth counselor and juvenile probation officer in Idaho. Ben earned a M.A. in Criminal Justice from Boise State University in 2002 and received his Ph.D. in 2008 from the School of Criminal Justice at the University of Cincinnati. He was an assistant professor in the Department of Criminology and Criminal Justice at the University of South Carolina from 2008-2012 and promoted to associate professor rank in 2012. He joined the School of Criminology and Criminal Justice at the University of Nebraska Omaha in 2012 and earned full professor rank in 2017. 
Over the course of his short career, Ben became one of the nation's leading scholars of institutional corrections. He was awarded the Young Scholar Award from the Academy of Criminal Justice Sciences' Juvenile Justice Section in 2009, the Distinguished New Scholar Award by the American Society of Criminology's Division on Corrections and Sentencing in 2012, and the Outstanding Research Award by the School of Criminology and Criminal Justice at the University of Nebraska Omaha in 2012. He amassed over one million dollars in state and federal grants while producing two books, 60+ journal articles, numerous book chapters, project reports, and monographs. A great deal of his work involved partnerships with local and state corrections institutions in Iowa, Minnesota, Nebraska, and Ohio. Many of his publications and research projects also involved students who called him an outstanding mentor.
Ben's scholarship contributions were exceptional in depth and rigor. Always at the forefront in his field, his accumulated knowledge on causes of prisoner misconduct and victimization, consequences of in-prison misconduct and the sanctioning of offenders, and sources of correctional officers' behaviors and attitudes toward prisoners have influenced the trajectories of many criminal justice scholars.
To those who knew him well, Ben was funny, witty, passionate, and warm-hearted. In his spare time, he renovated his 100-year old home, planned family vacations, cooked great meals, exercised, and played card games. He enjoyed traveling to new places – preferably with water or mountains. Ben's professional and personal life had great meaning and he will be deeply missed by all those who knew him.  
Ben leaves behind his beloved wife Emily (Wright), whom he met and married while they were both doctoral students at the University of Cincinnati. He was a devoted husband and wonderful father to their son, John. Ben is survived by parents Kathy Jarolimek (Ken) in Bismarck, North Dakota and Stan Steiner (Joy) in Jackson, Wyoming. Brothers and sisters: Keith Jarolimek (Kim), Colorado Springs, Colorado; Kristy Owens (Eric), Lincoln, North Dakota; Angie O'Hara (James), Yuma, Arizona; Matthew Jarolimek (Christy), Minneapolis, Minnesota; Lea Steiner and Avi Steiner, Boise, Idaho. Ben also leaves behind two grandmothers: Angela Jarolimek, Fargo, North Dakota, and Jane Berryman, Guthrie, Oklahoma, and many nieces, nephews, uncles, aunts and cousins. He also was preceded in death by his grandparents: Carl and Mary Radloff, John F. and Anna Marie Steiner, Matt Jarolimek, and Oscar Berryman.
A memorial service is being planned for Saturday, March 2, 2019, at 3 P.M. in the University of Nebraska at Omaha Thompson Alumni Center. In lieu of flowers, memorials may be sent to either:
University of Nebraska Foundation
The Dr. Benjamin Steiner Fellowship for Criminal Justice Professionals
1010 Lincoln Mall, Suite 300
Lincoln, NE 68508
or 
The American Society of Criminology
The Benjamin Steiner Outstanding Research Award
1314 Kinnear Rd., Ste. 212
Columbus, OH 43212