Midlands Sexual Health Research Collaborative Receives Equality Fund Grant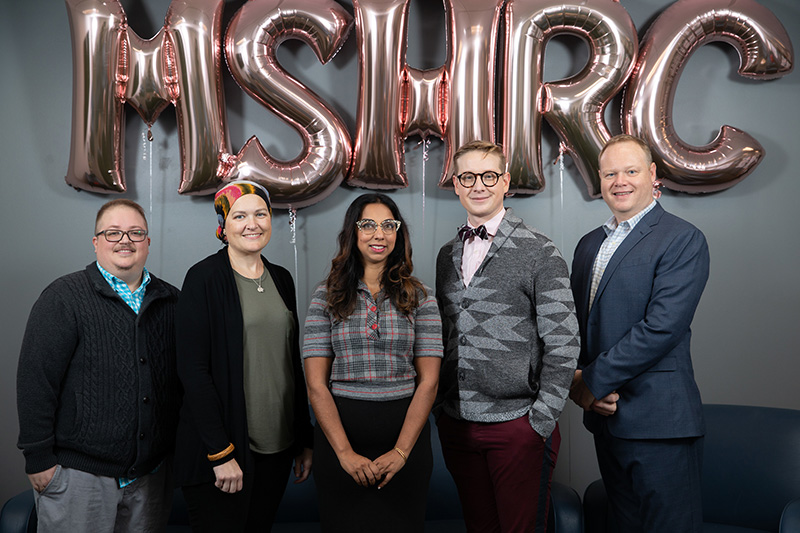 The MSHRC faculty team includes (from left to right): Dr. Jay Irwin, Dr. Aja Kneip Pelster, Co-Director Dr. Sofia Jawed-Wessel, Liam Heerten-Rodriguez, and Co-Director Dr. Jason Coleman.
Omaha – The Midlands Sexual Health Research Collaborative (MSHRC), an interdisciplinary research and advocacy organization committed to engaging the community through initiatives to support sexual health and wellbeing, is a recipient of inaugural year grant funding from the Omaha Community Foundation's Equality Fund.
Through the funding, MSHRC will expand their programming in 2019 by launching a leadership institute to support the professional development of LGBTQIA+ identified individuals from the Omaha area and Midwest region.
The goal is to cultivate thriving LGBTQIA+ communities in Nebraska and beyond through mentorship support, professional development, and community training.
Beginning in Jan., MSHRC will seek members for a Leadership Council to guide the development of the institute. The application for the first cohort of mentor participants will open in Feb. 2019 and mentee participants will be able to apply beginning May 2019. MSHRC is currently seeking corporate and non-profit sponsors for the institute.
The institute will officially kick off Oct. 17 & 18 with a public event at The Venue at Highlander featuring Keynote Speaker Amber Hikes, Executive Director of the Mayor's Office of LGBT Affairs for the City of Philadelphia.
For more information, visit the institute webpage or contact MSHRC Co-Director Dr. Sofia Jawed-Wessel at sjawedwessel@unomaha.edu or 402-554-3433.
---
The Midlands Sexual Health Research Collaborative (MSHRC), is housed in the School of Health and Kinesiology (H&K) under UNO's College of Education. Through strong collaborations and partnerships, the MSHRC conducts innovative research, provides evidence-based education, mentors students and sexual health professionals, and engages the community in initiatives to support sexual health and wellbeing. Support the work of the MSHRC through a donation to the NU Foundation >>