College of Education Commencement Highlights
They have exhibited exceptional dedication, scholarship, and accomplishment in their fields of study and are ready to launch new careers—meet a few members of the COE Class of 2018.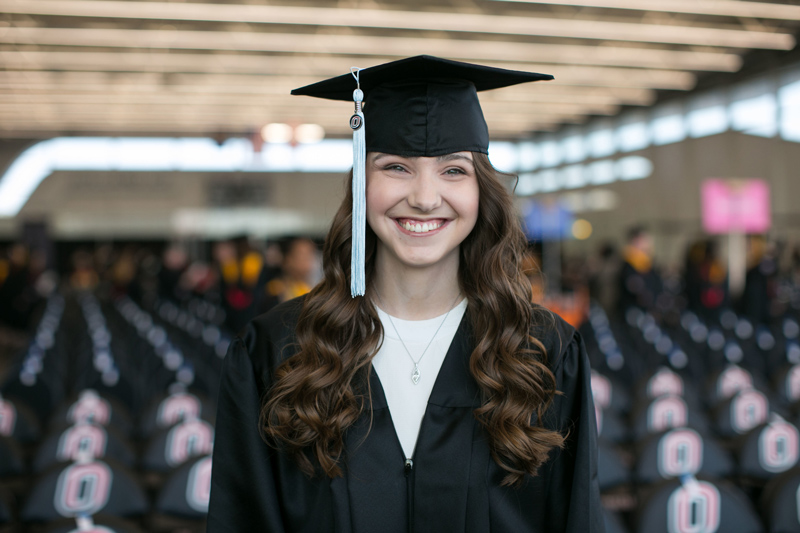 Ashton Dugan | School of H&K

Ashton Dugan was born with a rare disease, but she isn't letting it hold her back.

Dugan is an athletic training and pre-physical therapy (PT) major from Cozad, Nebraska. When she was only one year old, she was diagnosed with a very rare genetic disease called Leber's Congenital Amaurosis. This caused her to grow up legally blind.

"Growing up there were struggles that I faced because of this disease, but I didn't let them stop me," Dugan said, "I found ways to do things that other kids did."

Because of her disease, Dugan was unable to play every sport like her siblings and friends did. However, she was able to run track and held on to her love of sports. This was also the time she realized that she wanted to pursue a career related to sports and the medical field, but figured her disease would keep her from those goals.

After Dugan was injured during track, she learned about physical therapy and found an opportunity to make a difference in the medical field. During her senior year of high school, Dugan job shadowed at her local physical therapy clinic and learned more about athletic training and physical therapy.

Those experiences led Dugan to pursue her dream in athletic training and pre-PT at UNO.

"Even though some people, and even yourself at times, may doubt what you can do, always remember that you can do anything you set your mind to," Dugan said.

Her future plans after graduation are to go to physical training school and in the long term, hopefully return to Cozad to be a physical therapist.
- Jessica Yrkoski, University Communcations
Ashton Dugan's story was recently featured in an editorial by NU President, Hank Bounds >>
---

Makayla Bell | School of H&K
Makayla Bell graduted in May with Public Health and Sociology degrees. Bell was selected as Commencement Student Speaker for the morning ceremony, and she inspired the crowd with her message of overcoming obstacles and reaching goals. Through sharing a moving story from her own life, Bell encouraged the new graduates to look at obstacles in a more positive way rather than as roadblocks or disadvantages.
According to Bell, "I like to refer to obstacles as mountains and here's why. Though the tough situation may seem tough—and it's tall and it's wide just like a mountain—and the path that you're on seems like it has no end, if you keep climbing and stay focused, you will reach the other side of your mountain and you will be stronger and better than you were when you started."
To watch Bell's entire speech on Ustream.com, click here and forward to the 1:10:00 mark >>
---

Alex Zuehlke | Teacher Education Department

Alex Zuehlke has always loved being a student. Soon, he'll take that love of education into the classroom as a teacher.
This May, Zuehlke is graduating with a Master of Science in Secondary Education with a concentration in ESL (English as a second language.)
It's his second degree from UNO. Zuehlke earned his bachelor's from UNO, studying Secondary Education with a concentration in 7-12 Spanish.
He decided to pursue a master's degree after meeting CADRE program Coordinator Char Riewer while he worked as a student worker inside the College of Education's technology office. The CADRE project is an accelerated master's program for teachers.
"I am still thankful to this day for taking that chance and being accepted into the CADRE program," Zuehlke said. "I have grown so much since the start of CADRE, and UNO and the College of Education are major components of my growth as an educator."
As for post-graduation, Zuehlke is excited to share he has accepted a teaching position at Millard South High School.
He plans to remain a life-long learner, and hopes to one day pursue another degree in administration.
His advice to fellow students? "Take chances on opportunities to better yourself, reflect on your mistakes and share your experiences with others."
- University Communications
---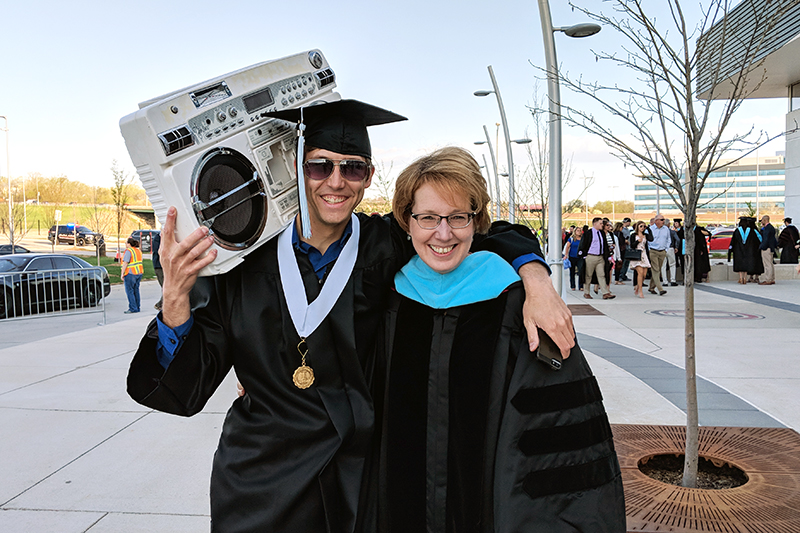 Judah Broekemeier | Teacher Education Department
A student from the College of Education will soon travel oversees in recognition of his achievements in academics and community service.
Senior Judah Broekemeier has received a Fulbright U.S. Student Program award for an English teaching assistantship in Germany for the 2018-2019 academic year from the U.S. Department of State and the J. William Fulbright Foreign Scholarship Board.
Broekemeier graduated magna cum laude from UNO this May with his degree in German secondary education. He is one of more than 1,900 U.S. citizens who will study, conduct research and teach abroad for the 2018-2019 academic year through the Fulbright U.S. Student Program.
The Fulbright Program is the flagship international educational exchange program sponsored by the U.S. government and is designed to increase mutual understanding between the people of the United States and the people of other countries. Recipients of Fulbright grants are selected on the basis of academic or professional achievement, as well as demonstrated leadership potential in their fields.
"Fulbright students share the UNO Maverick spirit worldwide and further the global reach of our campus. They make us proud," said B. J. Reed, UNO senior vice chancellor for academic affairs. "Our history of Fulbright students continues to go from strength to strength over the years."
- Charley Steed, University Communcations
---
Want to stay connected after graduation? Update your info with the UNO Alumni Association >>