College of Education Commencement Highlights
They have exhibited exceptional dedication, scholarship, and accomplishment in their fields of study and are ready to launch new careers—meet a few members of the COE Class of 2017.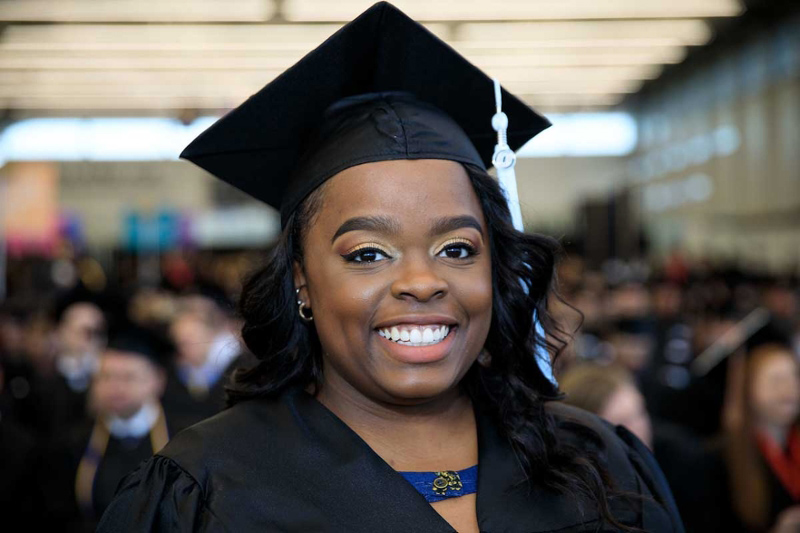 Cydney Dorsey Griffin | Teacher Education
Cydney Dorsey Griffin came to UNO with hopes of being a physical therapist. It wasn't long before she had a new calling.
After working as a paraprofessional for Omaha Public Schools, she began to consider a career as a teacher. It also helped that her mother was an assistant principal, so she has been around education her whole life.
She graduated last month with a degree in elementary education and an endorsement in ESL (English Second Language).
Cydney credits the College of Education with preparing her for the "real world" through their practicum program. She recorded over 150 hours of teaching during her time as a student, so she is not worried at all about the transition to being a full-time teacher. She's already accepted a position teaching sixth grade math at Monroe Middle School.
"I feel really prepared for the job I am going to have. I had lots of exposure to teaching through UNO's practicum program," she said.
Another memory Cydney will take with her is the relationships that she developed during her time in school.
"Through the College of Education, we collaborated with our peers a lot. We helped each other and I will carry that with me."
---

COE Outstanding Graduate Student

Taylor Leeder | Health & Kinesiology
Described by her research mentor, Biomechanics faculty member Dr. Jenna Yentes, as "studious, prepared, inquisitive, knowledgeable, and truly exceptional," Taylor Leeder was recognized last semester by Dean Nancy Edick as COE's Outstanding Graduate Student.
Taylor graduated with her Master of Arts - Exercise Science concentration and Biomechanics emphasis.
"I have always been curious as to how the body works and knew I wanted to be involved with something along these lines as my undergraduate degree was in biology. Science, in general, is a wonderful area to study and you can always learn something new!"
After graduation, Taylor will be working with Agilent Technologies as a field service engineer, troubleshooting and repairing equipment while in the field. She will be Agilent's first employee residing in Nebraska.
Taylor fondly and proudly recalls her time at UNO, "UNO has grown substantially since my first day as an undergraduate many years ago. I have enjoyed watching it become more than just a local university, there is so much going on here now that any student should be proud to call UNO their school!"
---

COE Student Marshal

Celeste Kantaras | Teacher Education
During December Commencement, COE Student Marshal Celeste Kantaras led her fellow graduating College of Education undergrads into Baxter Arena, proudly carrying the college gonfalon.
Non-traditional student Celeste received a BS in Education - Elementary Education with a STEM concentration. Her return to school to pursue an education degree was motivated by her life-long, natural teaching ability.
"I found myself falling into teaching and training roles in every job I've had. I realized that I was drawn to these positions because I was meant to be a teacher!"
Celeste adds, "I chose STEM because, as an adult, I love math, but it wasn't always that way. Math was never my strong suit in elementary school and I want to support kids who have trouble finding the interesting aspects of math."
Celeste and her husband will welcome their first child in February. She plans to substitute teach until she finds a full-time teaching position. She's excited to eventually return to COE and pursue her master's degree.
"The best thing about COE is that classes are focused on practicing how to teach, not just reading about theories in a book. I was constantly interacting with my classmates, whether we were practicing a new skill or discussing our opinions on teaching strategies, and through those interactions a real sense of camaraderie was built.
"I have met some of the most amazing people with whom I have made lasting friendships, and I have the College of Education and UNO to thank for that!"
---
Want to stay connected after graduation? Update your info with the UNO Alumni Association >>