Biomechanics in the Community: Empowering Young Women to Pursue STEM Careers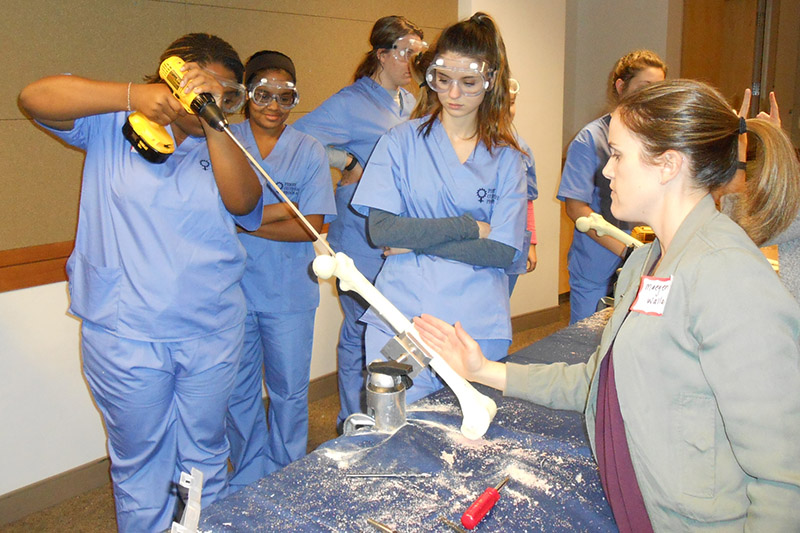 The statistics are sobering for women in STEM fields. Despite the increasing number of women entering medical and graduate school, they are underrepresented in STEM careers, holding less than 25% of U.S. STEM jobs. According to a 2014 survey by American Academy of Orthopaedic Surgeons, women make up only 6.1% of fully accredited practicing orthopaedic surgeons. Women make up only 11% of practicing engineers.
Amelia Lanier, Ph.D., from the Department of Biomechanics is working to change the status quo.
Dr. Lanier, COBRE Outreach Coordinator at the Center for Research in Human Movement Variability, spent a recent Saturday with 40 young women from Omaha-area high schools at the Perry Outreach Program event, sponsored by The Perry Initiative and University of Nebraska Medical Center (UNMC) Department of Orthopaedic Surgery and Rehabilitation.
The Perry Outreach Program is The Perry Initiative's trademark event, designed to introduce high school girls to real tools and surgical procedures they will encounter in orthopaedic surgery and engineering jobs. Participants rotate through six mock surgical scenarios—such as Rotator Cuff Repair and Knee Ligament Reconstruction—and attend career lectures by local women employed in biomedical fields.
"The Perry Initiative is focused on introducing young women to STEM careers but also creating a support network," Dr. Lanier said.
I want young women in Omaha to know we are a part of their support system.
- Amelia Lanier, Ph.D.
A support network is important in STEM degree programs and biomedical fields—and not simply because the work is challenging.
According to an American Association of University Women (AAUW) study, girls interested in STEM face many barriers in elementary and secondary school. They encounter challenges such as negative gender stereotypes, implicit bias, and lack of confidence. Ongoing encouragement and support by educators, and exposure to women-centered narratives greatly minimize the barriers.
"It is important for young women to see and connect with women working in STEM—women that are part of their own community. It is important for young women to know they have a support system they can utilize as they grow and learn. As a representative of UNO's Department of Biomechanics, I want young women in Omaha to know we are a part of their support system," Dr. Lanier adds.
In addition to The Perry Outreach Program, the Biomechanics faculty and staff regularly attend events in the community to recruit new students, inform the community about Biomechanics, and recruit participants for ongoing research projects. Recent community collaborators include KANEKO, Omaha Henry Doorly Zoo and Aquarium, and Omaha North High.
---
About The Perry Initiative
The Perry Initiative is named in honor of Dr. Jacquelin Perry, who was one of the first ten women orthopaedic surgeons in the country and was a mentor to countless women and men in the field throughout her career. The Perry Initiative's mission is to inspire young women to be leaders in the exciting fields of Orthopaedic Surgery and Engineering. The mission is advanced by running hands-on outreach programs across the country for women students in high school, college, and medical school.
Contact Us
If you have a story idea, news tip or inquiry please contact us at: