Dr. Becky Pasco Recognized with Distinguished Service Award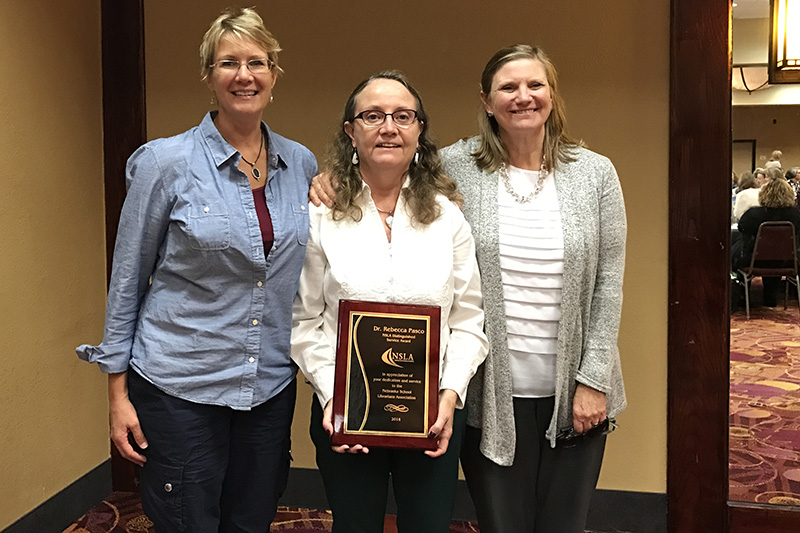 Dr. Becky Pasco, a long-time fixture in the Library Science program at University of Nebraska at Omaha (UNO), was recently recognized with a Distinguished Service Award from the Nebraska School Librarians Association at their October conference with the Nebraska Library Association.
The award is based upon longevity, service and contributions to the school library profession. Nominees must have served in the profession for a minimum of twenty years.
"Dr. Pasco has been the predominant force in growing the school library program," UNO's IDEAS Room Coordinator Kim Gangwish said in her nomination. "Many of our Nebraskan librarians are in the profession because of her influence. She has been a major influence on my own career path and has encouraged me along my journey."
Pasco has also worked to engage and develop school library leaders on a national level. In 2013, she helped launch NxtWave, a doctoral program connecting a cohort of librarians from across the country committed to leadership and professional development.
"She makes a personal connection with every student who comes through her program," Gangwish said. "She mentors them in their libraries long after they have completed their coursework."
A tireless advocate for school librarians, Pasco lives by the words of Marian Wright Edelman, "Service is the rent we pay for being. It is the very purpose of life, and not something you do in your spare time." Pasco served as a school librarian before leading UNO's nationally recognized Library Science program for the last 19 years. 
"I love libraries and all things they provide for citizens in terms of accessible information and engaging spaces in which to live and learn," said Pasco. "Libraries have been a meaningful part of my life for 56 of my 61 years and I am forever grateful of how they've supported my personal and professional journeys."
Contact Us
If you have a story idea, news tip or inquiry please contact us at: