Alumna Gives $100,000 to Support Early Childhood Education Students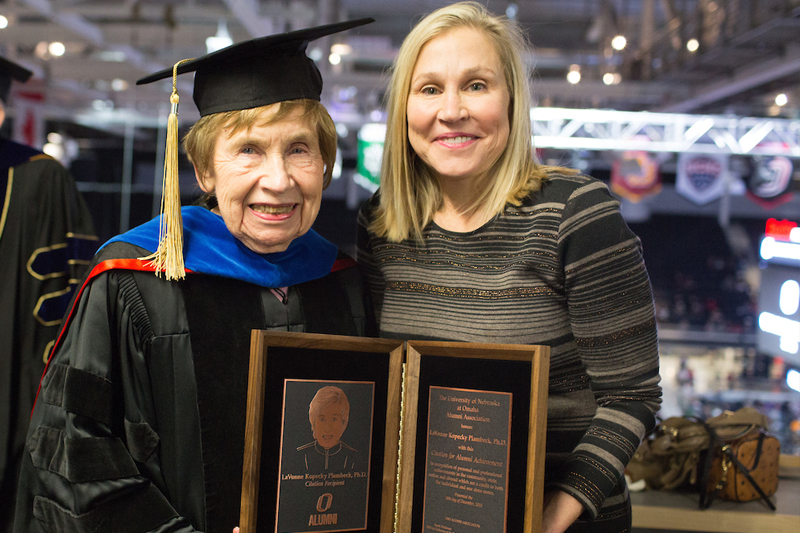 The Montessori Foundation of Nebraska and its president, University of Nebraska at Omaha (UNO) alumna Dr. LaVonne Plambeck, have given $100,000 to provide scholarship and fellowship awards to students enrolled in the UNO College of Education.
 
The gift establishes the Plambeck Montessori Scholarship and Fellowship Fund at the University of Nebraska Foundation. The expendable fund will enable the College of Education to award undergraduate scholarships and graduate fellowships to students with a GPA of 3.0 or greater who are working toward a teaching certificate with an endorsement in early childhood education or a closely related field. Candidates must be certified Montessori educators or participating in a practicum at a Montessori school.
 
"We are incredibly grateful to our alumna, LaVonne Plambeck, for her generous support of our students, who are preparing to become highly effective educators in early childhood education," said Nancy Edick, the Lois G. Roskens Dean of UNO's College of Education. "As a trailblazer in the area of early childhood, she recognizes this student support is also an important investment in the development of babies and young children in our community."
 
On the subject of investing in the next generation of early childhood educators, Plambeck said, "I feel if society is to evolve, it is imperative that we better understand and address the importance of the early childhood years. These early years between birth and age 6 are the most critical and influential in forming the person who is yet to become. Within the child, lies the future of humanity."
 
The gift of this scholarship also provides support to Our Students, Our Future, the University of Nebraska's current $200 million initiative seeking broad support for students.
Plambeck graduated from UNO with a bachelor's degree in fine arts in 1954. After graduation, she began her career teaching music at Omaha Central High School. During this time, she became inspired by the Montessori teaching method, a philosophy of education that calls for early intervention while putting much of the responsibility and freedom for learning within the child's control. Plambeck decided to continue her education in Chicago, where she received formal teacher training under the direction of leading European Montessori instructors.
Plambeck opened Omaha's first Montessori Educational Center in 1968, and six years later she launched the Mid-America Montessori Teacher Training Institute to provide professionals with training and certification in the Montessori Method.
 
Today, the Montessori Educational Center includes seven Nebraska locations. Plambeck also opened Montessori schools in Denver, Colorado, and Fort Worth, Texas.
As she was working to provide educational opportunities for children, Plambeck was working to further her own education, earning a master's degree in 1972 and a doctorate degree in 1980, both from the University of Nebraska–Lincoln.
 
Plambeck's dedication to students also goes beyond the classroom. She has worked extensively on early childhood education with UNO, the University of Nebraska at Kearney, College of Saint Mary in Omaha and Concordia University in Seward. She also has served on numerous educational policy committees at local, state and national levels and has consulted on the development of Montessori schools in Tokyo. She has served in leadership positions and advisory roles for numerous organizations.
 
In recognition of her accomplishments, the UNO Alumni Association awarded Plambeck a Citation for Alumni Achievement in 2015.
Contact Us
If you have a story idea, news tip or inquiry please contact us at: