UNO Athletic Training Student Completes Dream Internship with Green Bay Packers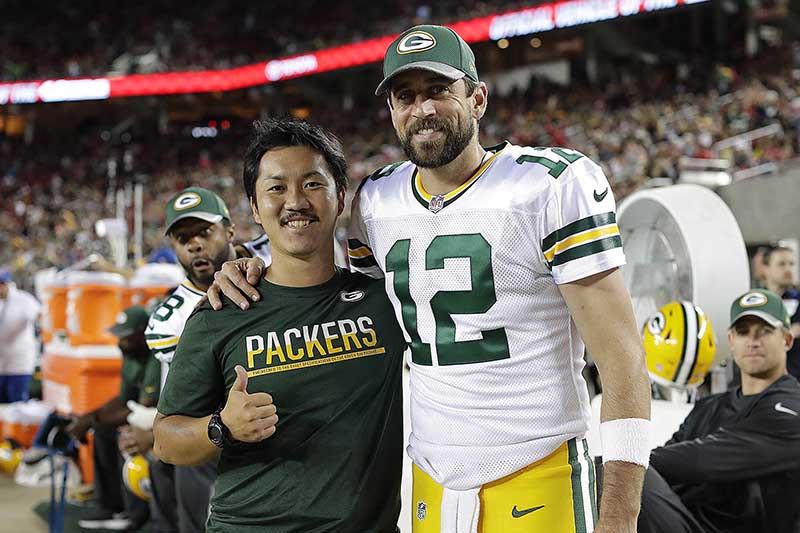 University of Nebraska at Omaha (UNO) Athletic Training Student, Takeaki "Take" Ando, began the Fall 2015 semester determined to get an internship with an NFL team. He carefully prepared his résumé and cover letter, and sent them to each of the 31 franchise teams in the NFL. Towards the end of the semester, he reached out again to each team, seeking an internship. Take began to get rejection letters or emails back from the teams.
In mid-December, Take was sitting in the Dr. CC and Mabel L. Criss Library studying for final exams when he received a call from Nate Weir, an Assistant Athletic Trainer with the Green Bay Packers. This unexpected phone call caught Take off guard—he had not received any correspondence from the Packers. With no time to prepare, Take immediately stopped what he was doing and proceeded with the impromptu phone interview. After Nate checked his references, Take was officially offered an internship for the summer. He was one of only six athletic training student interns chosen to work with the Packers.
Nate was impressed with Take's application, "Take made an excellent first impression when I first reviewed his application. His experiences prior to working in Green Bay made him an exceptional candidate for a summer internship with our staff. During the interview process it was evident that Take was a very well-rounded student who not only excelled in the classroom, but also in his clinical rotations. His passion for the athletic training profession was one of the most appealing characteristics that he possessed."
The Packers internship was rigorous. Take was introduced to the facilities and to the expectations of interacting with athletes, coaches and medical staff. Take spent long days in the athletic training room, often times arriving at 6:30 A.M. and leaving at 7:00 P.M. His work included participating in injury treatments and rehabilitation programs, preparing for practices, covering practices, and monitoring strength and conditioning sessions.
"I really enjoyed working with the medical staff and the athletes. All of the athletes were nice and respectful to me," said Take. When asked about his most memorable moment, Take smiled and answered, "standing on the sidelines of Lambeau Field before the first pre-season game against the Cleveland Browns. I got to take a picture with Aaron Rodgers!"
Nate had this to say about Take's time with the Packers, "Take had a great work ethic. He was always willing to go above and beyond what was asked of him. It was very obvious that Take's previous athletic training experiences prepared him for a summer internship with the Green Bay Packers. Everyday Take showed up to the athletic training room with a smile and was ready to work. He had a strong willingness to learn and improve his athletic training skills."
Take expressed appreciation for his experience, "I want to thank the people that surrounded me especially Shannon, Sam, Dr. Rosen, Melanie and my friends, so I could get this opportunity.  Even though I am an international student and have barrier with language, everyone treated me as one of the teammates. I appreciate that I could work with Pepper, Flea, Kurt, Nate, Brock, Cole and other great summer interns. I would like to say thank you to the people I met during this summer working with the Packers. It was long and very busy summer, but the most memorable summer for me."
Take has some advice for athletic training students interested in applying for NFL internships. "Be prepared to be busy and to work hard. Don't expect the 'fun stuff.' It is important to be professional with the athletes, coaching staff and the medical staff."
Take is finishing his last year in the UNO Graduate Athletic Training Program (ATP). He will graduate in May 2017 and plans to become a certified athletic trainer. His goal is to return to the NFL with another athletic training seasonal internship.
Learn more about the UNO Graduate Athletic Training Program (ATP) >>
Contact Us
If you have a story idea, news tip or inquiry please contact us at: