UNO's Visiting Pakistani Teachers Experience Community Service in North Omaha
Visiting Pakistani teachers participating in a 6-week professional development program, volunteered along with UNO mentors and instructors at a diaper and food giveaway at ABIDE in North Omaha. This opportunity supplemented the Community Service and Leadership aspects of their program at UNO giving the visiting group first-hand experience in volunteering in the U.S.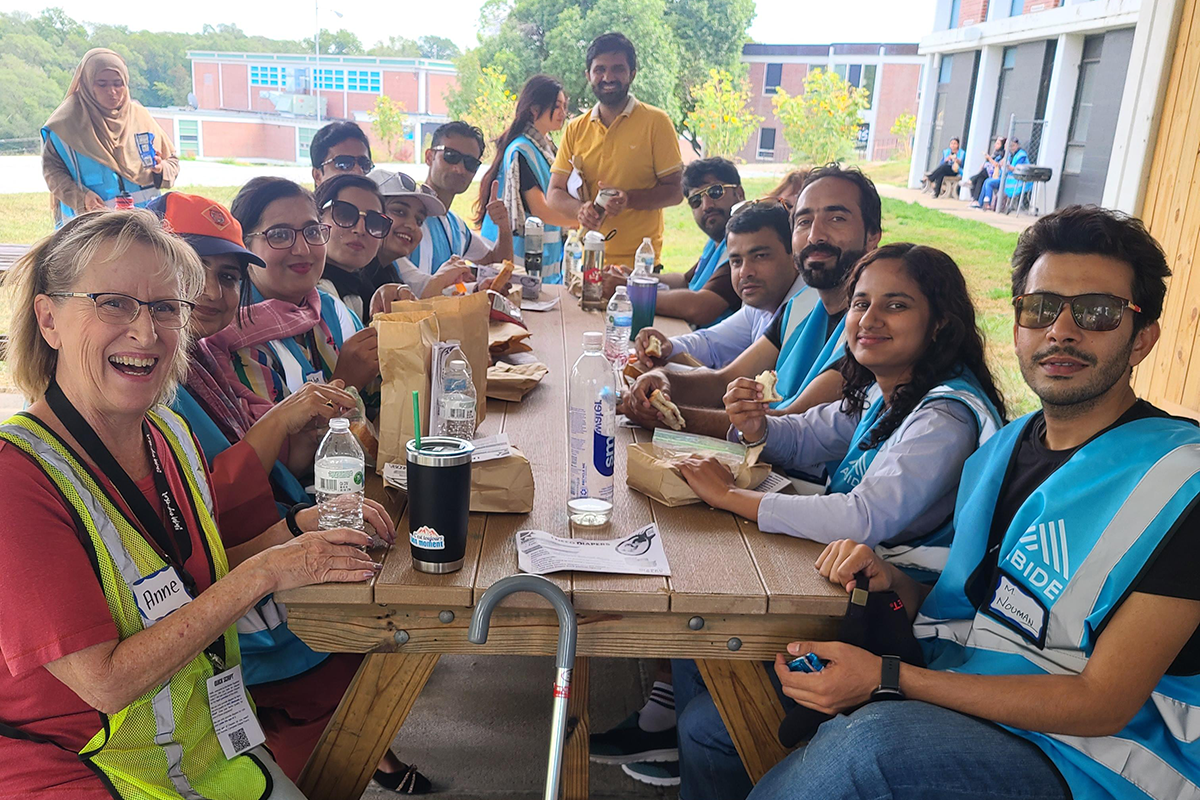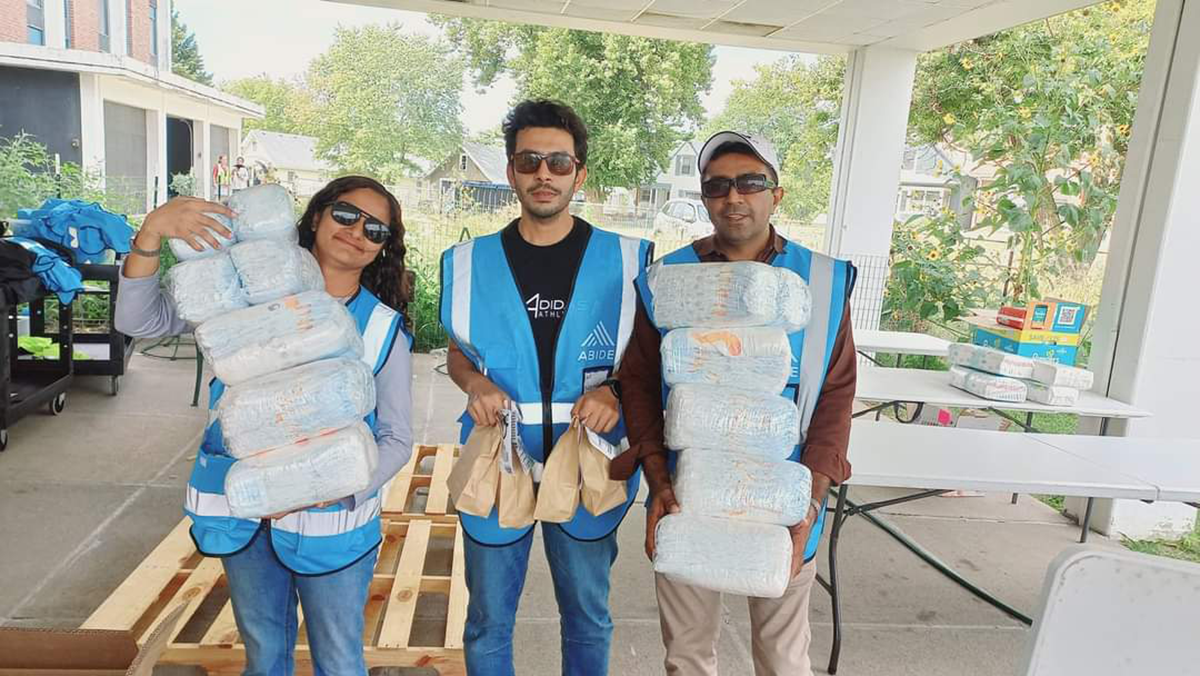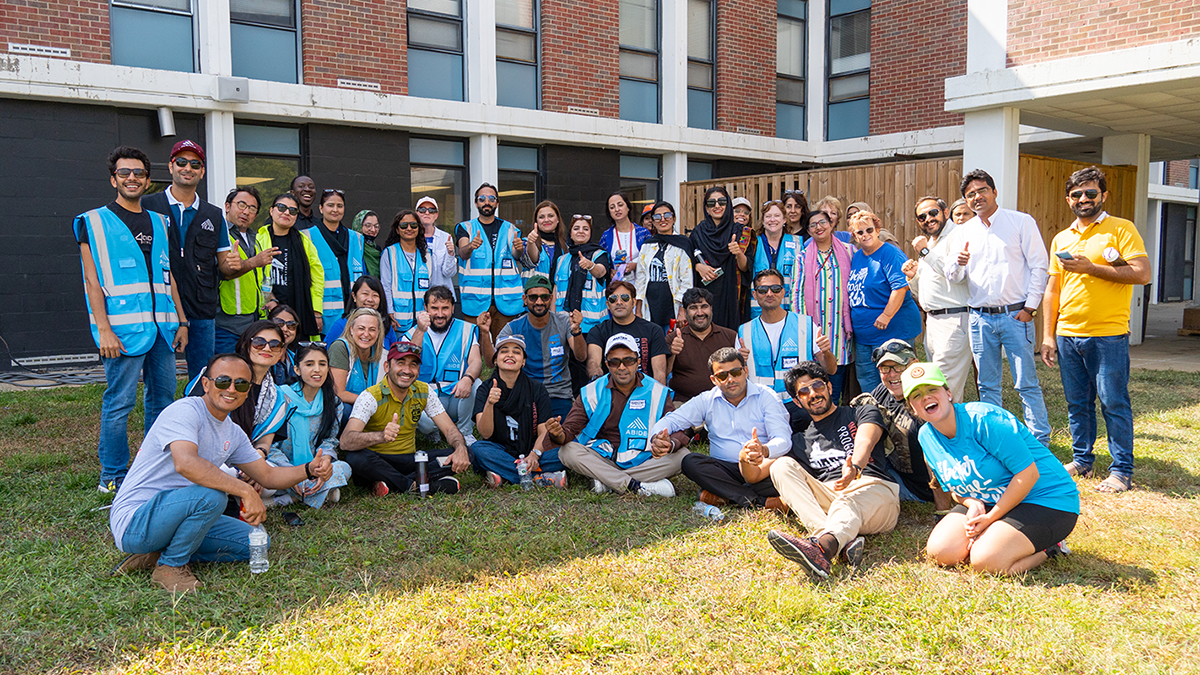 The group worked alongside local school youth who had also signed up for the same day's service. It was a sunny afternoon on the ABIDE campus and the 33 Pakistani volunteers kept busy for 2 hours. The blessing was an unexpected connection between the volunteers and Omaha's Afghan newcomers.
When UNO's Center for Afghanistan Studies and ABIDE Omaha began a conversation last spring, they never would have imagined the impact they could make together. As a faith-based, inner-city nonprofit, the goal of ABIDE is to revitalize the inner city one neighborhood at a time. Though it was only a one-day volunteer opportunity, the experience will remain in the minds of the Pakistani teachers for years to come. Leading up to the service day, Shawn Deane, Operations Director at ABIDE, came to UNO to share with the group about the challenges facing the inner-city, historical context, and why he believes there is hope for inner cities everywhere. Shawn listened to the group as they shared about similar struggles found in their country as well.
On the day of the giveaway, volunteers formed groups and worked together to collect basic contact information from those who came. They asked questions about children and ages to determine the needed diaper sizes and amounts and inquired about the number of people in the families. Sack lunches and boxes of cereal were distributed along with diapers. Many of the needy were Afghan refugees who have recently been resettled in Omaha. With very little English, ABIDE had struggled to communicate with them in previous giveaway events. However, this time was different. The Pakistani teachers from the bordering region of Pakistan and Afghanistan also speak the Pashto language. Though they are living in different countries, they are from the same ethnic group. ABIDE staff expressed their amazement and thankfulness to have the Pakistanis there to interact with the Afghans. Having volunteers who could communicate in Pashto was a great help in collecting accurate information and making the Afghans feel welcome and comfortable. Some of the Pakistani men even carried large boxes of supplies for Afghan women who came and collected items for their large families.
Below are some quotes on the impact of the service day.
"Working with Abide for service day made me realize how universal human emotions are. The people were very grateful to receive the help, they shared stories about their time, we cried together and laughed together too. It was a one day, but full of so many shared emotions, hugs, and memories." - Hina Jhanjhi
"Working with Abide for service day leads me towards self-reflection, brought second thought in my mind that what and how much I did for others throughout my life. I realized how softhearted people are there who ready to help others always. The day change my thought pattern about people." - Anum Hayat
"The uniqueness at Abide was that the students were made to be the group leaders. They were communicating with their community which will create strong bonds among different age groups. This practice not only supported the community but also encouraged the students to keep on spreading the goodness throughout their lives." -Iftkhar Ul Haq
"One day service with Abide was really wonderful experience. It was a mix of joy, gratitude, and a deep sense of fulfillment. Seeing the impact we can make on lives of people was incredibly rewarding. I learned to manage such type of activities on huge level." -Bushra Arshad
"Working as a volunteer at Abide Omaha was a wholesome experience. Helping the needy and seeing them smile was what made me think about the incredible potential our actions towards others have." -Muhammad Nouman
"Working with Abide really made me feel together is better. The way the service was being provided in a systematic and empathetic way. It was lovely to be part of this wonderful moment of sharing and caring." – Tayyaba Ehsan
"I had the opportunity to spend a day with Abide and was impressed by their dedication to serving the community. I enjoyed interacting with the people in need and learned how much of a difference we can make when we come together. It was a fulfilling experience that I will cherish for a long time." - Sayyeda Sadaf
"Participating in the service day with Abide in North Omaha was a truly eye-opening experience. Witnessing the active involvement of school children in community service, the impeccable organization, and the sense of togetherness left me inspired. It was an overwhelming day, and it has motivated me to introduce a similar initiative in Pakistan, engaging my students and teachers in serving our communities." – Samina Bashir