2022 Nene Field Ambassador Shares Story of Summer in Ireland, and Applications Open for 2023 Program
Hear from Kirk Henningsen, the 2022 UNO Nene Field Ambassador, about his time in Ireland this summer. Kirk studied at one of UNO's newest partner universities, University of Galway. You'll also find the announcement about the 2023 Nene Field Ambassador Scholarship, with details where this year's program will take place and how to apply.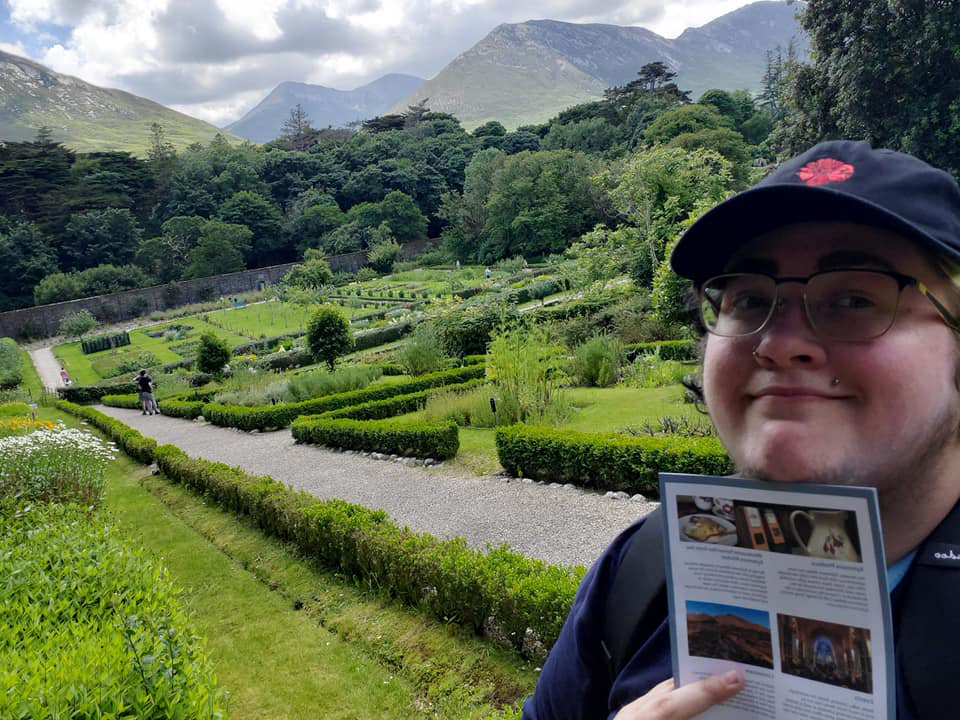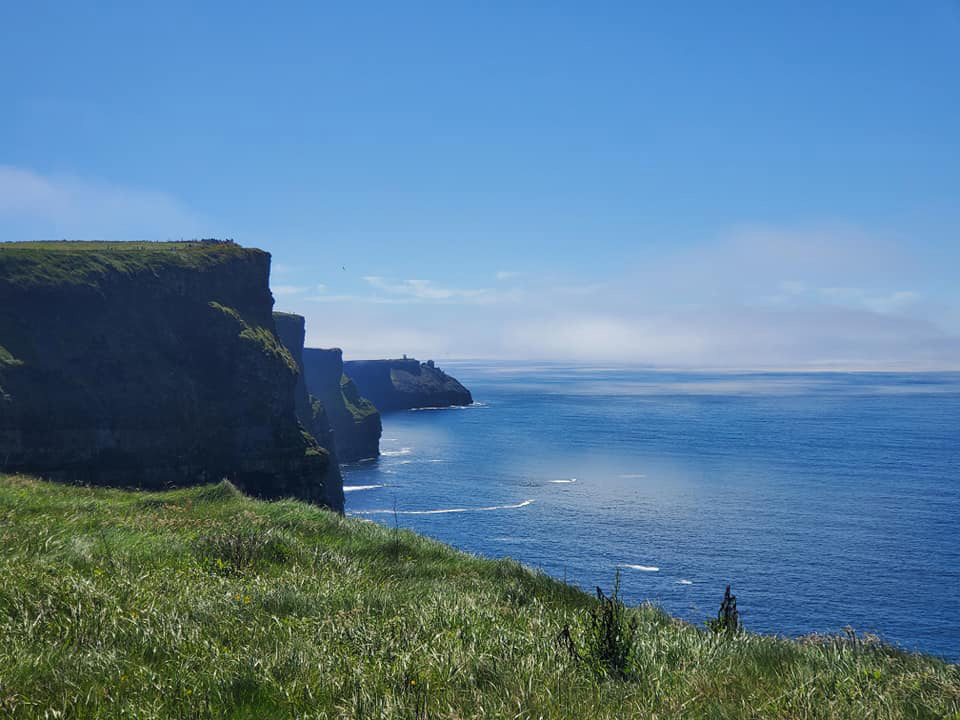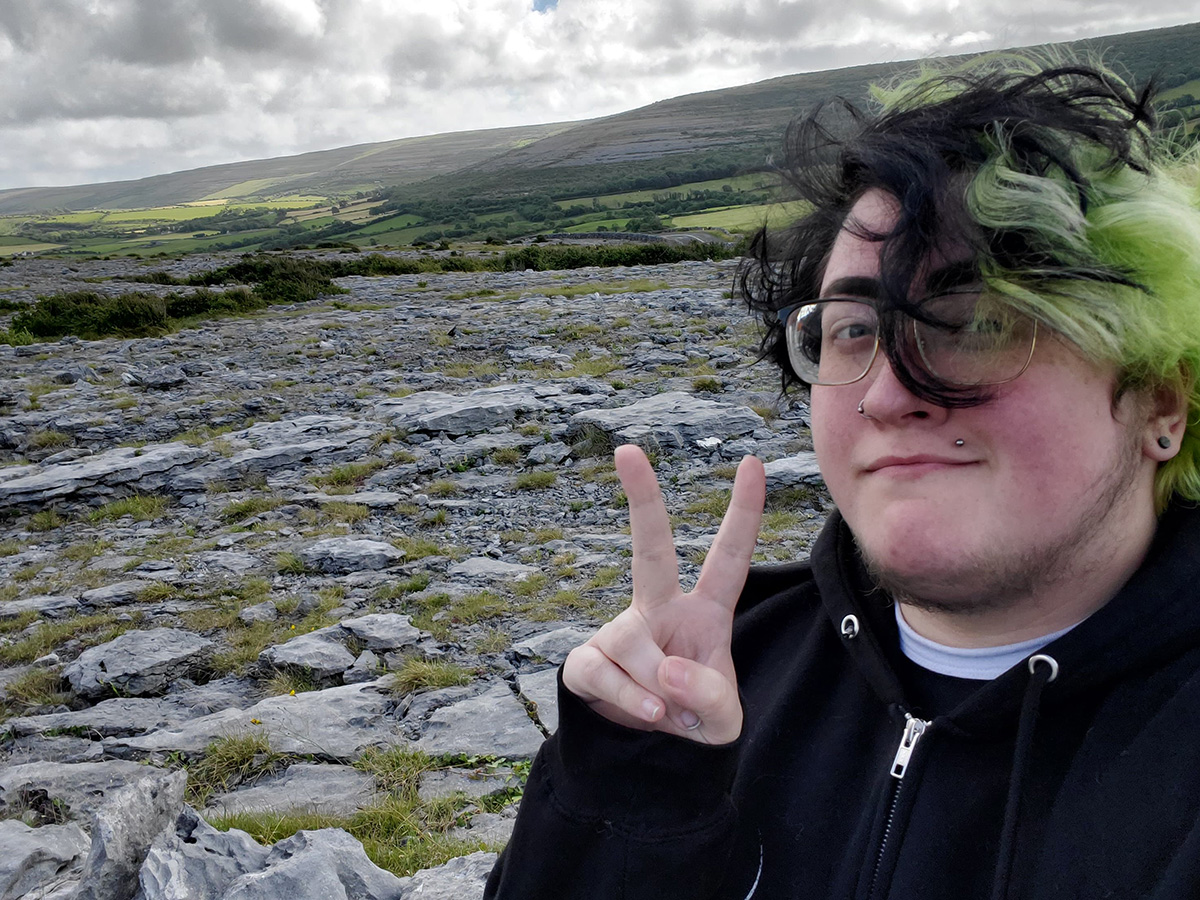 As the recipient of the 2022 Nene Field Ambassador Scholarship, I was able to spend 5 weeks in the beautiful city of Galway in Ireland. It was my first time getting the opportunity to go abroad, and it was an experience I wouldn't trade for the world. While there I was able to take a class that catered to my sociology minor—Irish Society, where our professor taught us how modern Ireland was developed and what it's like to live there today—as well as pursue a personal passion I may have never had the chance to learn otherwise—Archeology. The Irish Studies program also took us to see a variety of iconic sites, like one of the remaining Irish Workhouses in Portumna, one of the oldest monasteries in the country, Clonmacnoise, as well as the Cliffs of Moher and the Aran Islands.
If I had to pick a favorite part of the experience, it would be the day we went to the Cliffs of Moher. We started the day with a tour of the Aillwee Caves and a Birds of Prey show, and not only were the caves themselves gorgeous the show was a lot of fun. When we left for the cliffs it seemed like the weather was taking a turn and by the time we were pulling into the parking lot it was fully covered in fog. While it was disappointing, the fog gave them a sort of haunting beauty. The friends I'd made and I decided to hike up to the uppermost part of the cliffs to see if there was any way we could get a better view, and by the time we reached the peak the weather started to clear. We got the best of both worlds, and I think experiencing it in the fog and the sunshine encapsulated the Irish experience.
But that was just one day. The entire month was filled with new experiences, new people to meet and learn from, beautiful sights and delicious foods. I went into this not knowing much about Ireland, and left with a new appreciation for the country, for their resilience, their courage, and their appreciation for history. For my archeology class the professor not only brought in prehistoric artifacts but took us out to the Burren to see a couple sites he himself worked on, including the Poulnabrone Portal Tomb. It signified the beginnings of civilization in Ireland and marked the transition from leagues of hunter-gatherers to established farmers and small villages. It was the beginning of history, and it as well as the rest of the Megalithic tombs taught us the culture of prehistoric people. Newgrange, a passage tomb in County Meath, was a symbolic site for the winter solstice over five-thousand years ago, and it remains a place of celebration even today. People enter a lottery years in advance just for the chance to be there for the solstice, because they value the history of their people and their country.
Even people new to Ireland who migrated from other countries have a deep appreciation for the Emerald Isle. I became a regular at the Crane Bar every week to attend the Celtic Storytelling put on by Scottish folktale writer, Rab Fulton. I had never seen so many people packed into such a small space just to watch a man tell stories, and Rab was such a warm, inviting person, that really valued his audience. He recognized me from the first week, learned my name the second, and dubbed me a friend of the show the third. There isn't a doubt in my mind that if I made it back to Galway in a month, in a year, even in the next five years, he would remember me. Same goes for my Irish Society professor, Mr. Hannon. He took such a genuine interest in his students and would have meaningful conversations with us outside of class and at receptions held at the student bar. He was such a knowledgeful person, he could go on for hours if he was allowed. He "would have a great time, but you'd all hate it." He knew the history of his country like the back of his hand, and when he told you how clever you were, you believed it. And being told you're clever by someone you hold in such high regard gave me a confidence I didn't have before.
I got souvenirs from multiple tourist attractions, several shops, and a handful of artists from the Galway weekend market, but the most invaluable thing I got from this trip was a newfound confidence. It was more than being told I'm clever, it was making meaningful connections and new friends, and being able to hike up to breathtaking sights I don't think I would have even tried before. Even now just thinking about how blue the sky was and how green the fields were and looking at all the photos I took makes me emotional. And it wasn't just me, it was everyone. That is what made this that much more special, was getting to experience it with my peers from other universities across the United States. Even though it was only a month, these are lifelong friends, and even if I can't see them every day, I know we'll be together again in five years in Galway where it all began.
Kirk Henningsen, UNO Nene Field Ambassador 2022
---
If you're interested in spending a semester or summer at University of Galway in Ireland, get in touch with us for more details and to meet with the Global Learning Advisor: unostudyabroad@unomaha.edu
---
For over 50 years, Nene Field Ambassadors from UNO have traveled the world, reaching 36 countries, touching countless lives, and changing their own lives in the process. Now you can join the ranks of UNO's Ambassadors. Help us foster our international relationships and strengthen ties with partners as a funded ambassador at a chosen institution. In 2023, the Nene Field Ambassador will travel to: Costa Rica!
The selected student will study this summer at our new partner, Veritas University. This scholarship covers the host institutions program fee, airfare, housing, and meals. You can find program details, eligibility requirements, and the scholarship application at: https://unomaha.via-trm.com/visitor-programsprogram_brochure/16142
The deadline to apply for the 2023 scholarship is February 28th at 11:59 PM. All applicants must be available for an interview in mid to late March. The Nene Field Ambassador Scholarship funds one UNO student to study abroad at a pre-determined host institution while serving as an ambassador for UNO, Nebraska, and the US.
If you're interested in learning more about studying abroad at Veritas University in beautiful Costa Rica for a summer or semester, visit the program page here: https://unomaha.via-trm.com/visitor-programsprogram_brochure/15786 or email us at unostudyabroad@unomaha.edu