UNO Hosts First 'Passport Days' as Part of the Maverick Passport Project
This fall semester, UNO Education Abroad held the first ever Passport Days, supporting 39 of the 73 students receiving their first U.S. Passport through the Maverick Passport Project. Read on to learn more about the event and hear directly from students about their enthusiasm at being selected for the program, and for details on how to apply for the 18 remaining awards.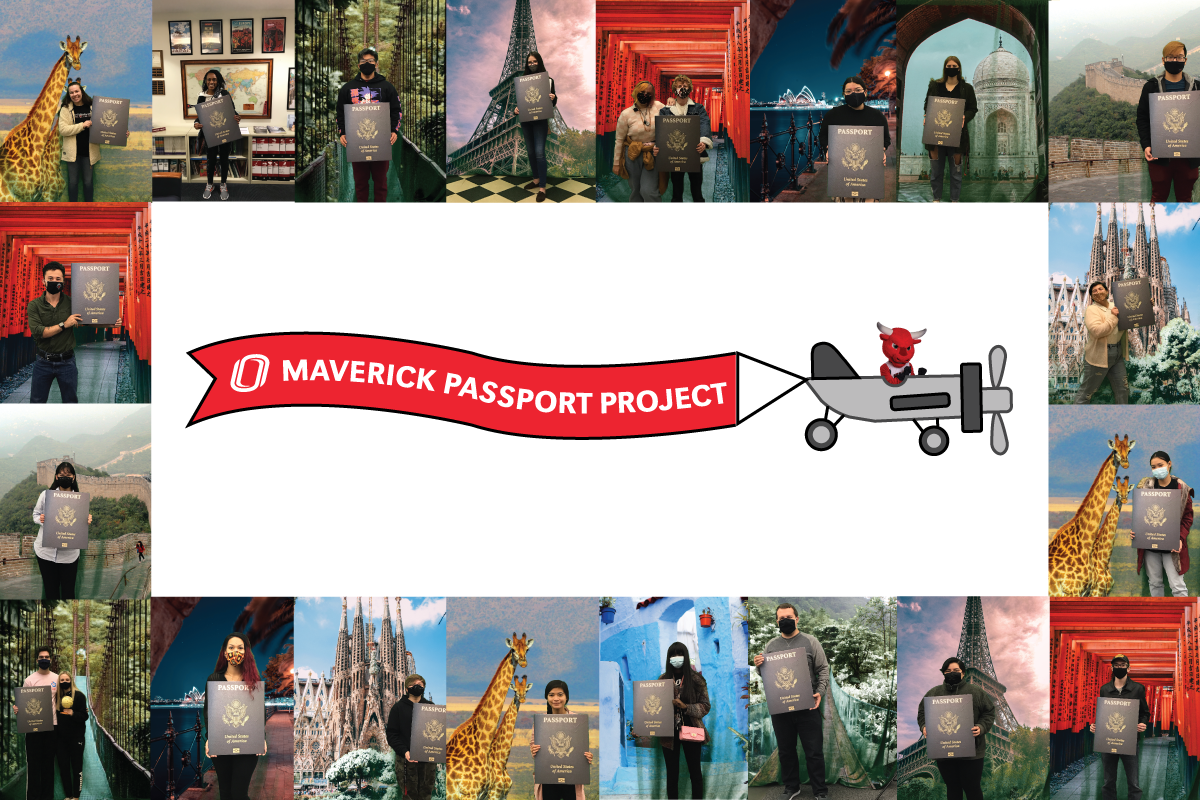 November 4th and 5th, UNO Education Abroad welcomed nearly 40 students to their office for Passport Days, an event created as part of the new Maverick Passport Project. Selected students received a Passport Application Guide and signed up to attend one of four in-person sessions. During the event recipients had their DS-11 passport application form reviewed by UNO Education Abroad staff, received the required photocopies of ID's and important documents for free, and were given guidance on how to submit their application packet to an acceptance agency. Students also took photos to celebrate getting their first passport, choosing an international destination background and holding a giant passport cut-out to showcase their excitement. A portion of students also received their passport photos at MavCARD Services free of charge, and all students are receiving the $145 needed to obtain a U.S. passport book for international travel.
Students expressed their gratitude for the Maverick Passport Project through email, social media, and written thank-you cards for the support provided:
"I am extraordinarily grateful to @unomaha , @unoeducationabroad and @inter_operate for giving me a free passport through their passport program! They helped me through the process and helped with all of the fees, including the photo! Anyone who knows me knows how much I love to travel and want to see the world, and this gets me one step closer to doing so. Maybe I can one day catch up to my sister... I'm almost giddy. I picked Japan as my background because that's one of the places I want to go most but I can't wait to one day see even more! I'm so thankful." – Sean
"Thank you for sponsoring me to get my passport! It means a lot to me!" – Silver
"I am extremely excited that I was selected as a recipient for a passport, it literally makes the possibility of international travel more realistic for me! You guys have already helped my dreams become a reality and I am truly so excited to be a part of this!" - Corah
"UNO, thank you for the opportunity and broadening my horizon!" – Elissa
While the bulk of this year's passport funding has been disbursed, there is still some yet to be awarded. UNO Education Abroad is looking for 18 more Pell grant eligible, first year students who want to receive their first U.S. passport. Students who are in their first year of study at UNO and who are eligible to receive the Pell grant as part of their financial aid should contact UNO Education Abroad or complete an application as soon as possible.
For those interested in supporting the continuation of the Maverick Passport Project, please visit our donation page for more details on how to give or reach out to Emily Krueger, the Assistant Director of Global Learning at UNO.