ILUNO Cost of Attendance
Online costs include tuition and fees. In-person costs include tuition, fees, insurance and living expenses.  Estimated costs of living expenses can be found on the ILUNO Financial Affidavit. Costs of undergraduate and graduate programs at UNO are listed at Student Accounts.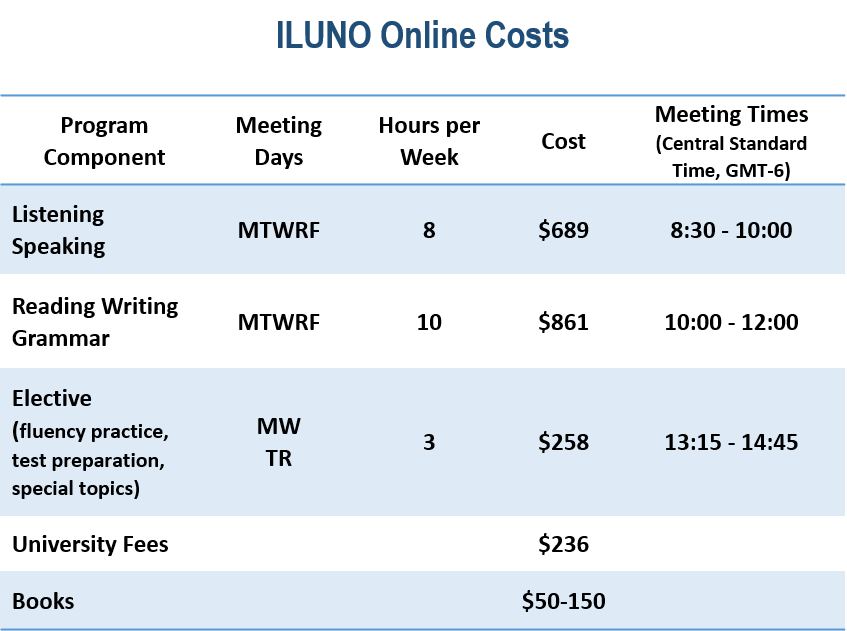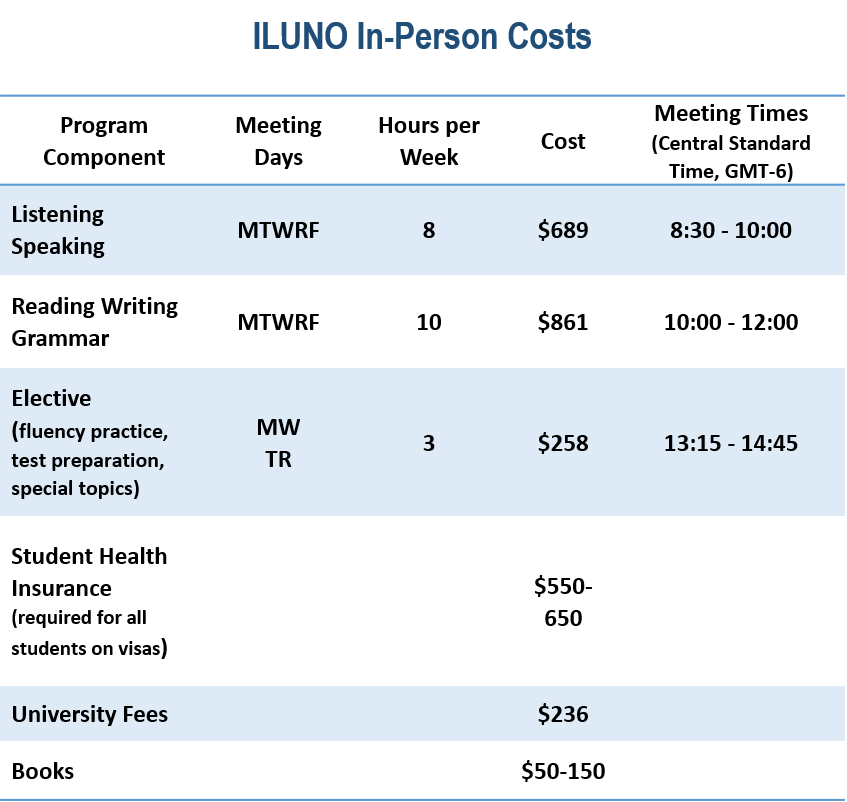 * Please note: university fees and insurance costs may increase during the Fall sessions (August-December)
Personal expenses can vary based on a student's lifestyle.
Transportation to and from Omaha is not included. Local transportation is included in personal expenses.
*ILUNO and IPD students on F or J visas who do not have insurance provided by a government sponsor will be required to purchase the UNO health insurance plan. Sponsored students whose financial guarantee has not arrived by the first day of classes will be charged the health insurance fee. Please note: insurance rates may change based on the holiday break periods for each session.
---
I
LUNO Calendar
With six (6) sessions per year, it is easy to find a session that works with your timeline. You can also check out UNO's full Academic Calendar, to see when you could start your degree program after ILUNO!
| | | |
| --- | --- | --- |
| 2020 Sessions       | Start                   | End  |
| Session 1 | 13 January | 6 March |
| Session 2 | 9 March | 1 May |
| Session 3 | 11 May | 26 June |
| Session 4 | 29 June | 14 August |
| Session 5 | 24 August | 16 October |
| Session 6 | 19 October   | 11 December |
| | | |
| --- | --- | --- |
| 2021 Sessions       | Start                   | End  |
| Session 1 | 11 January | 5 March |
| Session 2 | 8 March | 30 April |
| Session 3 | 10 May | 25 June |
| Session 4 | 28 June | 13 August |
| Session 5 | 23 August | 15 October |
| Session 6 | 18 October   | 10 December |
| | | |
| --- | --- | --- |
| 2022 Sessions       | Start                   | End  |
| Session 1 | 10 January | 4 March |
| Session 2 | 7 March | 29 April |
| Session 3 | 9 May | 24 June |
| Session 4 | 27 June | 12 August |
| Session 5 | 22 August | 14 October |
| Session 6 | 17 October   | 9 December |