De-Stress Fest in Criss Library
In partnership with UNO Student Involvement, Criss Library is offering a host of activities during De-Stress Fest: Take Time to Take a Break.
date: 12/07/16 - 12/15/16
time: Criss Library will be open 24/7 periodically through prep and finals weeks. Scheduled activies in the library occur on 12/7, 12/12, and 12/13. See below for details.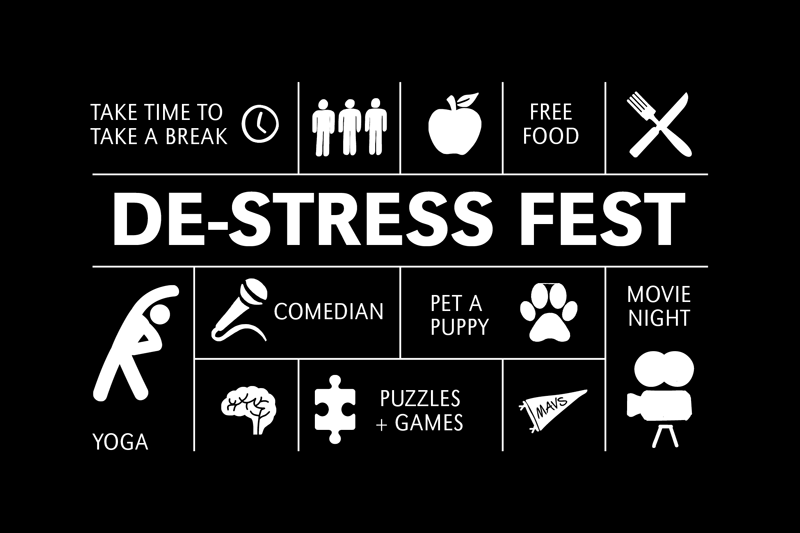 Whether it's settling into a crafternoon, cuddling a stuffed animal, perfecting zen gardening, discovering new realms in an Oculus Rift, or just loading up on caffeine, the library has you covered for relaxing and refocusing your energy into acing your finals!
---
24/7 Activities in Criss Library
De-Stress Stations: table near from interactive video wall on main floor and on first floor - bubble wrap, snacks, fidget sticks, and stickers
Coloring and Game Tables
Interactive Video Wall: showing puppy bowl, kittens, and other awesome things
Theater Room: meditation and relaxation zone
Anti-anxiety gif: find it on a rolling monitor - new location everyday!
Roving Zen Gardens: find them throughout the library - new location everyday!
Stuffed Animal Cuddlers: five stuffed animals are stashed within the library for you to hug and de-stress during a study break
---
Special Events in Criss Library
Join us for...
Mug Giveaway & Free Coffee
Wednesday, December 7, from 4 - 6 P.M. | Main (second) floor
To celebrate the extended hours of the Criss Library and to cut down on landfill waste, the Library is hosting a free reusable mug giveaway. Free coffee will be available during the Library's extended nighttime hours; students will be given a mug to fill up and are encouraged to reuse their mugs throughout finals week.
An Evening of RIFT
Wednesday, December 7, from 6 - 8 P.M. | Creative Production Lab
Have you ever wanted to walk on the surface of another planet or shrink to the size of a single cell and journey through the human body? Stop by the Creative Production Lab to do all this and more with our high definition virtual reality headset.
Balloon Ball Pit
Monday, December 12, from 1 - 3 P.M. | Theater Room
Enter into a sensory stimulating room where you can listen to calming sounds, float in a sea of balloons, and meditate while popping some bubble wrap to squash your stress!
Guided Meditation
Tuesday, December 13, from 2:30 - 4 P.M. | Theater Room
Relax your body and still your mind during this calming yoga and guided meditation session led by Kim Schwab. She is a UNO instructor who teaches the course, "the Mindful Student," which explores the practice of mindfullness to lower stress, increase curiousity, and invite creativity. Gently yoga stretches and breathing exercises book-end the 20-minute guided meditation.
Crafternoon: Vision Boards
Tuesday, December 13, from 4 - 6 P.M.
Design your own vision board by adding images and words about what keeps you motivated and focused. Create a vision board that will help you visualize anything from acing the test to owning that brand new car!