Dave Richards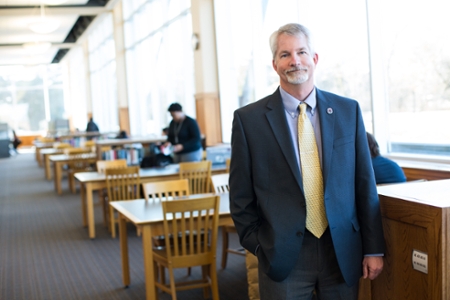 Dave Richards is dean of library services at the University of Nebraska at Omaha. His education includes a Bachelor's degree in History and a Master of Arts in European History from Western Illinois University. He also earned a Master of Library and Information Science degree from Louisiana State University. He attended Rare Book School at the University of Virginia in 2009.
Prior to his arrival at UNO, Richards served as head of special collections and archives at Missouri State University. While at Missouri State, he also taught courses on the history of libraries and the history of the book. Earlier in his career, Richards spent time as a special collections librarian at the University of Southern Mississippi and worked for the Louisiana State Archives.
His research interests promote access to oral history collections and he has authored or co-authored guides to oral history collections in Louisiana and Missouri. He is also an advocate for collaborative programming and initiatives among national, state, and local cultural heritage institutions. His interest in library services in developing countries led him to special projects in Northern Ireland in 1996 and to Ghana, West Africa, in 2010.
Richards has served as dean of library services at UNO since January of 2016.