This Month in Service Learning
Read about all of the service learning activities happening across campus each month.
published: 2023/09/25
contact: Robyn Loos - UNO Service Learning Academy
email: unosla@unomaha.edu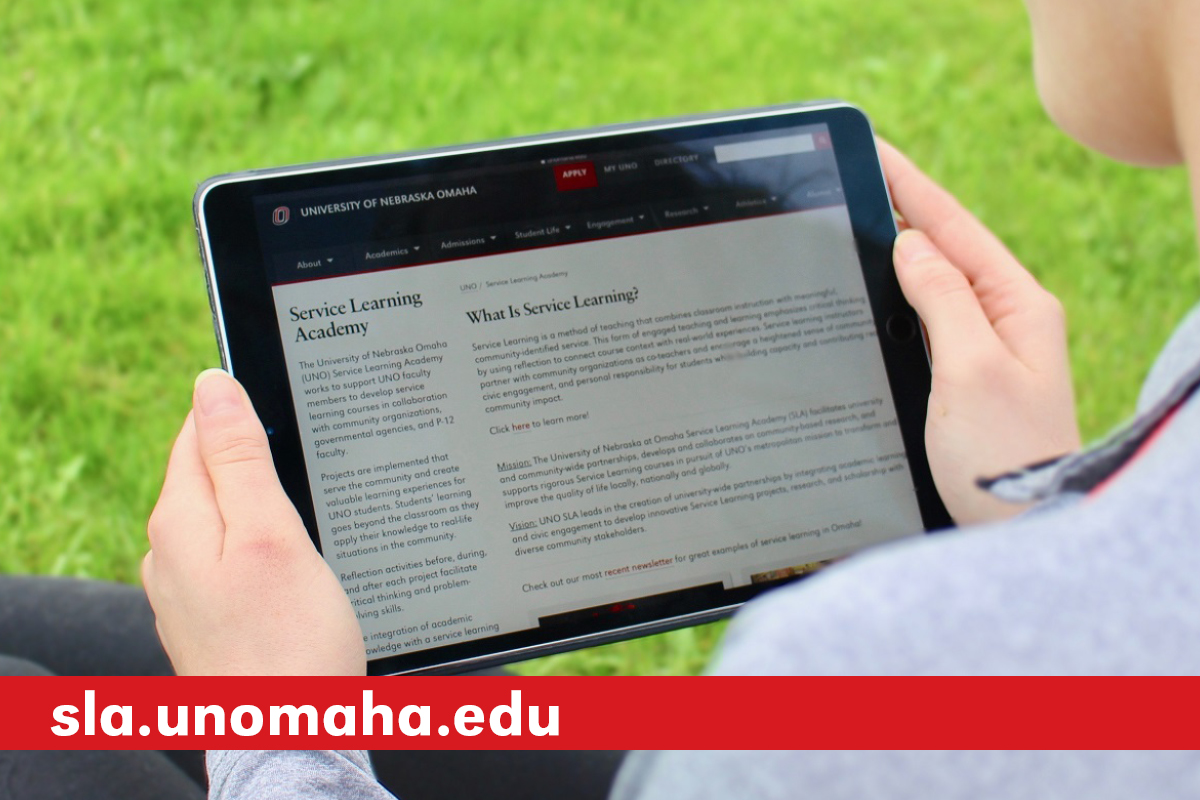 The Service Learning Academy facilitates rigorous experiential learning experiences for students to apply their classroom content to community-identified opportunities in collaboration with UNO faculty members and community partners. We will highlight how our team and partners meet our metropolitan mission each month.
---
Divisible
Since its inception in November 2021, the Undesign the Redline Exhibit, housed in room 218 of the CEC, has been toured by community partners, campus partners, local businesses, and schools. The aim of this exhibit was to call on the community at large and increase their knowledge about redlining on the local as well as national levels.
Divisible, a documentary focusing on Redlining in Omaha, was shown on campus on September 21st. The documentary focused on the lived experiences of the people impacted by Redlining and local stories. The showing was followed by a panel discussion about Redlining in Omaha and next steps.
Information regarding guided tours of the Redlining Exhibit and more can be found here.
---
UNO Exploratory Studies & Together Omaha Gardening Project
Students from Dr. Isabelle Beulaygue's Exploratory Studies Exploratory Studies course visited Together Omaha to plant fall food crops and cover crops to add nutrients to their community garden's soil. Students learned about Together Omaha's strategies for tackling problems like food insecurity and how healthy soil in our world is vital for sustained food production. UNO students also had the opportunity to explore the different career options associated with running a nonprofit organization. Channel 6 News happened to be on-site at the same time as the students, and they were able to learn about the students' efforts.
The Channel 6 news story focused on food insecurity and can be found here.
---
Lunch & Learns
Date: October 18, 2023
The CEC will be hosting four Lunch & Learns over the course of this academic year, the first of which will be held on October 18th from 12 pm to 1 pm. This first Lunch & Learn theme is 'Creatives and Creative Job Opportunities.' The aim is to connect UNO students who are art majors with UNO faculty members within that field and organizations that focus on the arts. Unlike other Lunch & Learn events, this will feature round table discussions that allow students to connect with professionals in the field, learn about the different career paths available to them opportunities that exist within the field, and build their network.
For more information, please visit the event website.
---
Communications
Follow SLA on Social Media
The Service Learning Academy gives updates about campus and community happenings via Facebook, Instagram, and Twitter. Be sure to follow us on these platforms to stay up-to-date on the rigorous service learning and community engagement happening at UNO!
Get SLA Email Communications
We want to keep you informed about opportunities to collaborate. Register to receive email updates online.