This Week in Service Learning
Read about all of the service learning activities happening across campus.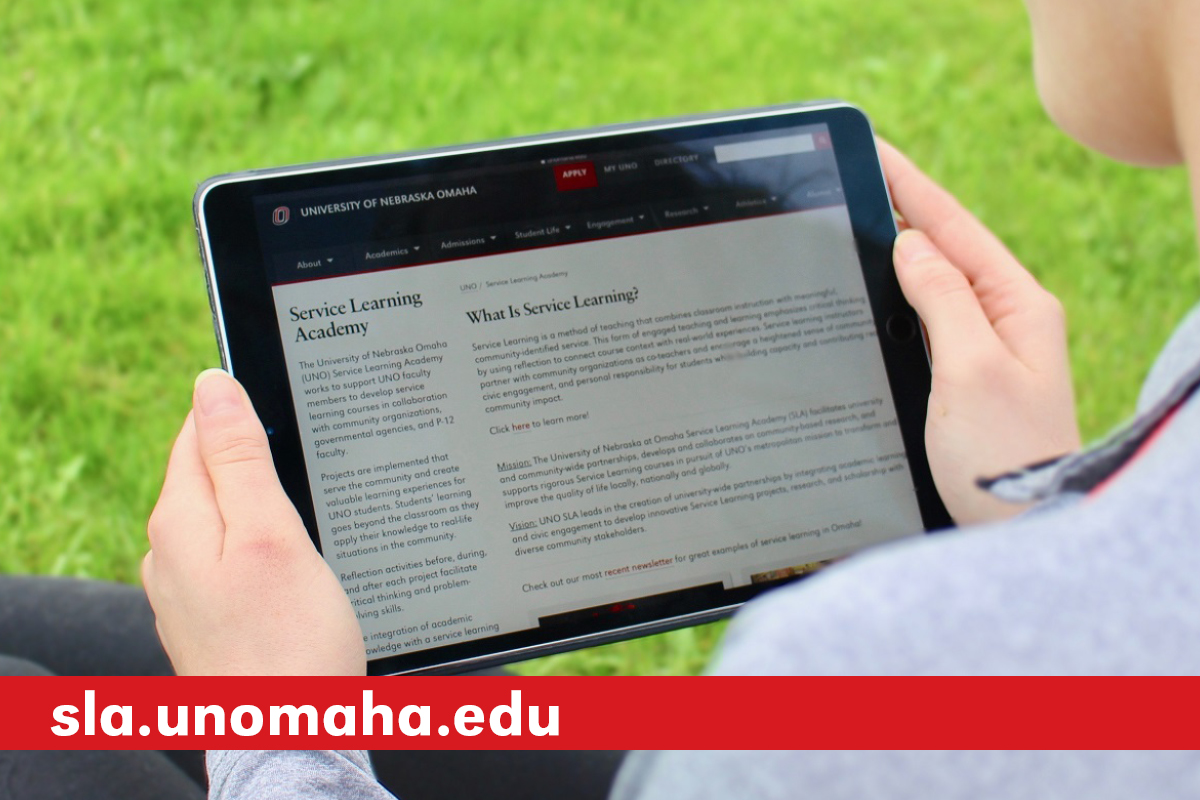 Monday, December 14, 2020
Technical Communications
UNO students from Dr. Tracy Bridgeford's Technical Communications course will present their final presentations to Generation Diamond, Grief's Journey, and Omaha Home for Boys. Students worked with community partners to create communication elements that can help the organizations to better connect and support their communities.
Tuesday, December 15, 2020
Women and Religion
In UNO faculty member Jennette Gabriel's RELI 3500: Special Topics in Religion class, students collaborated with Lacey Studnicka from Habitat for Humanity to examine the historical, cultural, and religious contexts of women's involvement or exclusion from each religion. Through this project, students had an opportunity to compare and contrast how women in different global contexts are choosing to practice their religions and analyze how feminism has affected women's participation and leadership in public religious discourse and policy. The final student presentation will take place virtually this Tuesday and Wednesday.
Wednesday, December 16, 2020
Comparative Gerontology
Students from Dr. Lyn Holley's class Comparative Gerontology are working with Dr. Alina Zurek and Dr. Grzegorz Zurek's students from Wroclaw Sport University and Poland University and Nancy Gentleman-Schlesiger from the Polish Heritage Society to explore the work, social, and economic contexts of aging in the USA and in Poland within a global framework. UNO students paired up with Polish students to complete shared assignments that will include comparative analyses of their findings in their respective locations. This week, student presentations will be showcased for university and community supporters. Participants in this celebration will watch pre-recorded presentations and join with international counterparts in O&A during each presentation.
Thursday, December 17, 2020
Sharing Books and Stories
Speech-language pathology graduate students from Dr. Ritzman's course Early Intervention: Birth to 5 will present to community members for their final celebration. Students will highlight aspects of the service-learning project they participated in with the collaboration of Millard Public Schools', Cody Elementary, to enrich literacy development in preschool-aged children.
---
Interested in Service Learning Classes?
For students, choosing classes that contain a service learning component brings them out of the classroom and into the community.
Every semester, there are a variety of courses at UNO that incorporate service learning. Students like you are given the opportunity to apply classroom curriculum to actual community needs. The opportunities provide a means of learning about the surrounding community and the organizations that serve those in need and take on important issues within the community. By doing your part, you will strengthen skills that will help you progress through your studies and/or career.
More information is available on the UNO Service Learning Academy Website.
Contact Us
If you are sponsoring a special or public event happening in the CEC or would like to share a news tip or story please let us know.
Robyn Loos
Special Projects Associate
Email: rloos@unomaha.edu
Phone: 402.554.2173