This Month in Service Learning
Read about all of the service learning activities happening across campus each month.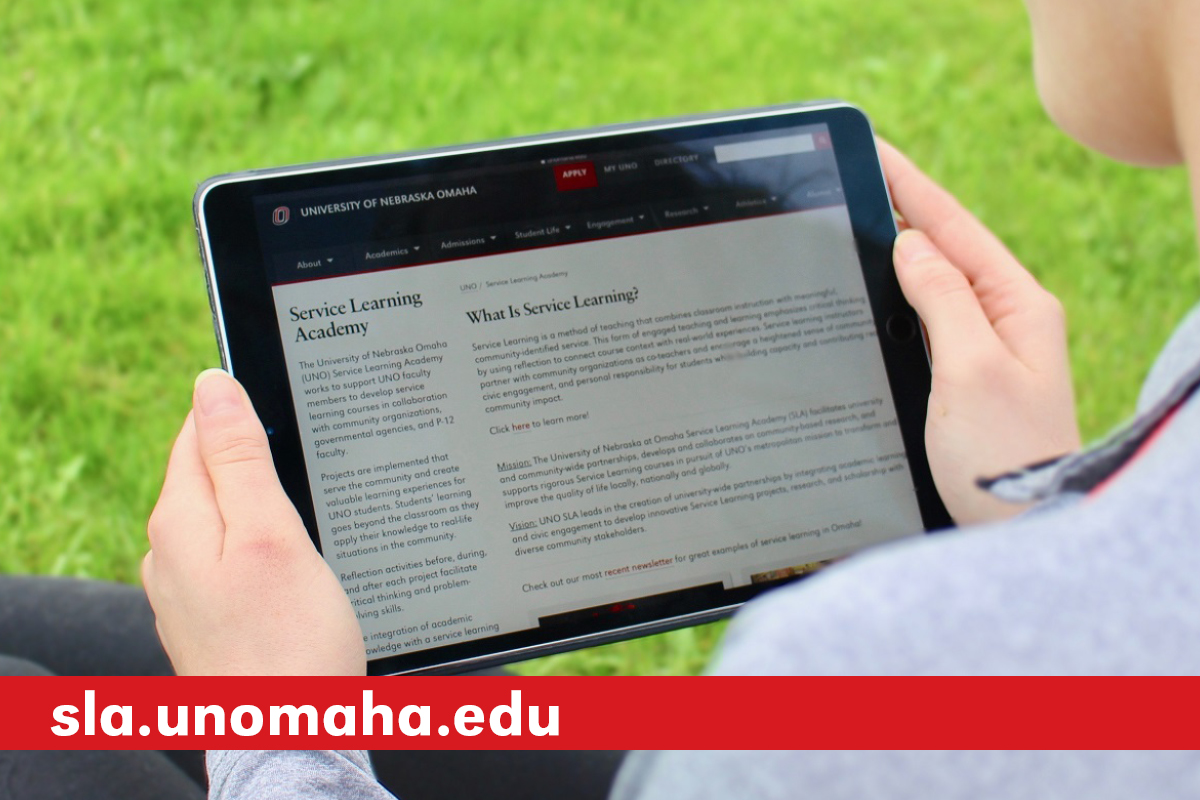 ---
Nonprofit Campaigns
On Friday, December 10th, UNO students from Casey Riesberg's CMST 2410: Small Groups class gathered for a Final Celebration during their last class period to celebrate their nonprofit campaigns this fall. Throughout the semester, students worked in small groups to partner with Planned Parenthood, Project Harmony, and No More Empty Pots to support the current funding goals of each organization with student-run social media campaigns.
Persuasion and Influence
On Monday, December 6th and Wednesday, December 8th, UNO students from Whitney Gent's CMST 4510: Persuasion and Influence presented their findings and recommendations to their community partners. Throughout the semester, students worked in small groups and collaborated with four community partners whose primary missions are to work with individuals in the community who are experiencing poverty. Students used theories learned in class (along with individual research) to provide an analysis of their organization's marketing campaign or website content. These analyses were undertaken to provide each organization with feedback on improvement. After the presentations, UNO students chose one of the four community partners to distribute a $1,000 grant gifted by private donors. This fall's grant recipient was the OPS Foundation.
Community Connections
On Friday, December 10th, UNO students from Casey Riesberg, Amy Freshman, Allison Wakin, and Stephanie Larsen's CMST 1110: Fundamentals of Public Speaking course sections gathered for a virtual Final Celebration to wrap up their final week of class and their Maverick Philanthropy Initiative service learning project. UNO Students, UNO instructors, and community partners from all eight course sections gathered to acknowledge student advocacy work this fall, celebrate this semester's grant recipients, and reflect on the impact on our community. Throughout the semester, students selected and researched a community agency of their interest, then developed and presented a persuasive speech and call to action on behalf of the organization. This was a student-led initiative. Students in each course section were given a $1,000 grant to distribute to one community agency. The persuasive speech presentation from each course section with the best call to action for their organization (per a collective class decision) gave that organization a $1,000 grant. This fall's grant recipients include Sacred Hearty Ministry Center, International Council for Refugees and Immigrants, Child Saving Institute, Team Jack Foundation, Inc., Bluebird Cultural Initiative, Rejuvenating Women, and Nebraska Coalition for LifeSaving Cures (Nebraska Cures). 
Walk Against Hate
This semester, Dr. Sarah Nelson's GEOG 1020: Introduction to Human Geography course partnered with Benson High School Language Arts students, taught by Kelcey Schmitz, to research significant sites around Omaha for the Anti-Defamation League's upcoming Walk Against Hate event. The students created videos, infographics, and presentations about the sites for the Walk Against Hate website. In November, the students presented their work to ADL staff, and on December 1st, the classes went on a field trip to some of the sites they researched, including the Douglas County Courthouse, the Omaha Star building, and the Great Plains Black History Museum. The trip was a great opportunity for students to meet each other and learn more about the Omaha community.
Maverick Falcon Math Problems
On Tuesday, December 7th, UNO students from Dr. Michael Matthews's MTCH 2010: Math for Elementary Teachers II collaborated with Mary Kilnoski's 5th-grade students from R.M. Marrs Magnet Center to solve one last math problem together at their Final Celebration. Throughout the semester, students have been interacting and solving math problems via Flipgrid. The middle school students had the opportunity to visit UNO's campus and ask UNO students questions about college. In addition, students got a brief tour of the Milo Bail Student Center and the Criss Library.
Research Symposium
Students in Dr. Ashlee Dere's GEOG/GEOL 4330: Soil Genesis course partnered with Lee Ann Stover's AP Environmental Science students from Burke High School to assess soil health in the community. Together, the students gathered soil samples from Glacier Creek Preserve and came up with experiments to test the health of the soil. On Wednesday, December 8th, the students presented the results of their research at the UNO-OPS Joint Research Symposium.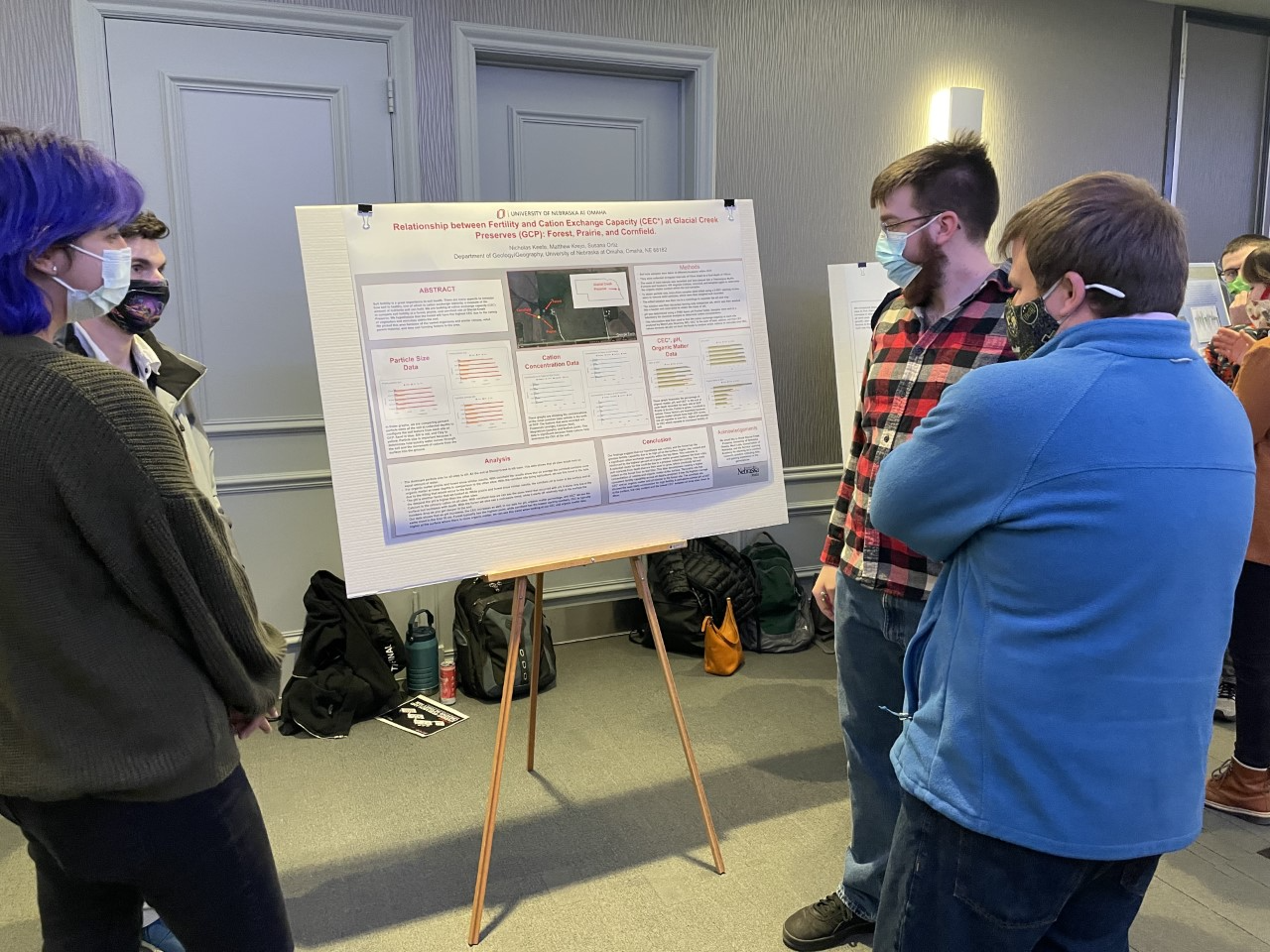 Contact Us
If you are sponsoring a special or public event happening in the CEC or would like to share a news tip or story please contact Robyn Loos via email rloos@unomaha.edu or by phone at 402.554.2173.