This Week in Service Learning
Read about all of the service learning activities happening across campus.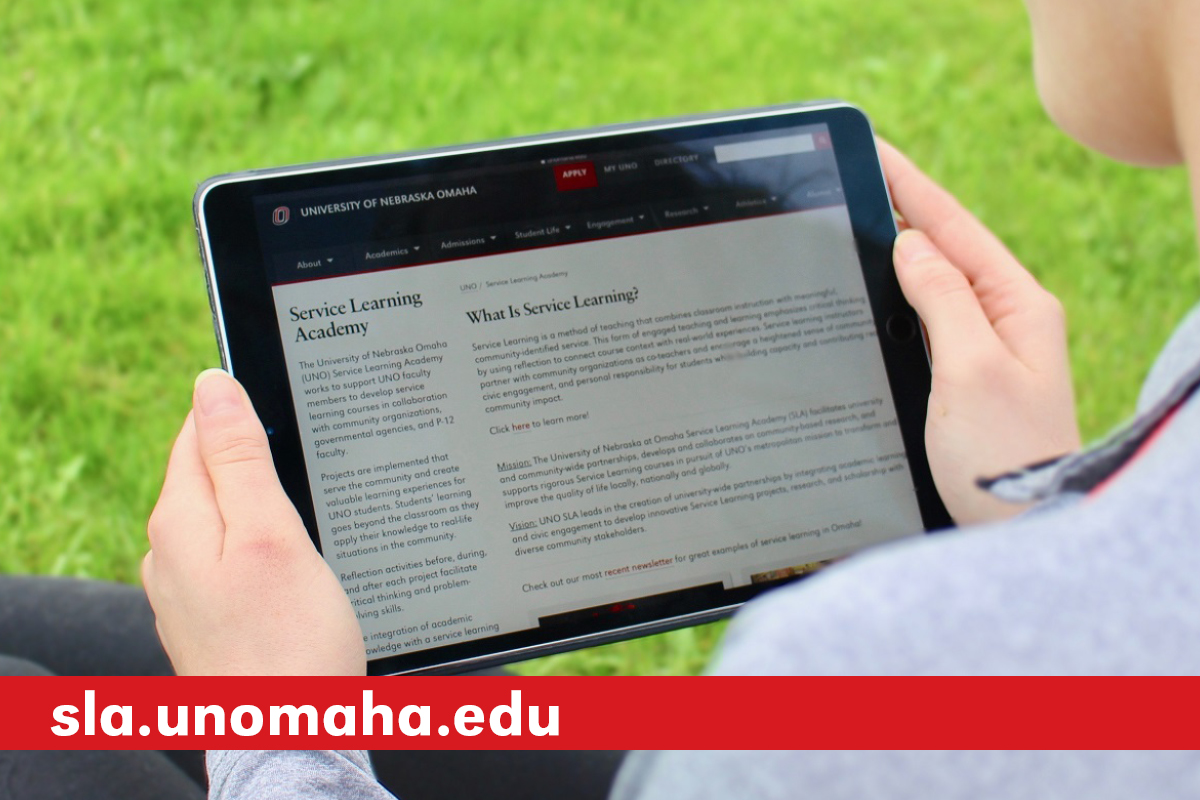 Monday, April 12
Puente al Éxito
UNO students in TED 2050: Intro to Teaching ESL and families from the Learning Community Center of South Omaha (LCC) will gather for the final celebrations of their service learning project this week. This gathering is an opportunity for UNO Students and LCC families to celebrate and reflect on their six weeks together, as well as share their Dream Boards and hopes for their future academic endeavors! Students in Dr. Sandra Rodriguez-Arroyo's course section will meet on Monday, and students in Mariana Cruz's course section will meet on Tuesday for the celebrations.
Get the Word Out
UNO students from Dr. Mitzi Ritzman's CDIS 4750: Childhood Language Disorders will meet for the third time in their five-week service-learning project with Blackburn Alternative High School. UNO students will virtually visit Blackburn on Monday, Tuesday, and Wednesday this week to help support students' needs in literacy enrichment and continuous language development as they create mail art together.
Tuesday, April 13, 2021
Magic Chemistry
UNO students in Dr. Dana Richter-Egger's CHEM 1190: General Chemistry II course is working in groups to develop a collection of hands-on, inquiry-based science activities for the Girl Scouts of Nebraska. The activities are designed to ignite girls' interest in science and curiosity in the world and will be presented during a series of virtual workshops for Girl Scout troops. Four groups will present their workshops this week on Tuesday and Wednesday.
Redlining Conversations
Students in Dr. Gerry Huber's TED 2200: Human Relations for Bias-Free Classrooms course will be meeting with fifth-grade students from Crestridge Magnet School for their service learning project. This week, the students will work in groups to finish planning their presentations about issues related to redlining. Throughout the semester, the students have been working with Inclusive Communities and other community partners in preparation for their final Table Talk discussions, which will take place in April and May.
Thursday, April 15, 2021
Adopt a Classroom
UNO Young Scholars, under the direction of Aaron Krueger, have partnered with Ms. Jennifer Magnuson-Stessman's fourth-grade students from Washington Elementary School. The students will be taking part in a back-and-forth dialogue relating to the college experience.
---
Interested in Service Learning Classes?
For students, choosing classes that contain a service learning component brings them out of the classroom and into the community.
Every semester, there are a variety of courses at UNO that incorporate service learning. Students like you are given the opportunity to apply classroom curriculum to actual community needs. The opportunities provide a means of learning about the surrounding community and the organizations that serve those in need and take on important issues within the community. By doing your part, you will strengthen skills that will help you progress through your studies and/or career.
More information is available on the UNO Service Learning Academy Website.
Contact Us
If you are sponsoring a special or public event happening in the CEC or would like to share a news tip or story please let us know.
Robyn Loos
Special Projects Associate
Email: rloos@unomaha.edu
Phone: 402.554.2173