This Month in Service Learning
Read about all of the service learning activities happening across campus each month.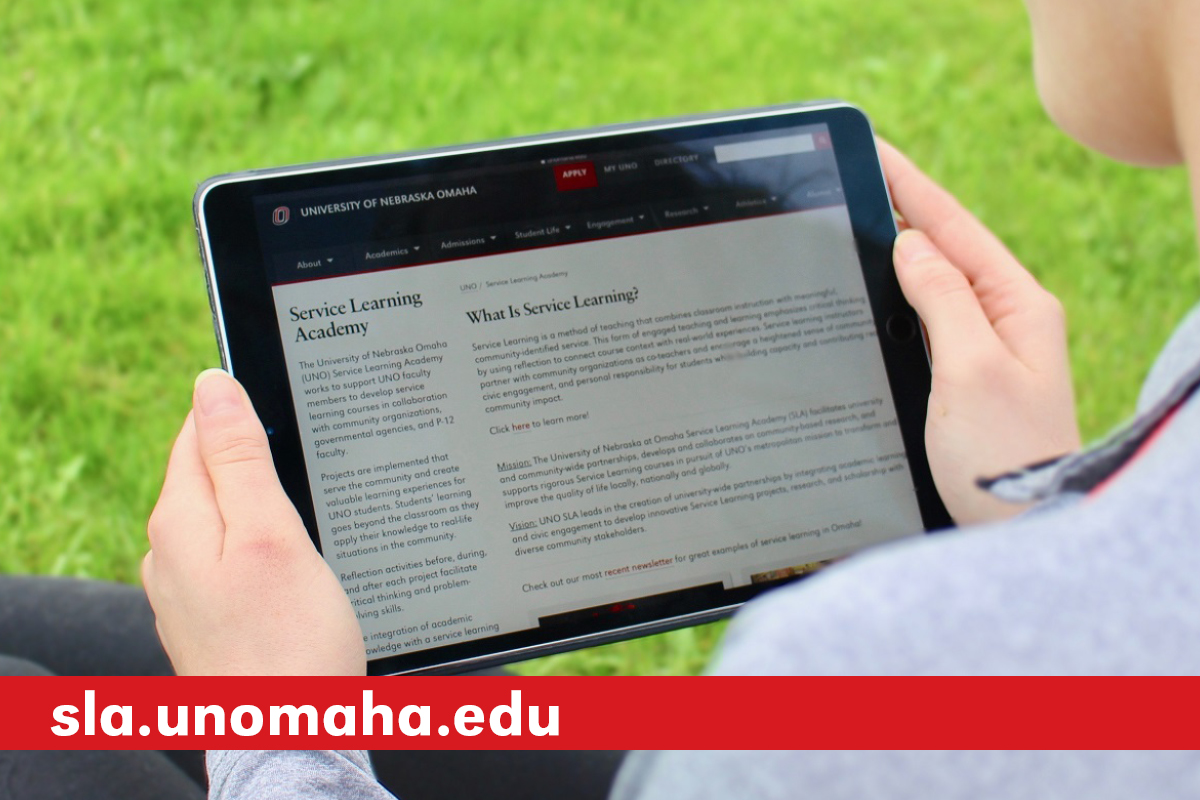 The Service Learning Academy facilitates rigorous experiential learning experiences for students to apply their classroom content to community-identified opportunities in collaboration with UNO faculty members and community partners. Each month we will highlight ways in which our team and partners are meeting our metropolitan mission.
---
Service Learning Showcase
Date: April 26, 2023
The Service Learning Showcase is an annual event that showcases and celebrates the work of faculty, students, local educators, and community partners through service learning. The Service Learning Showcase will be held on Wednesday, April 26th from 4:00pm to 6:00pm. Please RSVP for the event by emailing unosla@unomaha.edu.
Additionally, this year, the Service Learning Academy is celebrating its 25th year and will be looking back at all the past years and showcasing various projects and achievements throughout the years. If you have been part of a service learning project in the past and would like to showcase it this year in the form of a poster presentation, please fill out this form by March 20th, 2023.
For more information, you can utilize the event's webpage.
CultureFest
Date: April 23, 2023
CultureFest is an annual partnership between the Service Learning Academy and Omaha South Magnet High School which features a variety of performances, community presentations, and information booths that highlight the rich cultural diversity of the Omaha community. This year, the SLA's annual CultureFest will be held on Sunday, April 23rd. This event is free and open to the public, but organizations that are interested in performing or hosting a booth should reach out to Olajide Cooper at ocooper@unomaha.edu or Brittany Sullivan at basullivan@unomaha.edu for more information.
Service Learning Informational Sessions: Coffee and Conversation
Dates: March 31 and April 11
Join UNO's Service Learning Academy in PKI and Mammel Hall for coffee and conversation to learn more about engaged teaching, learning, and research. We can answer questions or ideate on your service learning and engaged scholarship ideas and needs. This is a fantastic opportunity to brainstorm, discuss partnership opportunities, and obtain service learning pedagogical resources.
PKI session (PKI 150) with Susan Wallis and Dr. Christine Toh will be held on Friday, Mach 31st from 1:00pm to 2:30pm.
Mammel Hall session (MH 303S Conference Room) with Susan Wallis and Dr. Shannon Cummins will be held on Tuesday, April 11th from 2:30pm to 4:00pm.
Coffee and snacks are provided. No registration is required.
Lunch and Learn: Redlining and Community Engagement
Date: March 27
The Service Learning Academy is hosting a Lunch and Learn on Monday, March 27th from 11:30am to 1:00pm that will focus on the harmful impact of redlining. The goal of this event is to connect UNO faculty and community partners to contextualize how they might utilize experiential learning to address the impact of redlining in their classes and organizations. Time will be provided to allow participants to connect with possible partners to ideate on future collaborative efforts between UNO courses and local organizations with the shared goal of reinvesting, reframing, and redesigning historically redlined areas.
Lunch will be provided. Registration is required.
For more information, you can utilize the event's webpage.
---
Communications
Follow SLA on Social Media
The Service Learning Academy gives updates about campus and community happenings via Facebook, Instagram, and Twitter. Be sure to follow us on these platforms to stay up-to-date on the rigorous service learning and community engagement happening at UNO!
Get SLA Email Communications
We want to keep you informed about opportunities to collaborate. Register to receive email updates online.