This Month in Service Learning
Read about all of the service learning activities happening across campus each month.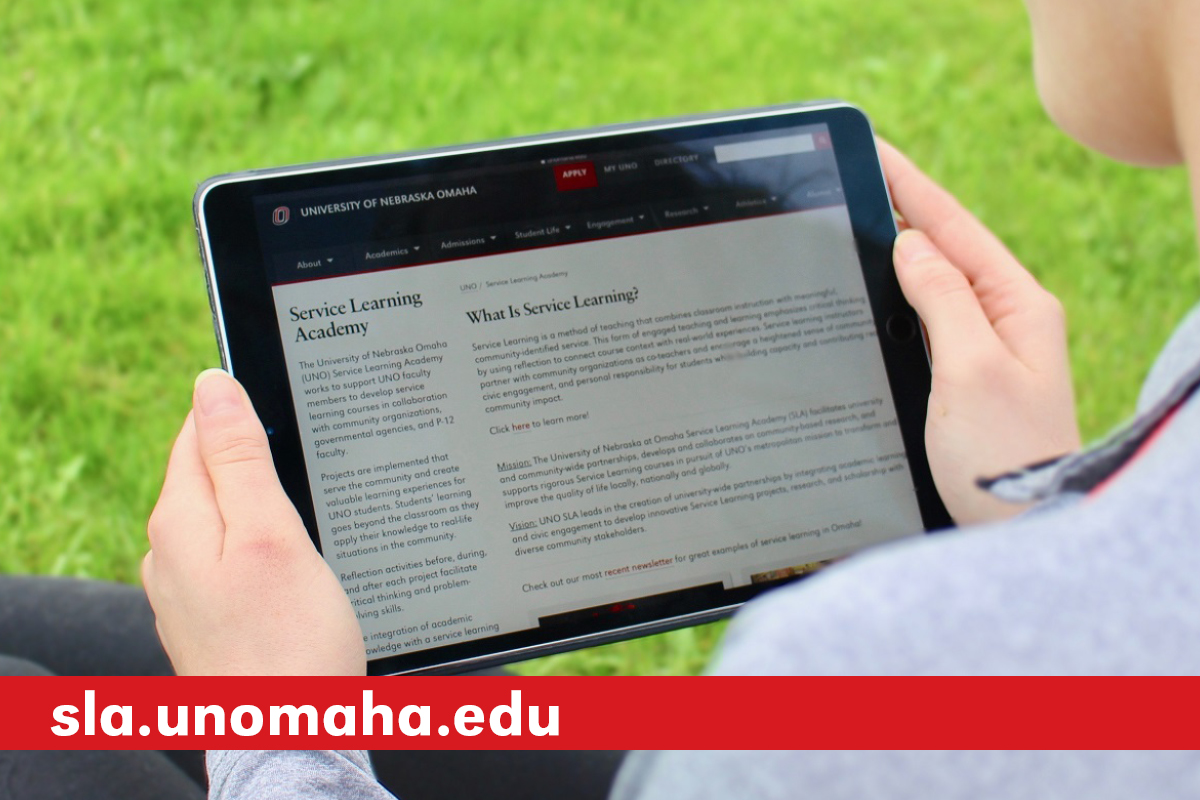 The Service Learning Academy facilitates rigorous experiential learning experiences for students to apply their classroom content to community-identified opportunities in collaboration with UNO faculty members and community partners. Each month we will highlight ways in which our team and partners are meeting our metropolitan mission.
---
Service Learning Academy Open House
The UNO Service Learning Academy invites you to attend our annual Open House. We invite students, faculty members, campus partners, and community partners to attend and learn about service learning courses, connect with potential partners, meet new staff members, and help the SLA shape our strategic agenda. This year, the SLA Open House will take place on Thursday, December 8 from 2 P.M. to 4 P.M. in the Barbara Weitz Community Engagement Center (CEC) in room 216.
In addition, attendees will be able to explore the Undesign the Redline exhibit which is now being housed directly adjacent to the Service Learning Academy after being housed at the Union for Contemporary Art for several years. Refreshments and food are provided at Open House.
To indicate your interest, please utilize the event's webpage.
---
Meet the Faculty Fellows
Meet the 2022-2023 Faculty Fellows! Faculty Fellows are a critical component to the work done at the Service Learning Academy. They work to increase bidirectional connections between colleges, the SLA, and community engagement efforts; serve as a peer facilitator to increase experiential learning and community engagement opportunities within each academic college; and recruit diverse new faculty to service learning teaching.
Faculty Fellows for the 2022-2023 school year are:
---
Redlining Exhibit Tours
The Service Learning Academy is hosting the Undesign the Redline exhibit in the Barbara Weitz Community Engagement Center for the next two years. During this time, we will be offering public tours of the exhibit. Classes, departments, and community partners are encouraged to schedule a tour or visit the space for an unguided tour.
Both guided and unguided tours are currently being offered. The Undesign the Redline exhibit is open to the public for unguided tours on Thursdays from 9:00am-4:00pm for individuals and groups of 4 people or less. For guided tours, groups of 5 to 30 people may register for a fifty (50) minute tour on Mondays 11 A.M. to 3 P.M., Tuesdays 11 A.M. to 2 P.M., or Wednesdays, 2 P.M. to 6 P.M.
Registration for guided tours and more information can be found online.
---
Communications
Follow SLA on Social Media
The Service Learning Academy gives updates about campus and community happenings via Facebook, Instagram, and Twitter. Be sure to follow us on these platforms to stay up-to-date on the rigorous service learning and community engagement happening at UNO!
Get SLA Email Communications
We want to keep you informed about opportunities to collaborate. Register to receive email updates online.