UNO Student Eh-Mo Khaing Receives the 2023 Marian Ivers Community Service Leadership Award
Eh-Mo Khaing is the recipient of the 2023 Marian Ivers Community Service Leadership Award (Ivers CSL).
published: 2023/09/29
contact: Robyn Loos - Office of Engagement
email: rloos@unomaha.edu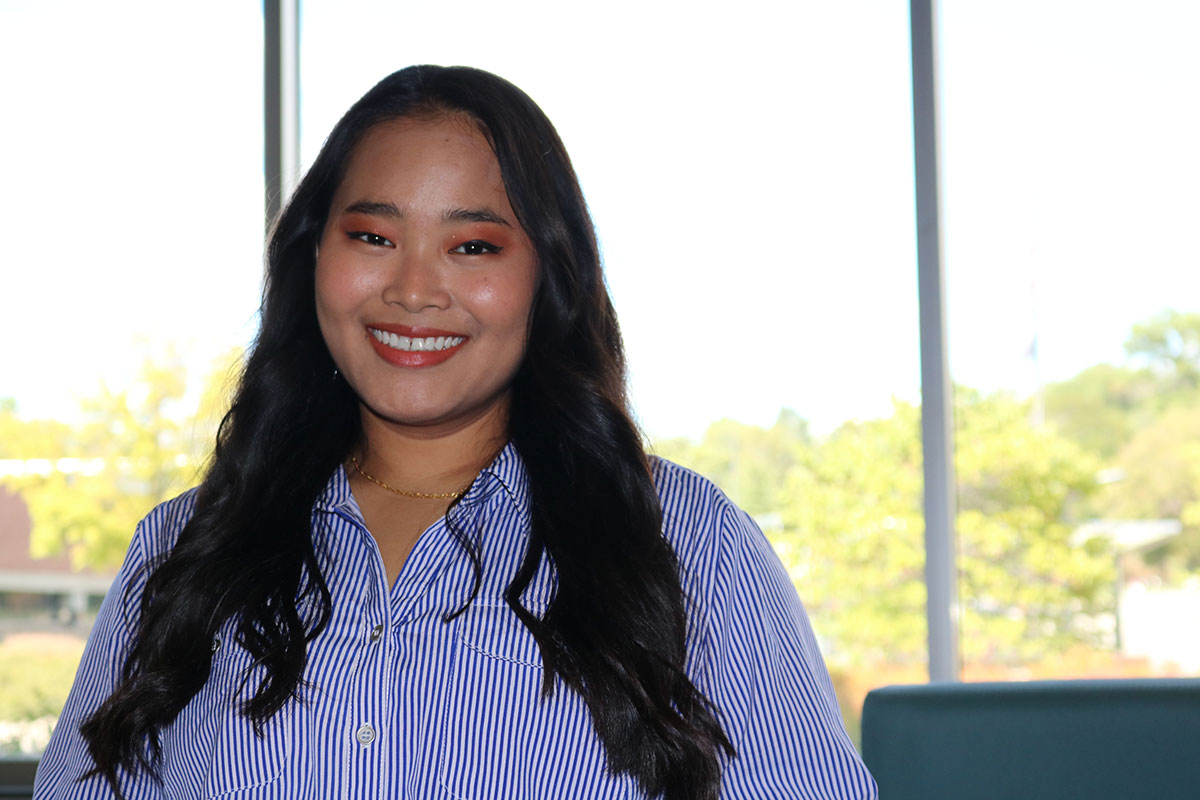 Eh-Mo Khaing, UNO Student
In the summer of 2020, Eh-Mo embarked on a journey that would leave a permanent mark on her life and the community she sought to serve.
As an intern at the Latino Center of the Midlands, she joined a diverse group of passionate students during a global pandemic. Together, she tackled pressing community issues during the pandemic, leading the Siembra Nebraska Project 2020. Her efforts, in collaboration with local organizations, addressed food insecurity and healthcare access in marginalized communities.
Working alongside local organizations like the U.S. Department of Agriculture, Kroc Center, Red Cross, Saving Grace, and Together Omaha, she demonstrated how collective efforts can bring about meaningful change. They played a pivotal role in coordinating a food drive, planting and harvesting vegetables, and organizing a Health Day that saw enthusiastic participation from the community. This transformative experience solidified her understanding of the challenges faced by different populations, especially during crises like a pandemic, and underscored the importance of collaborative endeavors in achieving ambitious goals.
Eh-Mo's journey didn't stop with her internship; it serves as a stepping stone toward her larger mission. Motivated by gratitude for the opportunities she has received and a desire to give back to their community, she aspires to become a physician specializing in family medicine. Her commitment to community health is further exemplified by her work at a COVID-19 testing site, where she prioritized public health while navigating the risks associated with the pandemic. Her involvement in student-led organizations, like the Goodrich Transgressive Feminist Organization (GTFO), showcases her dedication to creating safe spaces for women to share their experiences and advocate for gender equity. As a first-generation college student, she emphasizes the importance of representation in research and education, ensuring that future generations have equal opportunities to succeed. Eh-Mo's journey is one of resilience, compassion, and an unwavering commitment to creating positive change.
Eh-Mo is a senior at UNO majoring in Molecular and Biomedical Biology with a minor in Chemistry.