May 26 - June 10, 2023. The London Study Abroad features visits to prisons, police agencies, courts, and the U.S. Embassy as well as discussions and review sessions that cover academic and tour information. This tour is the required travel component for CRCJ 4710/CRIM 471 Comparative Criminal Justice Systems: England students, but is available to others as a non-credit option.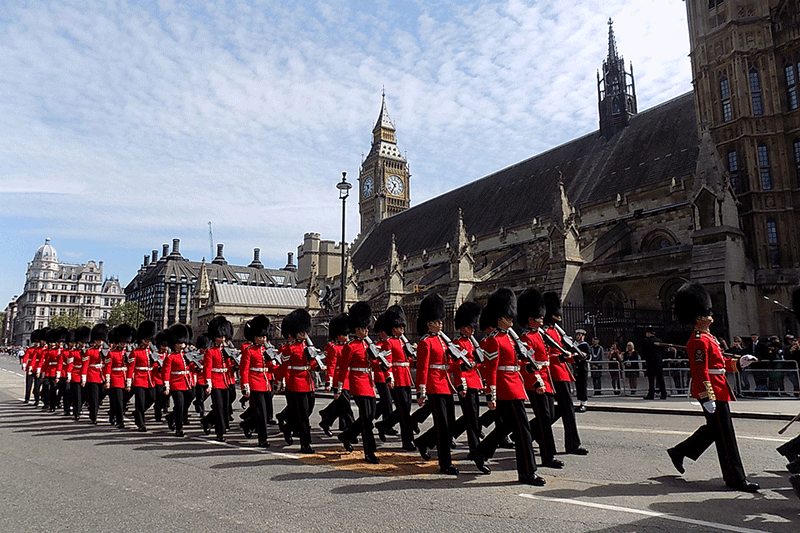 All itinerary items listed below are tentative and subject to change.
| | |
| --- | --- |
| Itinerary | |
| Day 1 | Depart Omaha airport for London. |
| Day 2 | Arrive London. Clear customs and board reserved coach. Visit Windsor Castle, followed by check-in at the Royal National Hotel. Enjoy a complimentary dinner reception at the hotel. |
| Day 3 | Recover from jet lag. Optional tour of London. |
| Day 4 | Visit with law enforcement personnel at the hotel. |
| Day 5 | Day trip to Stratford-upon-Avon and Warwick Castle. |
| Day 6 | Engage in police-related activities. Evening dinner provided. |
| Day 7 | Visit Supreme Court |
| Day 8 | Free time in London or depart for optional trip to Edinburgh for the weekend. |
| Day 9 | Free time. Suggested outings include Portobello Road Market, Harrods, Borough Market, Camden Market, and Westminster Abbey. |
| Day 10 | Free time. Suggested outings include Petticoat Land, Trafalgar Square, Speaker's Corner, Hyde Park, museums. Edinburgh group returns to London. |
| Day 11 | Tour the Inns of Court and experience the Bank of England Pub. |
| Day 12 | Visit Magistrates Court and Old Bailey Crown Criminal Court. |
| Day 13 | Visit maximum security prisons. |
| Day 14 | Spend the day in Cambridge (free time). |
| Day 15 | Free time to explore London. Farewell banquet in the evening. |
| Day 16 | Depart airport for Omaha. |
London Study Tour - Academic and Cultural Highlights
Academic -- Prior to their overseas trip, students will learn about the criminal justice system in England while drawing comparisons to the system employed in the United States. While in London, students will visit with constables and other officials from the London Metropolitan Police Force and hear lectures at the U.S. Embassy. They will also tour maximum-security prisons, observe trials in the Magistrates Court, the Old Bailey Crown Court, and be provided with a guided experience at the Supreme Court of the United Kingdom.
Cultural -- Students may see the changing of the guard at Buckingham Palace. They may take tours of Windsor Castle, Stratford-upon-Avon, Warwick Castle, Westminster Abbey, Saint Paul's Cathedral, and Cambridge. Students will have ample free time during the evenings and weekends.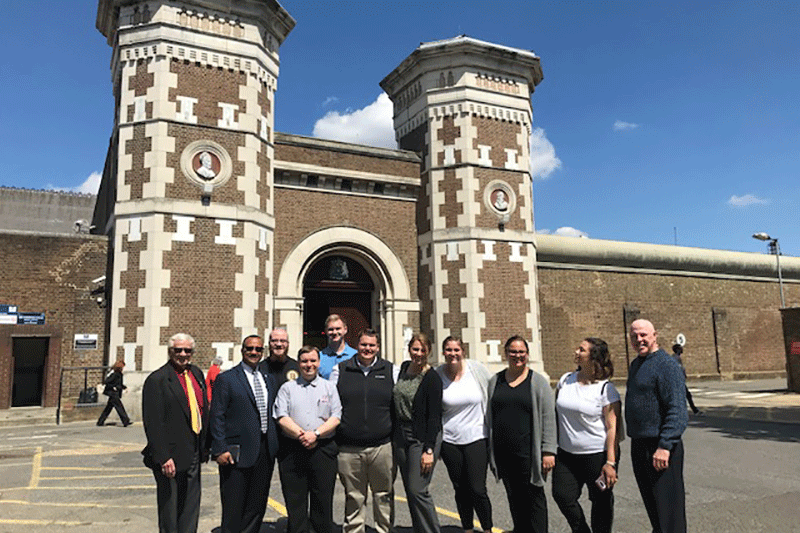 Travel and Accommodations
Round-trip transportation on a scheduled airline between Omaha and London. Ticketing through Fox World Travel allows participants to remain in Europe for a limited period following the tour for independent travel, however, extra charges will apply depending on the return date.
Unless otherwise stipulated, the group must travel together on the same flight(s) for the entire itinerary. Transportation between your hometown and departure city, as well as deviations from the group air schedule, may be subject to additional charges.
For information concerning non-group related travel arrangements, contact Kayla Kaupe at Fox World Travel at 920.236.8030, extension 1175.
Tickets are non-changeable and non-refundable.
Royal National Hotel, Russell Square, London
Centrally located in the heart of London and adjacent to the London University campus, the Royal National Hotel is close to the British Museum, Russell Square Park, Leicester Square, and Piccadilly Circus.
Within a block of the hotel is an Underground Tube Station and Shaftsbury Avenue is nearby, which provides participants with ample opportunities for walking tours of central London. Accommodations are based on three to a room with a private bath.
Double rooms are available only for married couples. Concierge services and restaurants are located on the hotel property.
Address and Telephone while in London:
Royal National Hotel
38-51 Bedford Way
London, WCIH ODG England
Phone: 011.44.208.240.7250
Meals
Full English breakfast plus a limited number of specified meals are included. All other meals are on your own.
Tour Staff
Dr. Mark Foxall, tour director, is a professor and Master of Science program coordinator in the UNO School of Criminology and Criminal Justice. He has previously led the London Study Abroad students and is well versed on the highlights and points of interest covered in the tour. Dr. Foxall's extensive background in law enforcement as a former police officer and FBI agent, and corrections as the Director of the Douglas County Jail provides him with a unique perspective that he shares with students throughout the tour.
Dr. Scott Sasse, instructor with the UNO School of Criminology and Criminal Justice on the Lincoln campus, has adopted international policing as his research agenda and has co-authored a text on Comparative Criminal Justice—England. He has been a frequent tour assistant for the London Study Abroad program and shares his expertise comparing and contrasting criminal justice systems in the UK and US.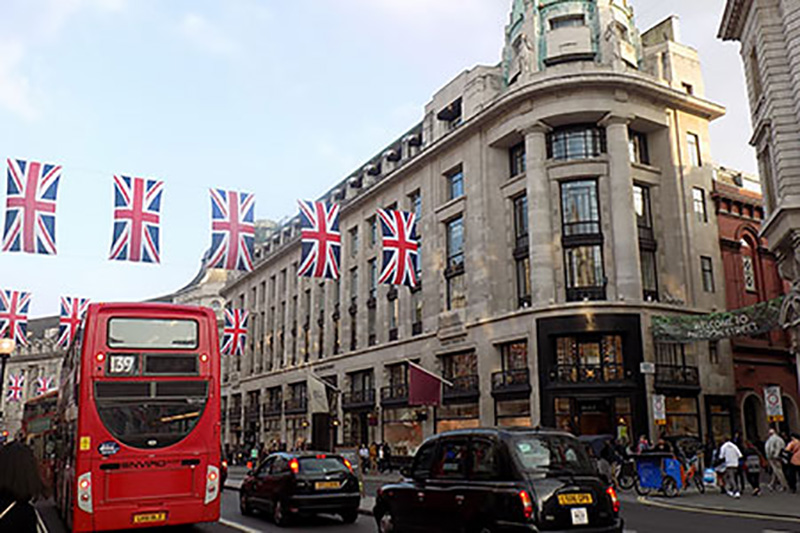 Academic Credit and Requirements
Participants receive three semester hours of graded undergraduate credit in CRCJ4710/CRIM471 Comparative Criminal Justice Systems: England. Those wishing to receive full credit for the course must travel with the class to London, attend all academic activities, participate in discussions and complete a journal reflecting their experiences. (One may choose to audit the course but full tuition will be charged.)
Related reading material assigned during the semester must be completed prior to arrival in England. A basic background in criminal justice through either college course work or related experience is helpful but not required of participants.
Graduate credit is available.
Non-Credit Participants
A limited number of spaces are open to those wishing to travel with the group but not earn academic credit (e.g., friends, relatives and criminal justice stakeholders are welcome).
All activities, expect those designed for academic credit, are open to non-credit participants as space allows.
Tour Price*
TBD - in 2022 the cost was $2870.00 (subject to revision to reflect change in airfares, currency exchange rates. etc.)
INCLUDED: round trip airfare from Omaha, room and partial board (as specified), all designated group transfers, insurance, and administrative costs.
A $200 application fee is due when applying for acceptance into the course and will be applied to final total upon entrance into class.
NOT INCLUDED: passports, independent travel by public transport, incidental personal expenses such as laundry, unspecified meals, entertainment, etc.
*Financial aid is available to qualified participants. Please direct questions to UNOs Office of Financial Support and Scholarship at 402.554.2327.
How to Register
Students from both the Omaha and Lincoln campuses can register online at: unomaha.via-trm.com/traveler/programs/12193
Students from the Lincoln campus will need to use their UNL email address when registering and will need to clarify they are from UNL campus.
Responsibility
The responsibility of the University of Nebraska Omaha and the University of Nebraska Lincoln (and their agents) is limited. They act only as agents for the passenger in regard to travel whether by motor coach, aircraft, or any other conveyance and assume no liability for injury, damage, loss, accident, delay, or irregularity which may be occasioned either by reason of defect of through the acts of defaults of any company or person engaged in conveying the passengers or in carrying out the arrangements of the tour. The operator can accept no responsibility for the loss or additional expenses due to delay or changes in schedule or other causes.
The right is reserved to accept or retain any person as a member of any tour or to change or withdraw the tour as circumstances demand. All rates are based on tariffs in effect at the time the tour was planned and are subject to change in the event of adjustment therein. No refund for unused portion of the tour can be made unless agreed to prior to the departure of the tour. Tour services, including, but not limited to carriage by land, carriage by sea, guide services, hotel accommodations, restaurants, and all services other than carriage by air furnished by UNO/UNL are furnished by independent contractors who are not agents or servants of UNO/UNL or any other airlines and with whom neither UNO/UNL nor any such airlines have any relationships as joint venturer or otherwise.
The acceptance of this order or participation in the tour by the passenger or his/her assignees shall be deemed to be consent to an acceptance by such person(s) of the above and of the further condition that UNO/UNL and such other airlines shall not be responsible in any way whatsoever for such tour services, nor shall UNO/UNL or any such other airlines be responsible for any inconveniences, loss, damage or injury arising out of or in connection with tour services other than its liability under the ticket and tariff provision for carriage by air furnished by it.
The operartor reserves the right to make adjustments in land prices consistent with major currency changes. Airfares are subject to increase at any time.