Hansen Receives Certificate of Merit for her Academic Advising Work
Katie Hansen, Senior Academic Advisor for the School of Criminology and Criminal Justice, has been awarded the Certificate of Merit of Region 6 Excellence in Advising by the National Academic Advising Association (NACADA).
This award recognizes academic advisors that have demonstrated outstanding service toward students. Hansen's strong interpersonal skills, along with her demonstration of NACADA's core values of caring, commitment, empowerment, inclusivity, integrity, professionalism, and respect helped her nomination stand out. She will be recognized at the virtual NACADA Regional Conference in April, 2021.
Hansen holds a Master of Arts degree in Educational Administration from the University of Nebraska Lincoln. She has worked as an academic advisor in the SCCJ since 2016 and was recently promoted to Senior Academic Advisor. Before joining the SCCJ, Katie worked for two years as a graduate assistant for advising in the College of Engineering at UNL while completing her master's degree.
As an undergraduate, Katie realized she wanted to work with students but was unsure what capacity would best fit her skills. She toyed with the idea of teaching, but after landing a job as an assistant in an advising office at UNL, she knew that academic advising was her niche. Katie loves what she does and it shows. According to Gaylene Armstrong, Ph.D., director of the SCCJ, Katie continually goes above and beyond in her job duties and always puts the students first. "Katie is such a wonderful asset for the SCCJ, and for our students in particular" Armstrong said. "She goes out of her way to advocate for our students and ensures they have the best college experience possible," she added. In Katie's new role as Senior Academic Advisor, she will still have direct student contact but her role will expand to include representing the SCCJ on the Omaha campus in a variety of student advising initiatives.
Katie is honored to be recognized by NACADA with this prestigious award. "I am so grateful for the amazing advising community we have at UNO, as well as my awesome colleagues in the SCCJ," she said.
Story published February 2021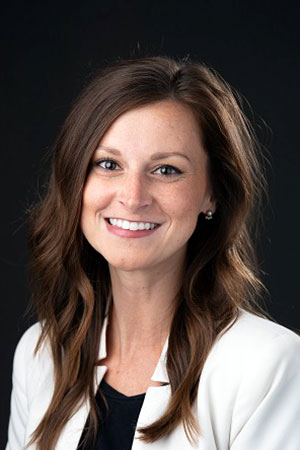 Katie Hansen