Longitudinal assessment of gait variability to predict falls in Parkinson's disease
Objectives: To better predict falls in Parkinson's disease (PD) and to better understand the relationship between gait variability and brain activity in PD.
Dr. Marmelat's Team

Significance: Within 3 years of diagnosis, more than 85% of people with PD develop gait impairments, and 38% to 87% of people with PD fall due to these problems in locomotor control. There is a pressing need to identify fall risk factors and to better understand changes in locomotor control leading to falls in PD patients.
Approach: The longitudinal design of our study will consist in measuring gait variability and prefrontal activity during single and dual-task over-ground walking every six months, in PD patients and healthy controls, and collecting information about falls and near falls. This project will improve the objective assessment of fall risk in PD patients using gait parameters during cognitively challenging conditions, similar to those experienced in patients' daily lives.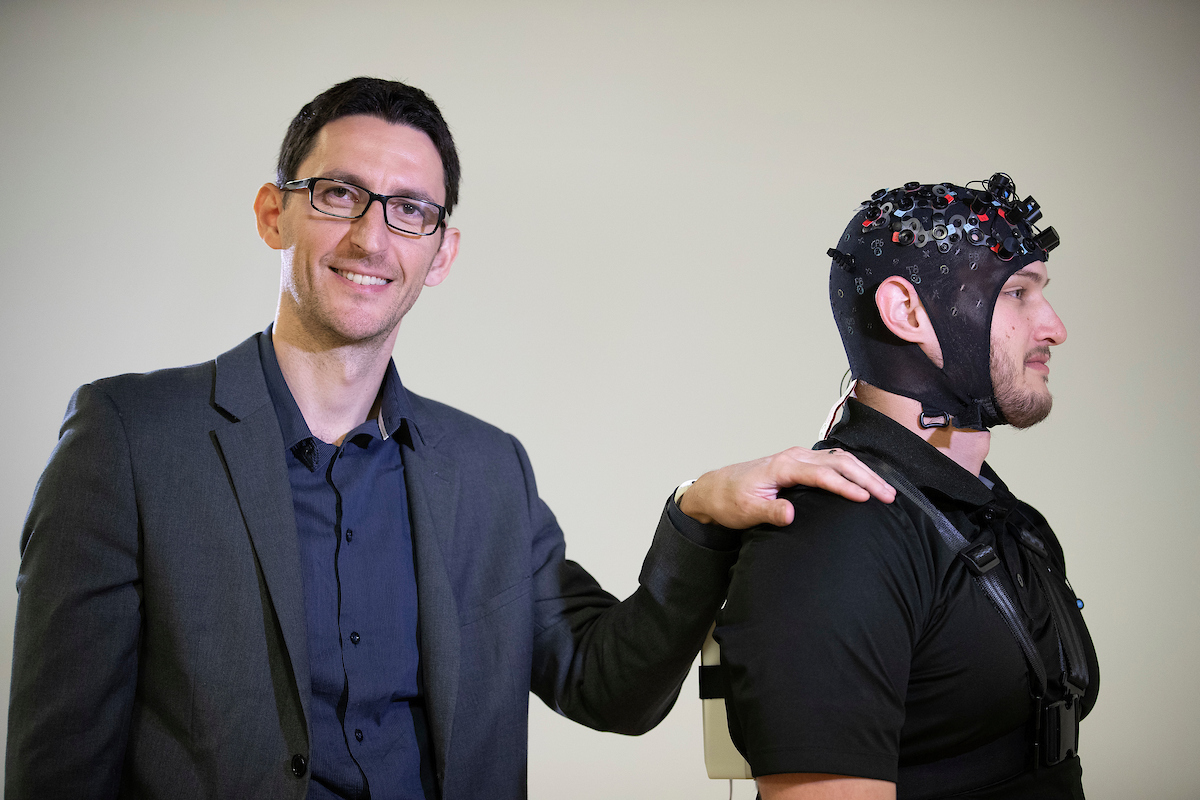 Impact: The longitudinal design of this project will enhance our understanding of the relationship between PD progression, gait impairments and cortical changes, knowledge that is currently lacking. Understanding the changes in locomotor control leading to future falls will assist in the development of more effective rehabilitation interventions that can improve both mobility and cognitive function for individuals with PD.
Contact us at: unobiomechanics@unomaha.edu about participating in Parkinson's disease research.
If you are interested in joining our research team, please contact Dr. Marmelat at vmarmelat@unomaha.edu.
Representative Publications
Marmelat, V., Duncan, A., Meltz, S., Meidinger, R., Hellman, A. (2020). Fractal auditory stimulation have greater benefit for people with Parkinson's disease showing more random gait pattern. Gait & Posture, 80, 234-239. https://doi.org/10.1016/j.gaitpost.2020.05.021
Ravi, D.K., Marmelat, V., Taylor, W.R., Newell, K.M., Stergiou, N., Singh, N.B. (2020). Assessing the temporal organization of walking variability: A systematic review and consensus guidelines on detrended fluctuation analysis. Physiol. 11:562. doi: 10.3389/fphys.2020.00562
Marmelat, V., Duncan, A., Meltz, S. (2019). Effect of sampling frequency on fractal fluctuations during treadmill walking. PLoS ONE 14(11): e0218908. https://doi.org/10.1371/journal.pone.0218908
Marmelat, V., Meidinger, R.L. (2019). Fractal analysis of gait in people with Parkinson's disease: three minutes is not enough. Gait and Posture, 70, 229-234. doi.org/10.1016/j.gaitpost.2019.02.023
Marmelat, V., Reynolds, N.R., Hellman, A. (2018). Gait dynamics in Parkinson's disease: Short gait trials 'stitched' together provide different fractal fluctuations compared to longer trials. Frontiers in Fractal Physiology doi: 10.3389/fphys.2018.00861