Exoskeleton Optimization and PAD
Exoskeleton optimization for reducing gait variability in patients with Peripheral Artery Disease
The objective of this project is to develop more clinically feasible methods for optimizing assistive devices for patients populations, such as patients with Peripheral Artery Disease (PAD).
Wearable robots such as exoskeletons in development at UNO and other universities can reduce the metabolic cost of walking. Fine-tuning the controls of an exoskeleton for an individual typically requires up to one hour of walking experiments. However, patient populations such as patients with peripheral artery disease typically cannot walk longer than a few minutes because of muscle pain; therefore, it is challenging to optimize exoskeletons for the patient populations that could most benefit the most from these devices.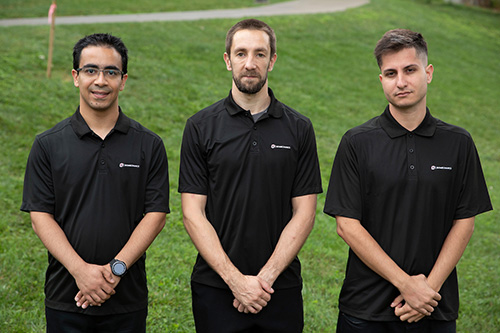 From left to right: A.M. Gonabadi, P. Malcolm, P. Antonellis.
As part of this project, Malcolm his team aim to develop faster and thereby more clinically feasible methods for optimizing a hip exoskeleton. These algorithms will rely on movement variability measurements supported by our center of human movement variability.
We expect that more clinically feasible methods for optimizing exoskeletons will be useful for optimizing exoskeletons in other patient populations or even optimizing other devices such as individualized footwear. In parallel with this research, our team develops educational tutorials on exoskeletons and biomechanics.
Representative publications