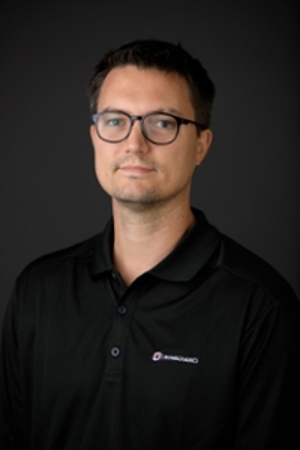 Nathaniel H Hunt
Biomechanics, Assistant Professor
---
email:
office:
BRB  238
office phone:
note:
This profile is pulling in data from Digital Measures. Postings on personal websites or social media do not indicate that the individual is speaking on behalf of UNO.
General Information
Biography
Dr. Hunt's research focuses on discovering the principles of balance and agility. He leads a research group investigating humans, squirrels, cockroaches, and robots to make discoveries about locomotion over and through complex terrain.
Teaching Interests
Methods in BiomechanicsBioinspired Robotics
Research Interests
Dynamics and Control of Balance and AgilityReducing Falls for Older AdultsCanopy Locomotion BiomechanicsBioinspired Robotics
Education
Ph D, University of California, Berkeley, Berkeley, CA, Integrative Biology, Biomechanics, 2017
MS, University of Nebraska, Omaha, Omaha, NE, Exercise Science, Biomechanics, 2012
BS, University of Nebraska, Lincoln, Lincoln, NE, Physics, Computer Science, 2010
Scholarship/Research/Creative Activity
Selected Publications
Hunt, Nate, Jinn, Judy, Jacobs, Lucia, Full, Robert. 2021. Acrobatic squirrels learn to leap and land on tree branches without falling, Science, 373, 6555, 697-700.
Jacobs, Lucia, Hunt, Nathaniel, Full, Robert. 2021. We used peanuts and a climbing wall to learn how squirrels judge their leaps so successfully – and how their skills could inspire more nimble robots, The Conversation.
Rasmussen, Corbin, Hunt, Nate. 2019. A novel wearable device to deliver unconstrained slip perturbations during gait., Journal of NeuroEngineering, 16, 1, 1-11.
Rasmussen, Corbin, Hunt, Nathaniel. 2021. Unconstrained slip mechanics during turning, Journal of Biomechanics, 125, 110572.
Externally Funded Research
FALL RESISTANCE TO DIVERSE SLIPS, National Institutes of Health, Federal, 06/15/2019 - 05/31/2022