Soul Journey
Art & Art History Student Elisa Wolcott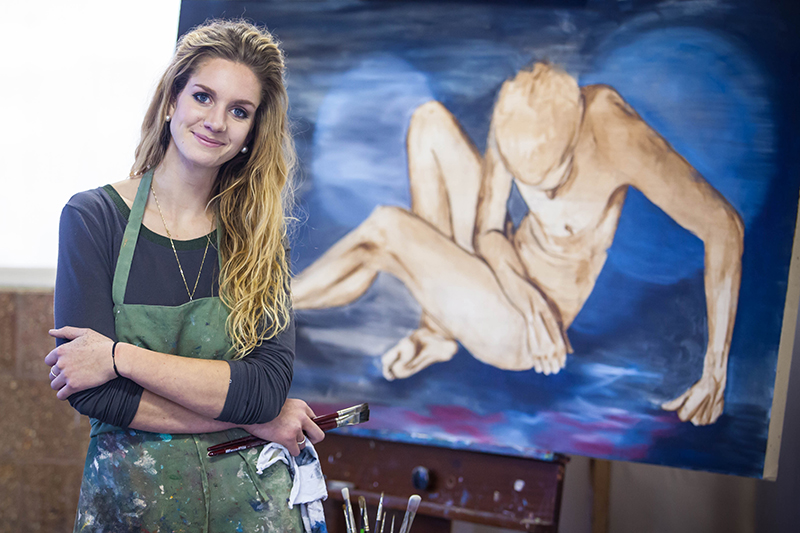 Weber Fine Arts – After graduating from high school, Elisa Wolcott took a year off before starting college in order to gain a new perceptive and understanding of what she wanted to do with her future. The idea of earning a Bachelor's degree in Fine Arts was something she often thought about, but she just wasn't sure. During a visit to the University of Nebraska at Omaha, she had a meeting with Sculpture Professor David Helm, and finally knew that this was the program for her.
Since that day, Elisa has never regretted enrolling in UNO's studio art program. Although she did not have much experience or knowledge in studio art before she started school, it was something for which she had a passion. Now, Elisa is able to critically analyze and evaluate her work in order to improve herself, as well as better understand the contemporary art world.
Art history and studio design courses offered by the School of the Arts helped Elisa reevaluate her own art and view it in a new light. The highlight of her undergraduate career was when she had the opportunity to design a ceramic installation at Eppley Airfield.
"I found something I was passionate about, learned how to network, and I was able to discover how committed I could be to a project or body of work," Elisa says.
The studio art professors had a profound impact on Elisa as they always took time out of their busy schedules to help her individually. Emerging artists in the Omaha community visiting the campus helped improve her work ethic, which ultimately made her both a better artist and student.
"A well-known painter came to my studio one day and gave me some great feedback about the technicalities of figure painting," Elisa says. "Hearing how artists process their work and concepts has been incredibly helpful."
Elisa says that although artistic skill is essential, an art student must be willing to accept important feedback and critiques to improve. She also says that student artists need to be dedicated to all of their school work and the sacrifices involved in getting an education.
"Students have to be willing to put in the hours needed for this major, as that will help them with their school work and their future artistic career," Elisa says.
"There are many facets of the art world, and I am figuring out where I fit into it all. It has been an honor to be a part of this program," Elisa says.
Learn more about the creative opportunities available to you by visiting the Art & Art History Program