With five academic units spread across campus, CFAM students live and learn in a wide variety of educational environments.
---
UNO Art Gallery
The UNO Art Gallery (first floor, Weber Fine Arts Building) is a vital cultural and educational forum for the study, contemplation, and critical analysis of works of art. The gallery strives to inform about the issues and challenges raised by the visual arts through the presentation of contemporary art from artists with regional and national reputations.
These exhibitions expose students to the diversity and vitality of contemporary visual culture, making the significance of art and human values understandable to all.
The UNO Art Gallery hosts a variety of events and supplemental exhibitions, including student thesis showcases. These events nurture and sustain the social, creative, and intellectual life of the Art & Art History program, and provide opportunities to meet members and supporters of the Omaha art community.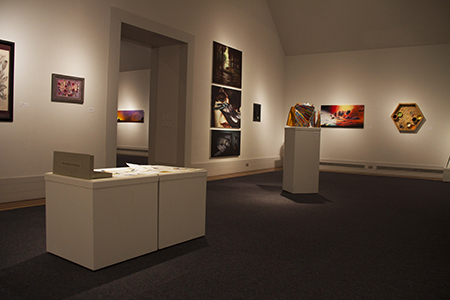 UNO Art Gallery
Arts & Sciences Hall
The historic Arts & Sciences Hall houses the School of Communication's main office, as well as classrooms optimal for open discussion and learning and computer labs that allow for hands-on, individual research and creative production.
UNO's Speech Center is also located in this building to provide UNO students, graduate students, faculty, and staff assistance with planning and executing oral presentations.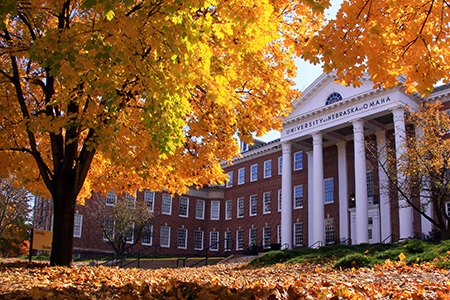 Arts and Sciences Hall
Black Box Theatre
The Black Box Theatre is a state-of-the-art performance facility for UNO Theatre productions. Located on the basement level of the Weber Fine Arts Building, the theatre's mobile seating units can be transformed from proscenium to thrust, in-the-round, or stadium-style seating, allowing a wide array of configurations and styles.
The theatre is equipped with a full-tension wire grid system which provides ample lighting positions and flexibility. Three balcony levels surround the stage floor providing additional stage or audience seating locations.
Additional theatre spaces include:
A drafting lab, acting studio
Directing studio
Scene and costume shops
Dressing and make-up rooms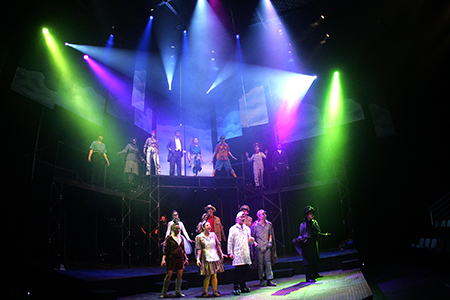 UNO Theatre Production in the Black Box Theatre
Castle of Perseverance
The Castle of Perseverance performance space is adjacent to the Weber Fine Arts Building. Dedicated to the building and the art produced there, the Castle is an outdoor amphitheater that seats 100 audience members but is frequented by campus wanderers of all kinds.
Many professors use this space as an outdoor classroom on nice days. An outstanding example of public art on UNO's campus, the Castle was designed by British artist and Minneapolis resident Andrew Leicester and added to campus in 1993 through funds from the One Percent for Art Program.
The wide range of imagery presented in the space, including snakes with skulls coming out of their mouths; the political faces smiling and represented as clowns; suction-type figures with the words peace, justice, truth, and mercy represent the allegorical combat for the soul of man.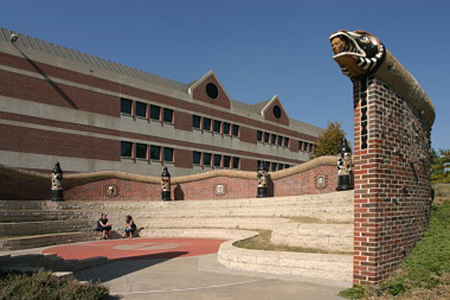 Castle of Perseverance
Ceramics and Sculpture Lab
The Ceramics and Sculpture Lab, located on the south side of UNO's Dodge Campus behind H&K, is a dedicated workspace for studio art students. A well-equipped studio features a gas kiln and electric kilns for low and high-temperature firings as well as semi-private studio space for advanced students.
Sculpture students are able to investigate constructive methods, including in-depth techniques such as carving and casting, found object and assemblage, and installation and multi-media.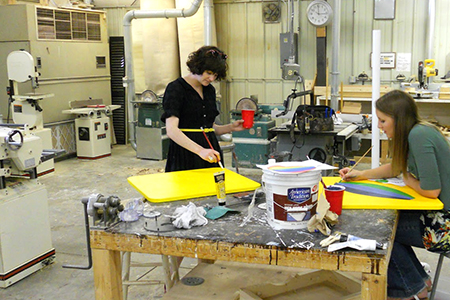 Ceramics and Sculpture Lab
CPACS Building
The School of Communication also has office and studio space in the College of Public Affairs and Community Service (CPACS) building for Classical 90.7 KVNO radio and UNO Television.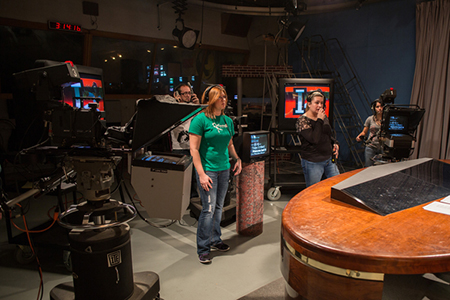 UNO Television Studio in CPACS
Strauss Performing Arts Center
The Willis A. and Janet S. Strauss Performing Arts Center, home to the School of Music, was designed by Omaha architect Golden Zenon and completed in 1973. The complex itself boasts a tunable recital hall with seating for 460, a Casavant Organ and a Steinway Concert Grand D piano, impressive acoustic isolation, large rehearsal rooms, a listening library, and ample practice rooms for music students.
Strauss is a nexus of musical activity, hosting more than 200 concerts, festivals, and masterclasses each semester.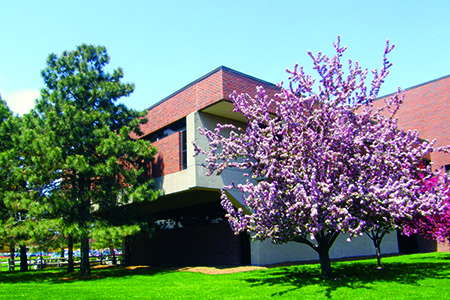 Strauss Performing Arts Center
Weber Fine Arts Building
The award-winning Weber Fine Arts Building (WFAB), was designed by Hardy, Holzman, and Pfeiffer Associates of New York to be an "inhabited sculpture on campus," and was completed in 1992.
This unique four-story, 300 feet-long structure houses the School of the Arts, including Art & Art History, Theatre, and Writer's Workshop, as well as the Black Box Theatre, the UNO Art Gallery, and the college's administrative offices. WFAB has dedicated studio spaces for:
Drawing
Printmaking
Painting
Papermaking
Book arts
Electronic imaging
Art education
Graphic arts
Art History classrooms are fitted with equipment for projecting slides, videos, CDs, PowerPoint presentations and websites. Writer's Workshop students benefit an up-to-date literary magazine library housed in the building.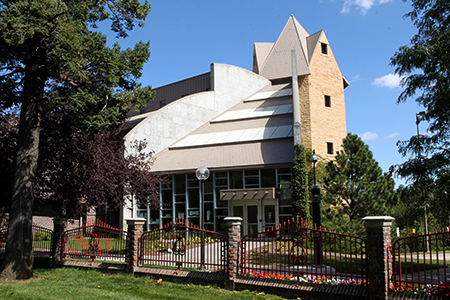 Weber Fine Arts Building