CFAM Degrees Work!
What can you do with a CFAM Degree? More than you may think.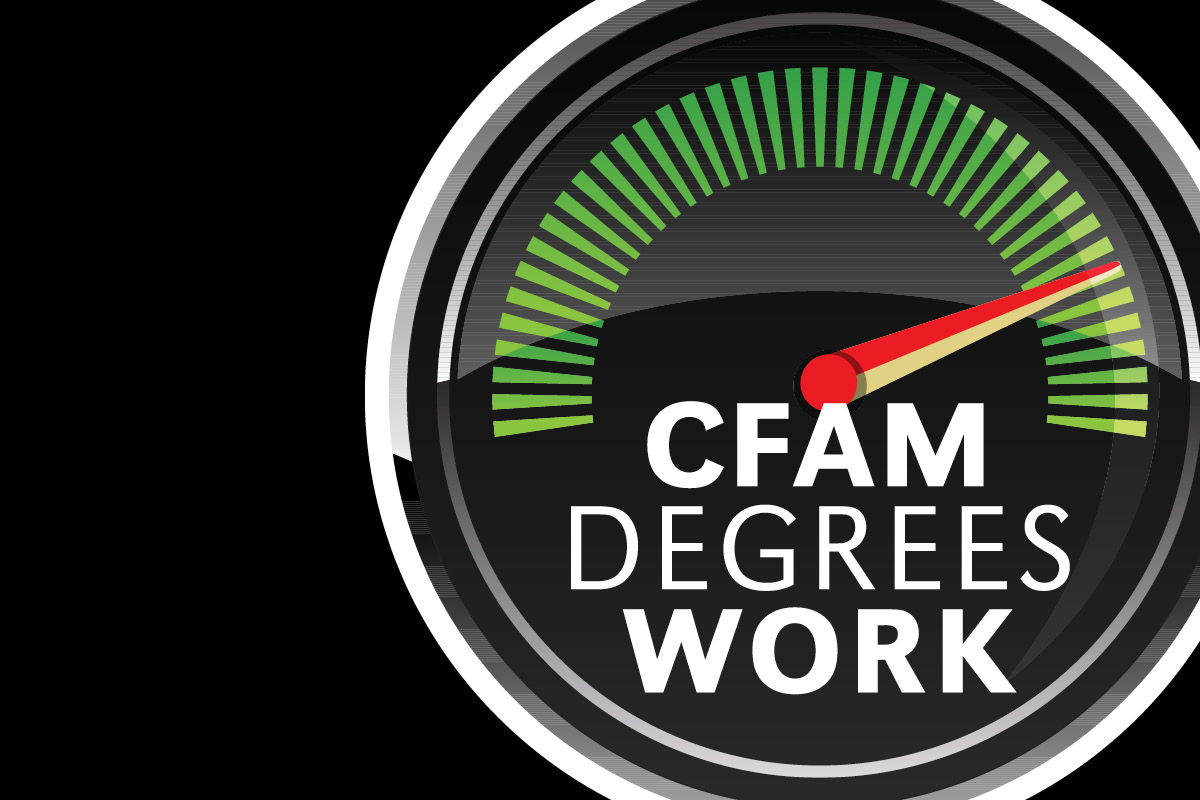 Degrees from the College of Communication, Fine Arts and Media work. They work in many different career fields. Some of those fields may not immediatley come to mind. However, they represent the skills that a CFAM degree can work for you.
Currently CFAM offers 57 different majors that can work in over 200 different career positions. Some of them are listed below. Which degree would work for you?
THE SCHOOL OF THE ARTS
Composed of Art & Art History, Theatre, and Writer's Workshop (Creative Writing), students can take courses across these disciplines. Artistic training in our programs combines the mastery of foundation skills with paths for innovative thinking and creativity.
Degrees offered in the School of the Arts:
- Bachelor of Arts in Studio Art
- Bachelor of Arts in Studio Art + K-12 Certification
- Bachelor of Fine Arts in Studio Art
- Bachelor of Arts in Art History
- Bachelor of Arts in Theatre
- Bachelor of Fine Arts in Creative Writing
- Master of Fine Arts in Writing
Some of the careers School of the Arts degrees work in are:
Studio Art
Fine Artist, Graphic Designer, Art Teacher K-12, Professor/Educator, Arts Administrator, Illustrator, Animator, Web Designer, Photographer, Art Director, Video Game Designer, Exhibition Designer/Coordinator, Gallery Manager, Preparator, Art Therapist, Industrial Designer, Set Designer
Theatre
Actor, Director/Assistant Director, Casting Manager, Lighting/Set/Stage Designer, Technician, Producer, Operations Manager, Professor/Educator, Arts Administrator, Stage Manager, Events/Box Office Manager, Artist Manager, Costume Designer , Arts Critic, Scenic Carpenter, Make-up Artist, Choreographer
Art History
Curator, Professor/Educator, Conservator/Restorer, Gallery/Museum Administrator, Art Appraiser, Archivist, Art Librarian, Publisher, Visual Resource Curator, Museum Registrar, Art Lawyer, Collection Consultant/Manager, Museum Technician, Art Critic, Tour Guide, Heritage Manager
Creative Writing
Writer, Arts Administrator, Creative Director, Professor/Educator, Copywriter, Editorial Assistant, Print Journalist, Screenwriter, Broadcaster, Web Content Manager, Librarian, Lawyer, Art Critic, Social Media Manager, Marketing/Public Relations, Social Media Manager, Professor/Educator
Get a School of the Arts Degree!
Madison Bowman, Academic Advisor
madisonbowman@unomaha.edu
---
SCHOOL OF COMMUNICATION
School of Communication's is a leader in emerging media, service-learning courses, critical thinking, and social media analytics. Our faculty are nationally recognized teachers, scholars, and researchers.
Journalism and media communication students produce a weekly news program from the studios of UNO Television and work on-air and production of student operated MavRadio.FM.
Majors offered in the School of Communication:
- Communication Studies (minor also available)
- Journalism and Media Communication (minor also available)
- Emerging Media Public Relations and Advertising
- Master of Arts in Communication
Some of the careers School of Communication degrees work in are:
Advertising
Advertising Specialist, Copy Writer, Media Planner, Media Buyer, Creative Director, Media Specialist, Media Researcher, Marketing Specialist, Account Executive, Media Sales Representative, Graphic Designer
Public Relations
Publicity Manager, Marketing Specialist, Corporate Public Affairs, Account Executive, Sales Manager, Media Planner, Copy Writer, Event Planner, Social Media Specialist, Lobbyist, Development Officer, Media Analyst, Creative Director, Public Opinion Researcher
Journalism
Reporter, Newscaster, Copy Writer, News Service Researcher, Acquisitions Editor, Editor, Author, Script Writer, Technical Writer, Media Interviewer, Blogger, Photographer, Freelancer, Teacher/Professor
Audio/Video/Film
Broadcasting Station Manager, Advertising Sales Coordinator, Announcer, Comedy Writer, Producer/Director, Floor Manager, News Writer/Reporter, Digital Media Director, Market Researcher, Casting Director, Business Manager, Talk Show Host, Audiovisual Specialist, Designer
Communication Studies
Management, Teacher/Professor, Recruiter, Trainer, Admissions Counselor, Public Information Officer, Negotiator, Mediator, Manager, V.P. of Human Resources, Director of Training/Development, Benefits Administrator, Executive Director, Industrial and Labor Relations, Customer Service Representative, Educational Fundraiser, Director of College News, Speech, Forensics/Debate Coach, Speech Dept. Chairperson, Education Researcher, Educational Administrator, Alumni Officer
Get a School of Communication Degree! Contact
Megan Carroll, Academic Advisor
megancarroll@unomaha.edu
---
SCHOOL OF MUSIC
Located in the Strauss Performing Arts Center, the School of Music faculty offer a world-class education, preparing students to contribute as leaders in the workforce and in their communities. During their study in any of our degrees, students hone marketable and cutting edge skills to serve the arts community in myriad ways.
Majors offered in the School of Communication:
- Bachelor of music in Music Education
- Bachelor of music in Performance
- Bachelor of Arts Jazz Studies
- Bachelor of Arts Music Entrepreneurial Studies
- Bachelor of Arts Music Studies
- Bachelor of Arts Music Technology
- Master of Music in Conducting
- Master of Music in Jazz Studies
- Master of Music in Music Education
- Master of Music in Performance
Some of the careers School of Music degrees work in are:
Music Technology
Sound Reinforcement, A/V, Music Performance, Information Technology, Audio Engineer, Radio, Virtual Reality, Music Information Retrieval, Gaming, Teacher/Professor, Production Manager
Performance
Performer, Freelance Performer, Conductor, Church Music, Music Sales, Musicologist, Orchestra Musician, Soloist, Orchestra Librarian, Professor, Private Instrument Instructor, Piano Teacher, Arts Administrator, Band Leader or Member, Touring Group Member, Cruise Ship Performer, Chamber Music Ensemble Member, Studio Owner, Session Musician
Music Education
PK-12 Teacher, Choir Director, Band Director, Orchestra Director, Jazz Band Director, Show Choir Director, Professor, Conductor, Performer, Freelance Performer, Church/Worship Music Leader, Piano Teacher, Private Instrument Instructor, Arts Administrator, Studio Owner (teaching studio)
Music Entrepreneurial Studies
Arts Administrator, Subscriptions and Ticket Sales Director, Orchestra Manager, Personal Manager for Performing Artists, Professor, Personnel Director/Manager (HR for arts organization), Social Media Manager
Get a School of Music Degree! Contact
Adam Hilt, School of Music Academic Advisor
ahilt@unomaha.edu