Applied Behavior Analysis
MS in Applied Behavior Analysis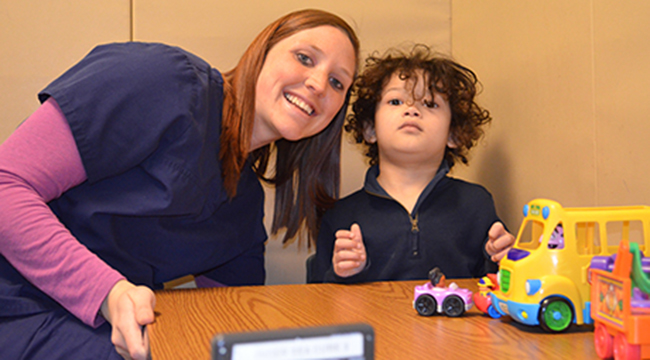 Learn about clinical services and training at MMI. Read More

ABA faculty
Brenda Bassingthwaite, PhD, BCBA
Sara Kupzyk, PhD, BCBA
Regina Carroll, PhD, BCBA-D
Cynthia Livingston, PhD, BCBA-D
Tara Fahmie, PhD, BCBA-D
Catalina Rey, PhD, BCBA-D
Mary Halbur, PhD, BCBA-D
Nicole Rodriguez, PhD, BCBA-D
Bethany Hansen, PhD, BCBA-D
Mark D. Shriver, PhD, BCBA-D

William Higgins, PhD, LMHP, BCBA-D
Amanda Zangrillo, PsyD, BCBA-D
Abigail Kennedy, PhD
Program Mission
The University of Nebraska Omaha and Munroe Meyer Institute Applied Behavior Analysis Program's mission is to graduate students who have met high levels of academic excellence in clinical and research skills in applied behavior analysis and mental/behavioral health. The ABA Program trains students in a behavior analytic orientation to provide much needed services for children and adolescents, including those with behavioral and neurodevelopmental disabilities
Program Overview
The University of Nebraska Omaha and Munroe Meyer Institute Applied Behavior Analysis Program's mission is to graduate students who have met high levels of academic excellence in clinical and research skills in applied behavior analysis and mental/behavioral health. The ABA Program trains students in a behavior analytic orientation to provide much needed services for children and adolescents, including those with behavioral and neurodevelopmental disabilities.
The Applied Behavior Analysis (ABA) Program prepares students to be behavioral health practitioners with advanced knowledge and skills related to the provision of behavioral therapy for children and adolescents. Students who graduate from the program will be eligible to sit for the examination (administered by the Behavior Analyst Certification Board) for certification as Board Certified Behavior Analysts (BCBA). Students in the program complete 51-54 credit hours to earn a Master of Science Degree in Applied Behavior Analysis. The ABA program typically takes two years of full time study to complete.
Coursework in the ABA program also addresses content areas required for licensure as a mental health practitioner in Nebraska. Upon completion of the program, students will have obtained necessary prerequisites for Provisional Licensure as a Mental Health Practitioner (PLMHP) pending approval of the student's graduate transcript by the mental health licensure board of the Nebraska Department of Health and Human Services. With an additional 3000 supervised experience hours after the completion of the ABA program and successful passing of the licensing exam students can be a Licensed Mental Health Practitioner (LMHP) in the State of Nebraska. This licensure is required for the delivery of mental health services, including ABA, in Nebraska. Practitioners holding the BCBA and/or the LMHP may work in clinical mental health settings, inpatient and outpatient hospitals, and schools.
The ABA program is a collaborative program managed jointly through the UNO Psychology Department and the UNMC Munroe-Meyer Institute https://www.unmc.edu/mmi/The Association for Behavior Analysis International has verified the following courses toward the coursework requirements for eligibility to take the Board Certified Behavior Analyst® or Board Certified Assistant Behavior Analyst® examination. Applicants may need to meet additional requirements before they can be deemed eligible to take the examination. https://www.abainternational.org/vcs/directory.aspx
First time BCBA exam pass rate is over 90% since 2010.
---
Curriculum
Required Coursework
PSYC 8000: The Profession of Psychology (no credit)
PSYC 9040/MMI 904: Proseminar: Learning (3 credits)
Breadth course in biological area (e.g., PSYC 9230 Behavioral Neuroscience or similar) (3 credits)
PSYC 9560: Proseminar: Developmental Psychology (3 credits)
MMI 813 Applications of Statistics in Psychology (3 credits)
or PSYC 9130 Applications of Advance Statistics in Psychology (3 credits)
PSYC 8520: Foundations of Assessment (3 credits)
PSYC 9050/MMI 905 Applied Behavior Analysis in Education (3 credits)
PSYC 9140/MMI 914 Assessment and Treatment of Autism Spectrum Disorders (3 credits)
PSYC 8550/MMI 855: Psychotherapeutic Interventions (3 credits)
PSYC 8576/MMI 857: Behavior Analysis and Intervention (3 credits)
PSYC 8700/MMI 870: Ethics and Law for Psychology and Applied Behavior Analysis (3 credits)
PSYC 9570/MMI 957 Applied Behavior Analysis (3 credits)
PSYC 9100/MMI 910 Small n Research Designs (3 credits)
PSYC 9470 Practicum in Applied Behavior Analysis (12 credits, 750 hours- 1500 hours)
PSYC 9960/MMI 896 Research other than Thesis (3 credits)
or PSYC 8990/MMI 899: Thesis (6 credits)
Total Credit Hours Required: 51
---