Interdisciplinary Behavioral Consultation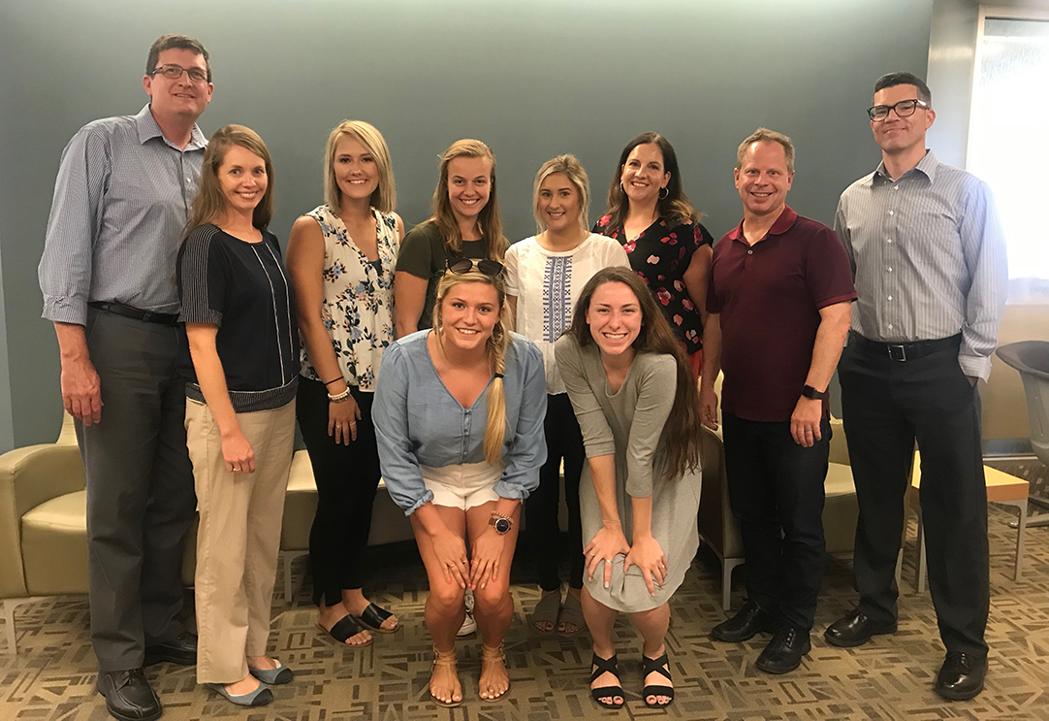 The University of Nebraska at Omaha (UNO) in collaboration with the University of Nebraska Medical Center (UNMC) received a $1,250,000 grant over five years from the U.S. Department of Education's Office of Special Education Programs (OSEP). From this grant, the Interdisciplinary Behavioral Consultation (IBC) Scholars program was created.
The IBC Scholars program is designed to fund graduate students in Applied Behavior Analysis and School Psychology (UNO College of Arts and Sciences, Department of Psychology) and Special Education (UNO College of Education). In addition to training students receive in their respective programs, IBC Scholars are provided with additional training and supervised experience in interdisciplinary behavioral consultation and delivery of services for school-age students presenting with high-intensity behavioral and emotional needs in the classroom, including students with Intellectual and/or Developmental Disability (I/DD), families and school teams. Currently, IBC scholars are completing practica in the Westside and Omaha Public Schools districts. In addition, the IBC scholars participate in a weekly seminar on topics related to inter-disciplinary collaboration, implementation science, evidence-based practice, and leadership in educational systems.
The primary aims of the IBC Scholars program are to:
Establish an interdisciplinary training program focused on systemic behavioral intervention in school settings for children and adolescents with behavioral issues.
Recruit and retain high quality graduate students in Applied Behavior Analysis (ABA), School Psychology, and Special Education to complete an interdisciplinary program focused on systemic behavioral intervention in school settings for youth with significant behavioral and emotional issues.
Train 18 scholars to high levels of competence in evidence-based behavioral intervention and leadership skills needed for systemic implementation.
Four scholars have completed their training on the grant: Lindsey Aberle (ABA), Anne Keith (Special Education), Madison Stivers (School Psychology), and Brianna Zey (ABA).
| | |
| --- | --- |
| Macy Collins | Hello, my name is Macy Collins and I am a first-year graduate student in the Applied Behavior Analysis (ABA) program here at UNO where I also received my BS in Psychology with a minor in Philosophy back in 2020. I first began my ABA journey back in 2018 when I had no idea what it was and was just looking to gain more experience in my degree field. This then led to me getting a job as a Registered Behavioral Technician (RBT) at UNMC's Munroe-Meyer Institute (MMI) where I fell in love with it and three years later am pursuing my master's degree in it. Here, I found my passion for working with children with Autism Spectrum Disorder as well as the methodology and innerworkings of the of the job. With over 2 1/2 years of experience in a clinical setting, I am now ready to experience and practice ABA in a school setting as well as work with other professionals, school psychologists, and special educators in the field. The IBC Program has given me the opportunity to do just that and with their guidance and training over the next 2 years, I am sure to be ahead of the game when I pursue my BCBA credentialing in the future and am excited for all the knowledge I am sure to learn along the way. |
| Sarah Hermann | My name is Sarah Hermann and I am a first-year student in the School Psychology Graduate Program at the University of Nebraska Omaha. In May of 2020, I earned my Bachelor of Arts in Psychology with a minor in Child, Youth and Family Studies from the University of Nebraska-Lincoln. Through my high school volunteer work with the Munroe-Meyer Institute, Omaha Circle Theatre and Westside Community Schools, I developed an interest in working with children and a passion for helping students to succeed academically, behaviorally, and socially. After having discussions with a school psychologist in my family and learning more about the profession through my undergraduate courses, I knew that school psychology was the right career path for me. After graduating from the University of Nebraska-Lincoln, I worked as a paraprofessional for Millard Public Schools in the Structured Behavior Skills program, where I taught the school curriculum and behavior skills to students with emotional and behavioral disorders. This position gave me invaluable experience in providing services for students with special needs and taught me how to work as a team member in an educational setting. My experiences working with the school psychologist in helping to deescalate situations and provide mental health support to students further solidified my interest in pursuing graduate study in school psychology. I chose to complete my graduate studies at UNO because of the collaborative student atmosphere and the vast applied experiences and research opportunities the university has to offer. I am looking forward to collaborating and learning alongside others who share my passion for providing services to students with behavioral and emotional needs. |
| Brianna Jensen | My name is Bri Jensen and I am a third year student in the School Psychology Graduate Program at the University of Nebraska at Omaha (UNO). I received a Bachelor of Arts in Psychology with a minor in Human Rights Studies and Women & Gender Studies at UNO. I have always had a great passion for accessibility to education and I always knew that I wanted to work with children. Throughout high school and college I worked at a daycare and gained experience working with a variety of behaviors and age groups. After four years of working at a daycare, I knew that I needed to gain experience working in a field related to what I was getting my degree in, which led me to work at the Munroe-Meyer Institute (MMI) as a Registered Behavior Technician in the Early Intervention unit. At MMI I gained a passion for working with children with Autism Spectrum Disorder and behavior analysis. During my last year of undergrad I took a course in Educational Psychology, where I learned a lot about schools and school psychology. When I reflected on my experiences at the daycare, MMI, and this course in Educational Psychology, it instantly clicked and I knew that School Psychology was the field for me. The School Psychology graduate program at UNO was especially appealing to me because I found UNO to be an empowering environment for me to thrive and be successful during my undergraduate years which made me even more excited about experiencing UNO as a graduate student. The faculty in the Psychology department go above and beyond to ensure that students have all of the tools and supports needed for success. |
| Kelsey McKernan | My name is Kelsey McKernan and children of special populations are my passion. After switching my undergraduate major many times between nursing, education and psychology, I graduated from the University of South Dakota with a degree in Communication Sciences and Disorders. As an Omaha native, I moved back home and took the first job I could find working with children in the Pediatric Feeding Disorders clinic at the UNMC Munroe Meyer Institute. This is how I stumbled upon ABA, which happens to be the perfect combination of all of my interests. Since then, I have worked as an Registered Behavior Technician in many clinics with children with autism including Early Intervention and Severe Behavior and have loved every minute of teaching clients and watching them grow. It has been a dream of mine to eventually take my knowledge of ABA and apply it to a classroom setting which is why I am currently a graduate student in the Special Education program with an emphasis in Applied Behavior Analysis. I am more than excited to put everything I love together into one interdisciplinary career and help students of special populations for the rest of my life. |
| Mari Ridgely | My name is Mari Bappe and I am a graduate student in the School Psychology program. I received my BA in Psychology from the University of Northern Iowa in 2018. When I was 19, I decided to take a year off from college and worked in a self-contained behavior classroom. I fell in love with that student population. After graduation, I was employed at Umo n hon n Nation Public Schools on the Omaha Indian Reservation in Macy, Nebraska. I worked under two Board Certified Behavior Analysts and found myself to be torn between pursuing a graduate degree in School Psychology or Applied Behavior Analysis. When I heard about the IBC scholarship at UNO, I knew that I had to apply. Because of this scholarship I am able to obtain an Ed.S. degree in School Psychology and pursue my BCBA credential. This will allow me to create a wonderful interdisciplinary career for myself. |
| Tommi Scornavacca | My name is Tommi Scornavacca and I am currently pursuing my Masters in Special Education with a concentration in Applied Behavior Analysis through UNO and UNMC. I am ecstatic to begin this journey as a new scholar in the IBC program. I have always known I wanted to work with students with special needs and their families. I grew up knowing a family member who worked with children with special needs. In high school, I decided to shadow her and learn more about her career. At this point I had never heard of ABA therapy and was surrounded by ABAs challenging and encouraging their students. I was truly inspired by their growth with students. This is when I decided that I wanted to earn my BCBA credentials. After receiving my bachelor's degree in Special Education at UNO I wanted to pursue ABA training and work towards earning my BCBA credentials, which I am able to do thanks to the IBC program. Through this program will be immersed in many different learning opportunities to better myself, which will in turn better the learning experience of my students. |
| Christina Stasi | My name is Christina Stasi and I am a graduate student in the School Psychology program. I received my B.S. in Psychology and Sociology from Wayne State College in 2019. In undergrad, I discovered the importance of support for students in schools through several volunteer positions. I knew my future career would take place within a school and I am incredibly grateful to follow a career path including both School Psychology and ABA. After graduation, I worked in the Autism Care for Toddlers Clinic as a Registered Behavior Technician through UNMC's Munroe-Meyer Institute. It was there that I discovered my passion to instill positive changes within children's lives. While at the ACT Clinic, I learned techniques used in Applied Behavior Analysis which furthered my interest in pursuing my education within ABA. The IBC Program is an amazing way to provide consultative and functional guidance for students and school staff. I am so excited to pursue this opportunity to obtain my BCBA while also working towards my Ed.S in School Psychology and I am looking forward to my time as an IBC Scholar. |
| Jay Tyndall | My main goals in this life are to help the families in the communities on the Omaha Indian Reservation, and low-income populations through the implementation of applied behavior analysis (ABA). I come from the Omaha Indian Reservation; I am Native American and a first generation student. This is my first year in the ABA Graduate Program at the University of Nebraska at Omaha (UNO). I received my bachelor's degree from UNO with a concentration in mental health during the Spring of 2019. Throughout the course of my undergraduate studies, I worked various customer service jobs. During the Fall of 2017, I was given the opportunity to intern with Munroe Meyer Institute (MMI) and their Autism Care for Toddlers Clinic. During the internship, I was able to learn more in depth on what and how ABA can have a positive impact on a client's life. Through learning all the different methodology, techniques, approaches, and seeing how it positively affects lives, I instantly fell in love with ABA. After the conclusion of the internship, I found an employment opportunity with the Center for Autism and Related Disorders (CARD). While I was with CARD, I was able to get experience in the ABA field as a Behavioral Technician II and worked my way up to a Behavioral Technician IV. During this experience, I conducted functional behavior assessments, obtained baseline data, and behavior intervention planned with our Board Certified Behavior Analyst (BCBA). I also did outpatient 1-on-1 ABA therapy and supervised behavioral technicians during their 1-on-1 therapy sessions. Additionally, I underwent intensive training to become an Assaultive Behavior Management (ABM) expert. As an ABM expert, I provided trainings with staff on how to effectively care for severely aggressive clients and how to de-escalate aggressive situations that could occur during therapy sessions. When it came to picking a school to attend for my graduate studies, the choice came easy because UNO is home for me. UNO has a partnership with the University of Nebraska Medical Center (UNMC) and MMI which provides a unique learning opportunity that creates an experience you cannot get anywhere else. This program fits me perfectly, I am very thankful to be in this position, and am eager to see what is to come! |
| Zachary Wielgos | My name is Zachary Wielgos and I am currently enrolled in the Applied Behavior Analysis master's program at UNO/UNMC. I completed my undergraduate degree at Michigan State University with a double major in Criminal Justice and Psychology. During my senior year I found a flyer advertising a position at a local ABA clinic, this curiosity turned into a passion. I spent three years working for this company. I began as a Crisis Technician and then later transitioned to a Behavioral Technician position, working with children and young adults with autism spectrum disorder developing functional skills and reducing maladaptive behaviors. Watching the functional skills of young minds progress was tremendously rewarding during my time at Residential Options Inc. I chose the University of Nebraska Omaha's ABA program due to opportunities like the IBC Scholars program. Providing consultation and behavioral strategies within the classroom allows for a more natural progression for individuals that would require these services. The personal exposure to research through this program allows me to contribute to the ever developing field of Behavioral Analysis. I am looking forward to my time with the university and all the experiences it may bring. |