Why Study Online?
There is no need to interrupt your studies or put your work on hold for months. Studying a few hours each day is flexible and convenient, and you can study from anywhere with a good internet connection.

You will study with U.S. professors and international classmates. As you learn English, you will get to know about other cultures and practice your communication skills.

Online study allows you to experience what language learning is like in a U.S. classroom and explore a variety of courses and topics at a lower cost.
Online Classes (Distance Learning)
Now you can learn English from anywhere in the world by joining ILUNO classes on Zoom. You can download Zoom on your personal computer for free. Along with a computer, a webcam will be needed to take classes online. 
After you take the placement test to determine your level, your instructors will send you a Zoom link to join your courses. 
You will use your UNO student ID and password to log in to CANVAS, the UNO course management system. This platform will give you all of your course information, including schedule, homework assignments, quizzes and tests, and contact information
---
Flexible Schedule
Students outside the U.S. can take as few as 1 class and as many as 3 or 4 classes depending on interest and availability.  Because we want students to interact with other students and instructors to practice English, all of our classes meet synchronously, or at the same time of day. 
The Listening Speaking and Reading Writing Grammar classes meet five days of the week, and the Electives meet two days during the week.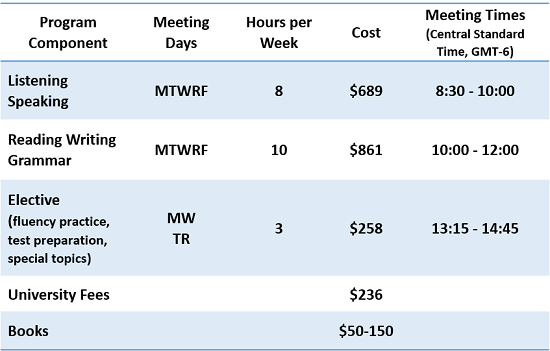 *Please Note: Some students on government scholarships may be required to take all 3 classes (21 hours). Please contact your sponsor if you are on a specific scholarship.
Learn more about our ILUNO Classes & Levels here.
---
---
What Is It Like to Study Online?





---
Social Activities
Many social activities, like Conversation and Culture Hour and the cultural discussion group Tea with Jaisy will be held online over Zoom.
Student Services
The International Student Advisors will set up appointments with students on Zoom to discuss questions about study in the U.S., personal or family needs, health questions, and immigration needs.
How do I get started?
Click Find out More or email us at unoiluno@unomaha.edu to let us know you are interested.
Join us on Zoom for orientation and an online placement test. We will email you your placement results and class schedule.
When you receive your class schedule, you can buy your ebooks or paper textbooks online.
Make sure that you have access to a computer, a web camera, and a good internet connection.
Your teachers will send you a Zoom link through the Canvas course system.
Pay your ILUNO tuition and fees on your UNO MavLink account. We will help you set up the password during the orientation meeting.
If you have any questions, please contact us at unoiluno@unomaha.edu or 1.402.554.2293.
Be Safe and Stay Healthy!