The University of Nebraska is committed to student affordability by supporting faculty in adopting free or reduced-cost digital course materials in their courses.
Beginning with the Spring 2022 semester, campuses at the University of Nebraskahave included a new Open Nebraska course attribute in the searchable web-based course schedules with three categories:
No Cost Materials: These digital course materials are incorporated into Canvas at no additional cost to the student. No book purchase required.
Low Cost Materials: These digital course materials are incorporated into Canvas and cost students less than $40. No book purchase required.
Low Cost E-Book: This reduced-cost eBook is purchased through the campus bookstore and costs a student less than $40.
These course attributes were proposed to Information Technology Services by Student Government representatives from each campus to increase transparency at the time of registration about which UNO courses are using free and reduced-cost digital course materials. Students choosing Open Nebraska courses who are taking a full course load can save up to $500 per semester. That's a potential savings of $4,000 over the course of the academic career.
---
Learn More About Open Nebraska at UNO
---
Open Nebraska Courses
Finding the Course Attribute (for Students)
UNO students a able to search for which classes are a part of the Open Nebraska as they select and register for specific course sections. Just follow these steps:
Visit the Class Search page
Select your term, session, subject, and other fields
Choose "Open Nebraska" from the Programs dropdown menu
Adding the Course Attribute (for Faculty/Staff)
Scheduling units (I.g, colleges, departments, or programs) are responsible for properly marking course sections as Open Nebraska: No Cost Materials, Open Nebraska: Low Cost Materials, or Open Nebraska: Low Cost E-Book when applicable. Please see the images below for the steps in this process within the CourseLeaf Class Section Scheduler (CLSS).
The CLSS system allows scheduling units to update the Open Nebraska section attribute during the Class Schedule Building Timeline. Adding this designation during the Schedule Build process ensures that students will be able to find Open Nebraska sections before they add courses to their cart or enroll.
Step 1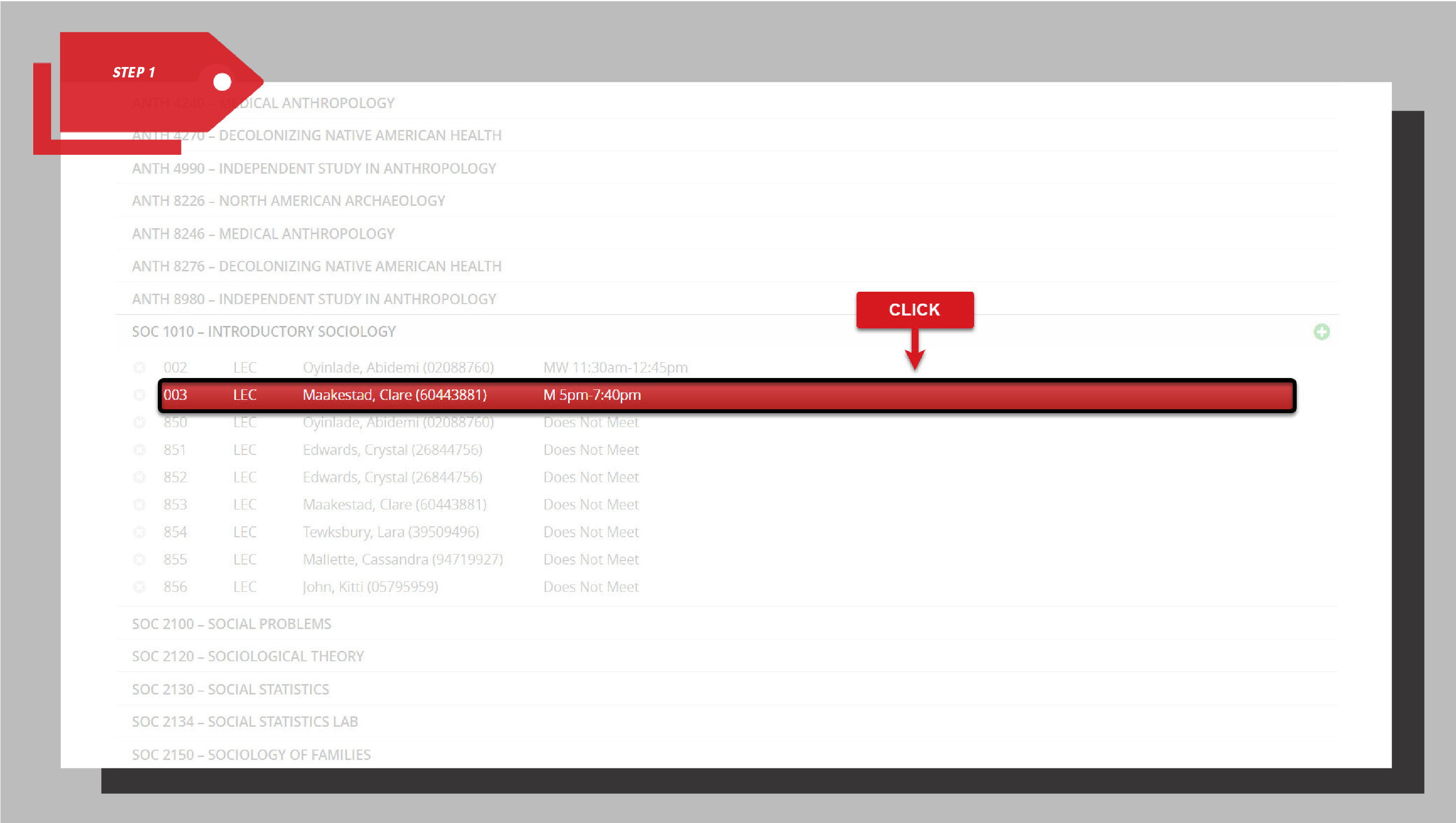 Step 2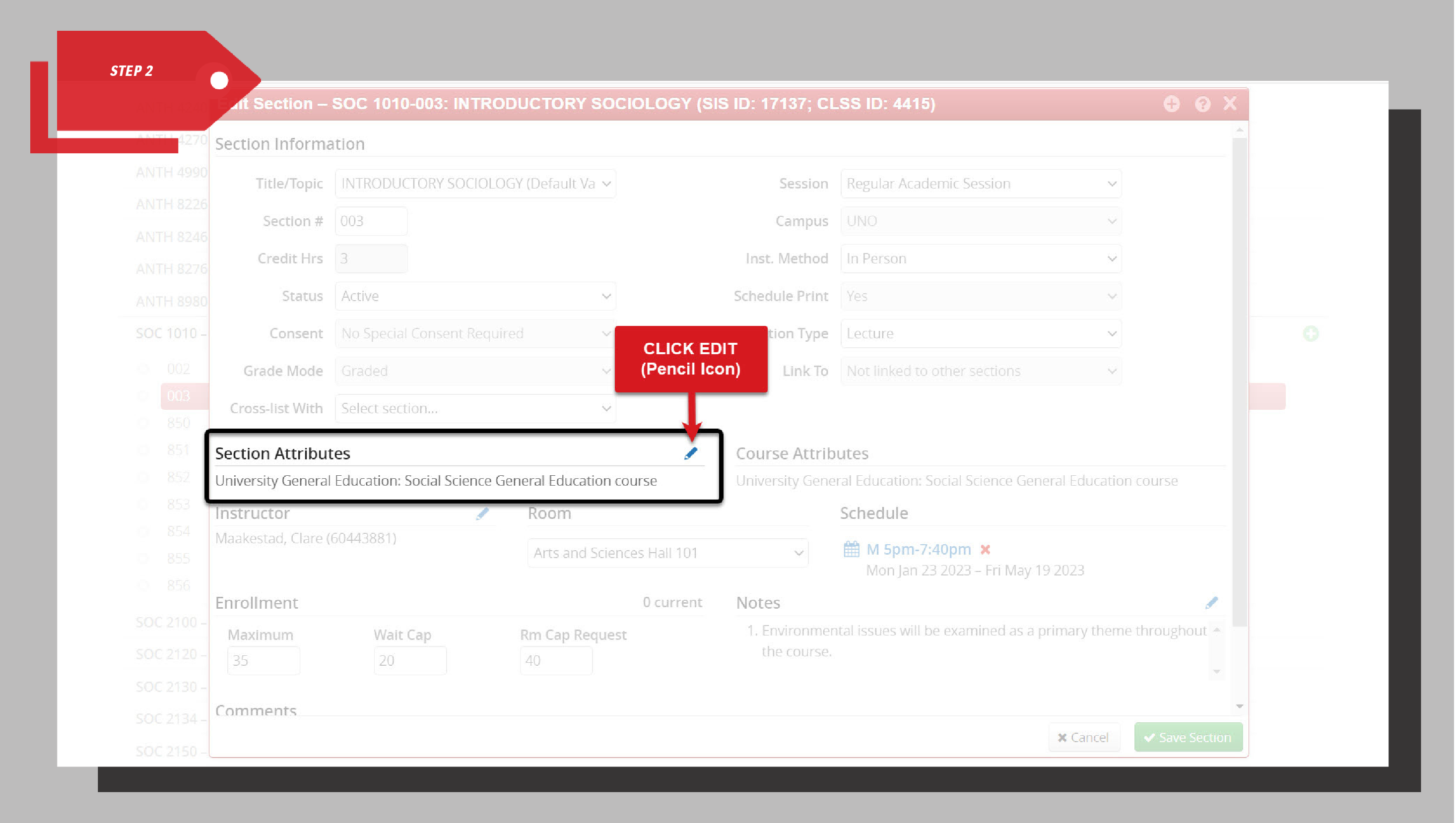 Step 3
Step 4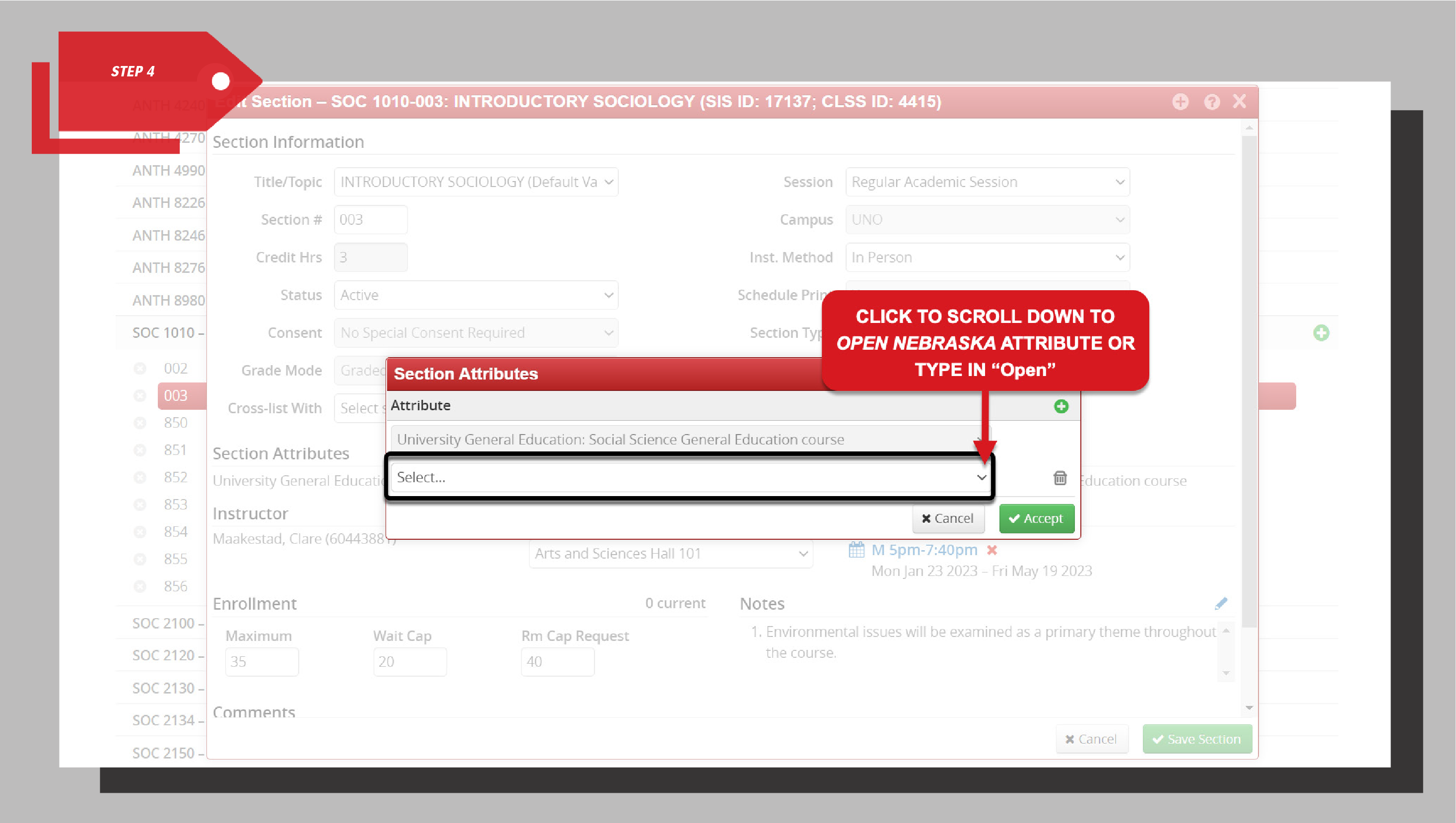 Step 5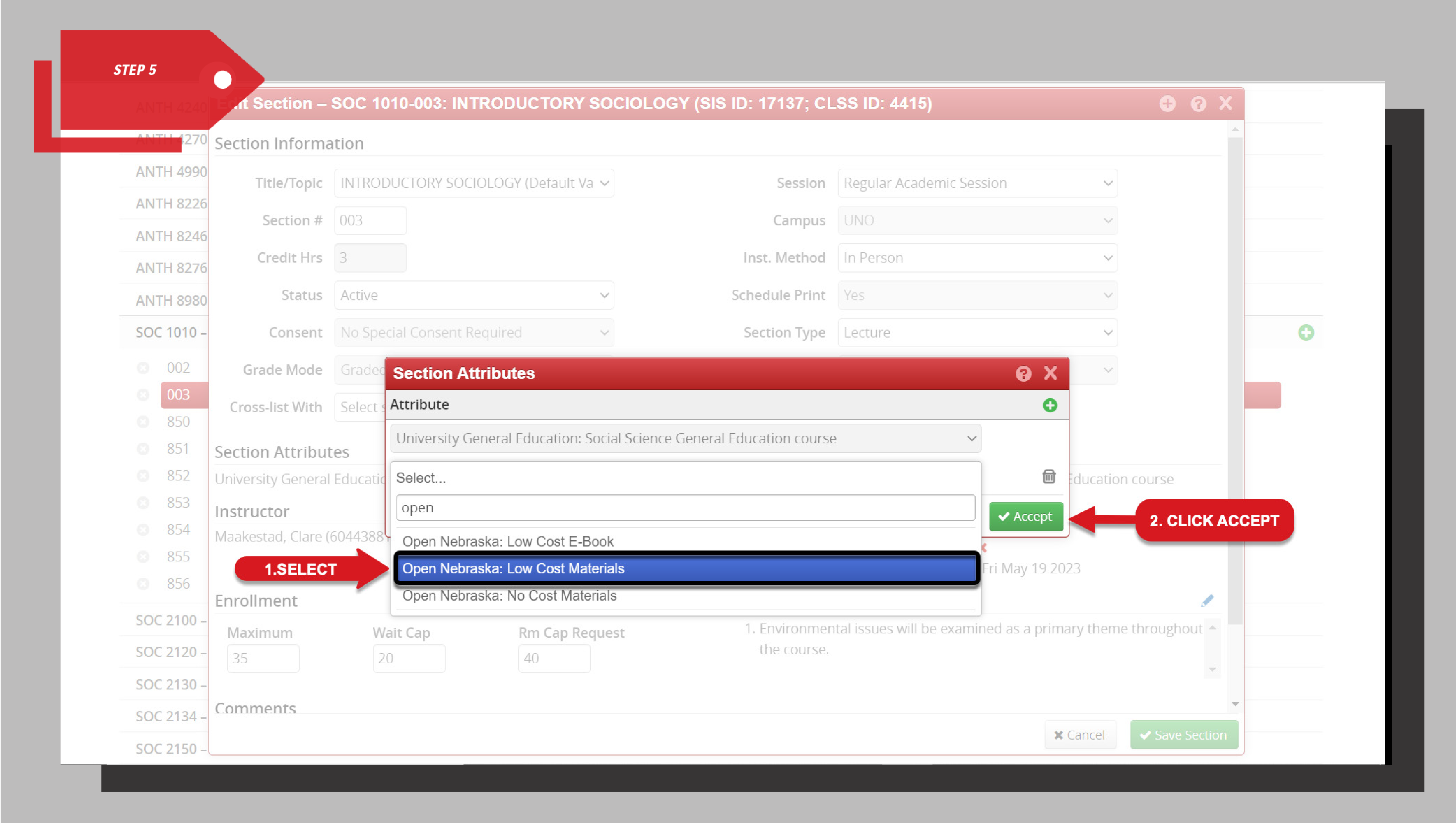 Step 6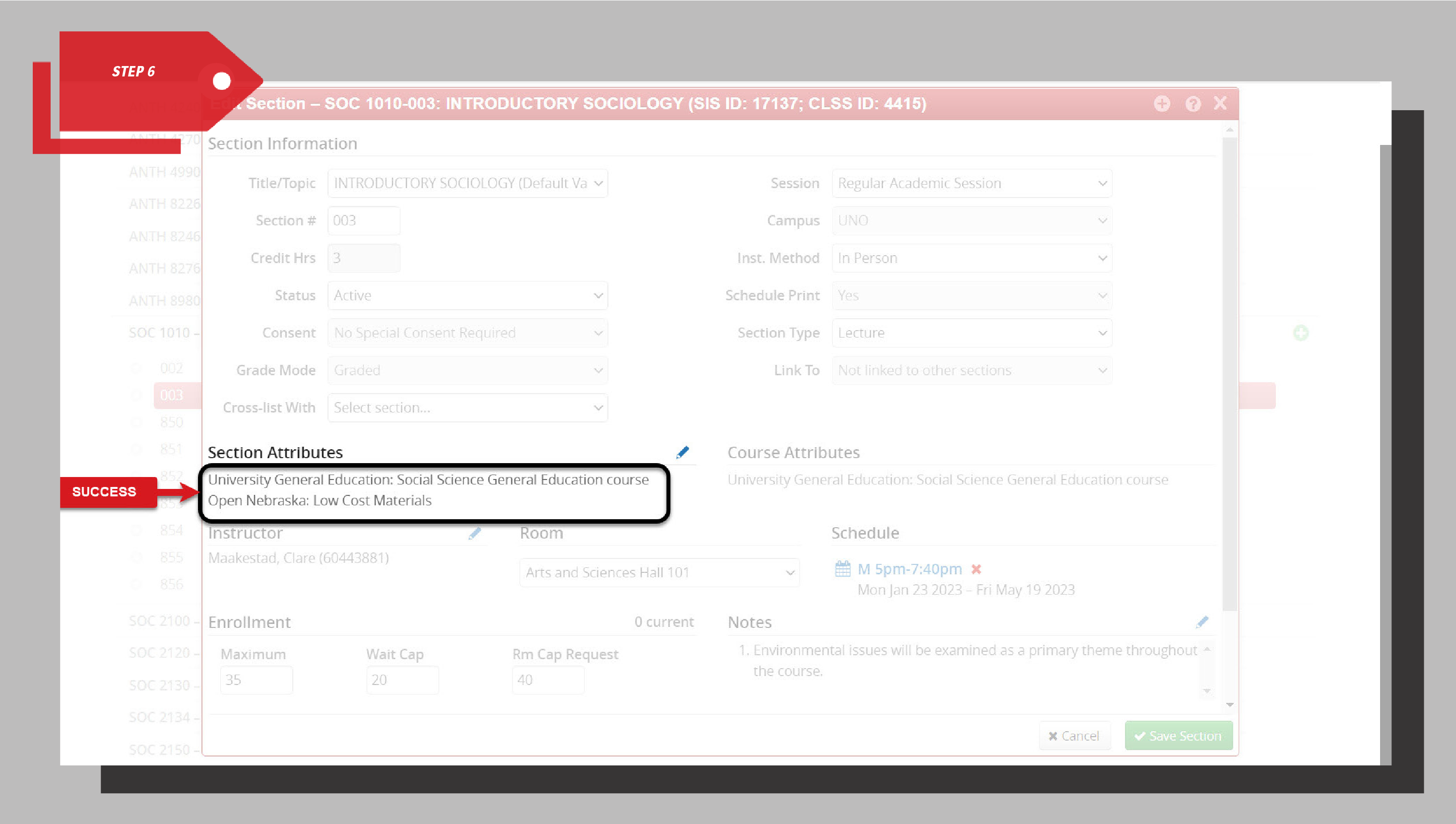 Looking for additional resources for designating Open Nebraska course sections in CLSS?
---
Faculty Support for Open Nebraska Adoption
Considering adopting free or reduced-cost digital course materials? UNO staff are here to support faculty members who are considering making their courses part of the Open Nebraska Program.
Dr. Craig Finlay ( sfinlay@unomaha.edu) is , UNO's OER Librarian, who can assist UNO faculty in searching and identifying high-quality Open Educational Resources (OER) suitable for their courses. Get started with Criss Library support.

Faculty who are ready to move forward with adopting no-cost or low-cost materials can apply for Affordable Content Grants from Criss Library.

If OER is not an option, or faculty are not satisfied with the free content available for their course, the UNO Bookstore offers a First Day Access program.
To integrate digital course materials into Canvas, or for assistance in designing digital assignments and student engagement opportunities utilizing digital course materials, please contact the UNO Instructional Design team at uno.its.digitallearning@unomaha.edu.
---
Open Nebraska Academic Programs at UNO
As part of its commitment to student access and affordability, the UNO Department of Sociology & Anthropology launched the first Open Nebraska degree program in the University of Nebraska system in Fall 2021. Students can complete a path through the Sociology major and minor taking only courses that use no cost or low cost materials.
---
Open Nebraska Impact
The cost of traditional textbooks has increased 88% in the last decade, so much so that 67% of students no longer can afford to buy required textbooks for their courses. In response, the University of Nebraska started the Open Nebraska program with the goal of saving NU students $10 million by 2023. By the end of the Spring 2023 semester, NU students had saved approximately $15.7 million, including $4.6 million at UNO alone.
A recent study by the NU Intercampus OER Research Committee found that the Open Nebraska program benefits students beyond just financial savings. Across the University of Nebraska, students were generally less likely to withdraw or fail classes and more likely to earn A's. At UNO specifically, compared to students in non-OER sections, students in Open Nebraska sections:
Had 4% lower DFW rates
Earned average grades .05 points higher
Earned 5% more A's
Access to no cost and low cost materials may be especially beneficial for underrepresented groups at UNO, as the study also found that:
Less than full-time students had 8% lower DFW rates in Open Nebraska sections
First-generation students earned 10% more A's in Open Nebraska Sections
Read the one-page Open Nebraska
impact report
or the full
white paper
.