Charting Our Path: Celebrating 50 Years of Black Studies Traveling Exhibit
The exhibit celebrates the 50 years of Black Studies at UNO, sharing the turbulent history and triumphs of one of the oldest Black Studies departments in the nation; through April 1.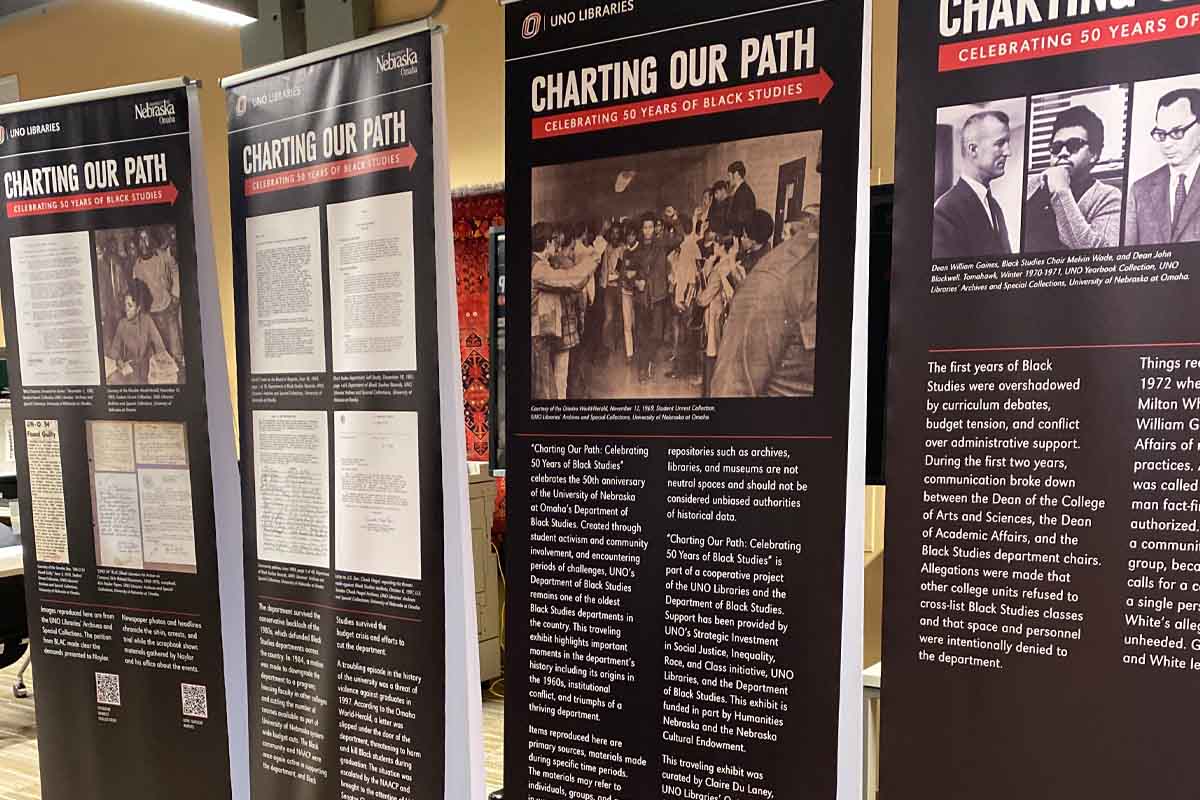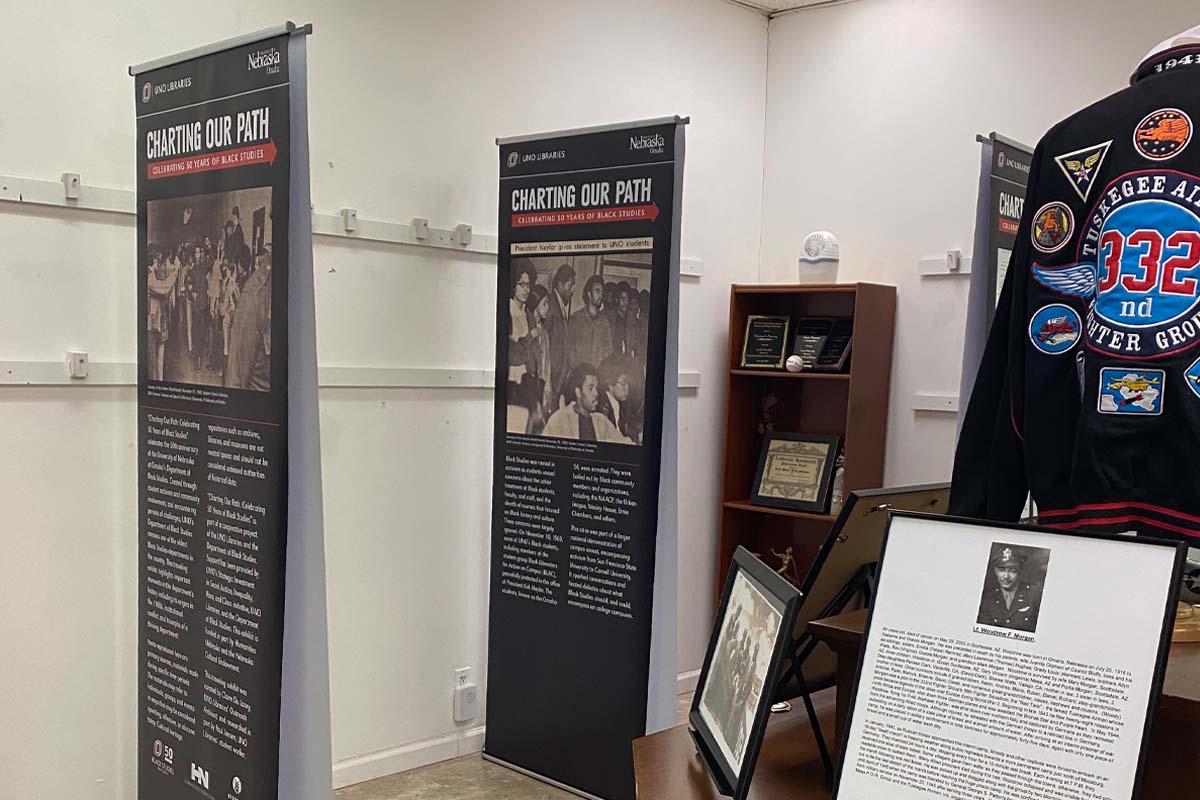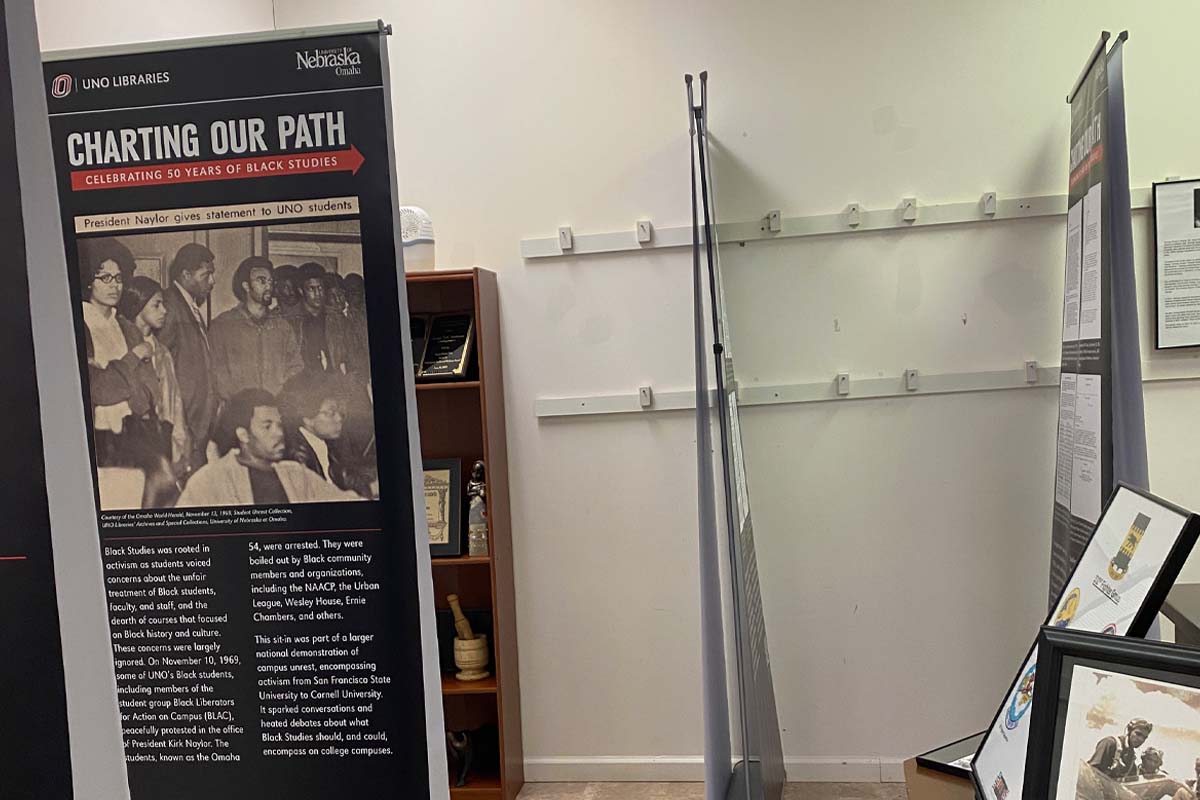 Charting Our Path: Celebrating 50 Years of Black Studies is an 8-panel traveling exhibit sharing historical snapshots of one of the oldest Black Studies departments in the nation. The exhibit highlights the department's civil rights origins, attempts to downgrade the department to a program, and the mutual engagement between campus and community. The banners share archival materials such as newspaper clippings, department documents, and photos chronicling events from the 1969 campus sit-in to the celebration of the "Omaha 54" student activists 52 years later. The history of the Department of Black Studies has been characterized by a constant struggle for survival, but also by the enduring engagement and support of the Omaha Black community.
The exhibit is currently on display at the Great Plains Black History Museum. Located on N. 24th Street, GPBHM's vision is to collect, preserve, and make available to the public materials documenting the Black experience. The UNO Libraries' traveling exhibit will be at the GPBHM until April 1, 2022, after which it will return to UNO for the wrap-up of the 50th anniversary of Black Studies. The traveling exhibit is then scheduled to travel to the W. Dale Clark Library, Charles B. Washington Branch Library, University of Nebraska-Lincoln, University of Nebraska at Kearney, and Nebraska Methodist College through early 2023. Contact Claire Du Laney to book the traveling exhibit at your institution or for a special event.
This display is a traveling version of the "Charting our Path: Celebrating 50 Years of Black Studies (1971-2021)" exhibit, located on the first floor of Criss Library at the University of Nebraska at Omaha. The exhibit is open to the public during regular library hours until August 31, 2022. Items on display from Archives and Special Collections have been digitized and are available to the public along with more archival material not on display in the exhibitions. Learn more about the materials in the exhibit by exploring UNO Libraries Archives and Special Collections' digital repository.
This traveling exhibit was curated by Claire Du Laney, UNO Libraries Outreach Archivist, and researched in part by Paul Jensen, UNO Libraries student worker. This program is funded in part by Humanities Nebraska and the Nebraska Cultural Endowment.
For more information about Black Studies' 50th Anniversary events and programming, visit the Black Studies webpage.
---
About Charting Our Path
Charting Our Path: Celebrating 50 Years of Black Studies is a cooperative project of the Department of Black Studies and UNO Libraries. The project will honor the 50th anniversary of the Department of Black Studies in 2021-2022 through campus and community speakers, exhibits, and events as well as supporting expanding research, creative activity, and open access instructional resources. Support is provided by UNO's Strategic Investment in Social Justice, Inequality, Race, and Class initiative. Charting Our Path is one of the 'Telling Our Story' proposals and was funded for 2021-2023. The project leads are Dr. Cynthia Robinson, Amy C. Schindler, and Claire Du Laney.
About the University of Nebraska at Omaha Libraries
UNO Libraries fulfill the UNO mission through dynamic services, highly qualified and adaptive personnel, unique and extensive collections, and accessible learning spaces and environments. With its two locations, Dr. C.C. and Mabel L. Criss Library on UNO's Dodge Campus and in KANEKO-UNO Library located in Omaha's Old Market, UNO Libraries provides UNO students, faculty and staff, and the Omaha community with the resources and materials needed to excel academically and professionally.
About Humanities Nebraska
Charting our Path: UNO Libraries' Traveling Exhibits and Panels is one of many grants funded by Humanities Nebraska (HN). HN awards more than $257,000 in grants each year.
Created in 1973 as a state affiliate of the National Endowment for the Humanities, Humanities Nebraska (HN) is an independent, non-profit organization governed by a volunteer board of public and academic members. Humanities Nebraska funds programs that explore Nebraska's heritage, build community awareness, and strengthen our ties to cultural traditions at home and abroad.
The Nebraska Cultural Endowment is a public/private partnership that designates funds to HN for distribution.
Any non-profit group is eligible to apply for a grant from HN. The HN staff is available for grant consultation and will read proposal drafts. Contact the HN office if you need assistance with a project idea.
For a copy of Humanities Nebraska grant guidelines, contact HN at 215 Centennial Mall South, Suite 330, Lincoln, NE 68508, phone 402-474-2131, fax 402- 474-4852, or e-mail. The entire grant guideline packet is online at: www.humanitiesnebraska.org.