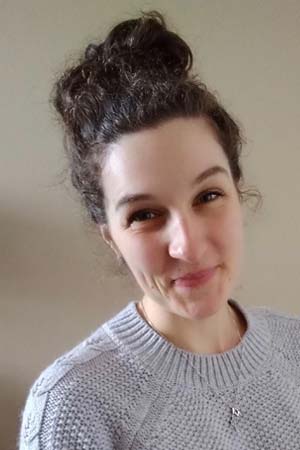 Claire Du Laney
Archives & Special Collections, Assistant Professor
---
email:
office:
CL  105E
office phone:
note:
This profile is pulling in data from Digital Measures. Postings on personal websites or social media do not indicate that the individual is speaking on behalf of UNO.
General Information
Education
MSLS, University of North Carolina at Chapel Hill, Chapel Hill, NC, Library Science, Archives and Records Management , 2019
MA, North Carolina State University, Raleigh, NC, Public History, 2018
Licensures and Certifications
Equity and Inclusion Certificate, University of Nebraska at Omaha, 09/01/2020
Scholarship/Research/Creative Activity
Selected Publications
Du Laney, Claire, Maakestad, Clare, Maher, Monica. 2022. The Pedagogy of Zines: Collaboration, Creation, and Collection, Rowman & Littlefield, 169-185.
Guerra, Wendy, Du Laney, Claire, Schwartz, Lori. 2021. Intentional Design: Crafting a Mutually Beneficial Internship Program in a University Archives and Special Collections, Brick and Click 2021.
Du Laney, Claire, Maher, Monica, Schindler, Amy. 2020. "The Librarian's Guide to Zines for Classroom and Community.", Brick & Click 2020.
Externally Funded Research
Charting our Path: UNO Libraries' Traveling Exhibits and Speaker Panels, Humanities Nebraska, Other Agencies, 09/17/2021 - 08/31/2022
Artistic and Professional Performances and Exhibits
Exhibition, On the Inside, On the Inside Artists Group, 05/20/2022 - 07/31/2022
Exhibition, Charting Our Path: Celebrating 50 Years of Black Studies, 09/01/2021 - 08/01/2022
Service
Department, College, and University
GCHR Curriculum Development Committee, Committee Member, This committee reviews applications for courses that wish to develop elements of human rights issues into their syllabi. , 11/08/2021 - present
Professional
Journal of New Librarianship , Editor, Journal Editor, I serve as Communications Editor and co-Editor in Chief for an open access library journal. I monitor the journal's submission platform, direct submissions to editors for peer-review, and communicate directly with authors regarding their submission and journal submission decisions. I schedule our monthly board meetings, create meeting agenda, and facilitate meetings., 10/27/2020 - present
National Council of Public History: Student Project Award and Graduate Student Travel Award Committee, Committee Chair, Committee member of the Student Project Award and Graduate Student Travel Award Committee.The $500 travel grant to attend the 2022 Annual Meeting recognizes the contributions of student work to the field of public history. Five travel grants of up to $300 each for graduate students presenting (session, poster session, or working group) at the 2023 Annual Meeting Atlanta, GA., 07/15/2022 - present
University of North Carolina- Chapel Hill, Primary Source Teaching Fellowship, Committee Member, 01/01/2022 - 01/31/2022