November 2018 BiblioTech: UNO Libraries' digital newsletter
Another banner semester for your UNO Libraries! From hosting the University of Kansas Dean, Kevin L. Smith, for Open Access Week to new hires for the CPL, KANEKO-UNO Library, and a new Online Learning and Education Librarian. Hope to see you at your UNO Libraries soon!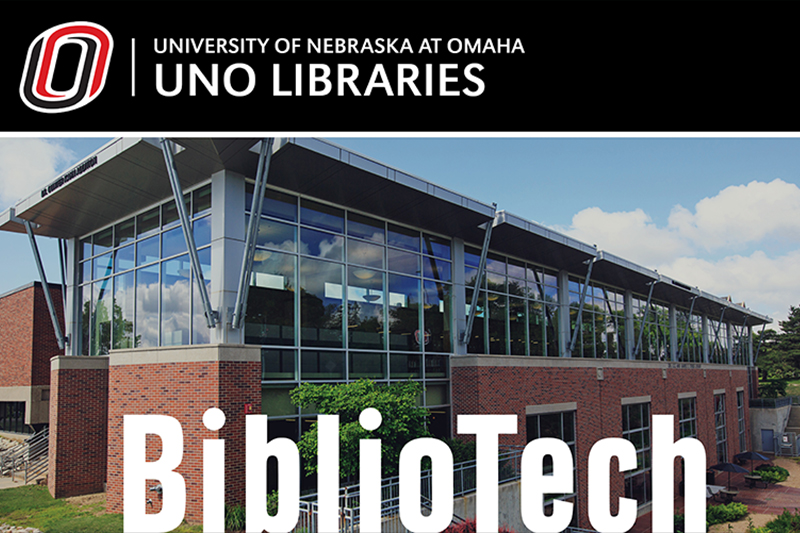 Another banner semester for your UNO Libraries! Breaking down barriers to research and learning was the topic de jour this semester with Open Access Week touching on the topics of copyright, open access, and open educational resources. The week concluded with University of Kansas Dean, Kevin L. Smith, giving two great presentations on copyright and what authors and creators can do to make their intellectual contributions freely available to researchers.
Next time you're in the library, take a look around. The Creative Production Lab is busy with its new supervisor, Charles Fisher, who is keeping up with the demands of 3D printing, laser cutting, and studio work. Archives & Special Collections has an exhibit on Senator Chuck Hagel running until December 21, 2018. Our service desks are bustling while providing headphones, laptops, and digital cameras to enterprising students. Our leadership team has been dedicated to reinvigorating Criss Library's interior with new furniture and brighter wall colors.
And our downtown branch, the KANEKO-UNO Library, welcomes its new manager, Erin Painter, this month. Erin has already been hard at work with our student assistants in redesigning some of the spaces in our creativity library. You'll see further refinements in our specialized library as we work with KANEKO and our downtown community members.

Hope to see you at your UNO Libraries soon!

Dave Richards
Dean of Library Services
---
Click here to read the full newsletter.
Interested in receiving BiblioTech? Sign up here. 
Contact Us
For more information about including events and announcements in the Criss Library News Center, email us at unocrisslibrary@unomaha.edu.
Unless otherwise clearly stated, any views or opinions expressed as part of events, exhibitors, or presenters in the UNO Libraries (Dr. C.C. and Mabel L. Criss Library and the KANEKO-UNO Library) should not be viewed as endorsements by the University of Nebraska at Omaha (UNO) and do not reflect the official position of UNO or the University of Nebraska system.
Our Campus. Otherwise Known as Omaha.
The University of Nebraska does not discriminate based on race, color, ethnicity, national origin, sex, pregnancy, sexual orientation, gender identity, religion, disability, age, genetic information, veteran status, marital status, and/or political affiliation in its programs, activities, or employment. Learn more about Equity, Access and Diversity.
scroll to top of page