Spring 2018 Bachelor of Arts in Studio Arts (BASA) Thesis Exhibit
An opening reception will be hosted in the library and Weber on Sunday, April 8 from 3 to 5 P.M.
date: 04/08/18 - 05/05/18
time: 3:00 PM - 5:00 PM
location: Osborne Family Gallery, Criss Library • maps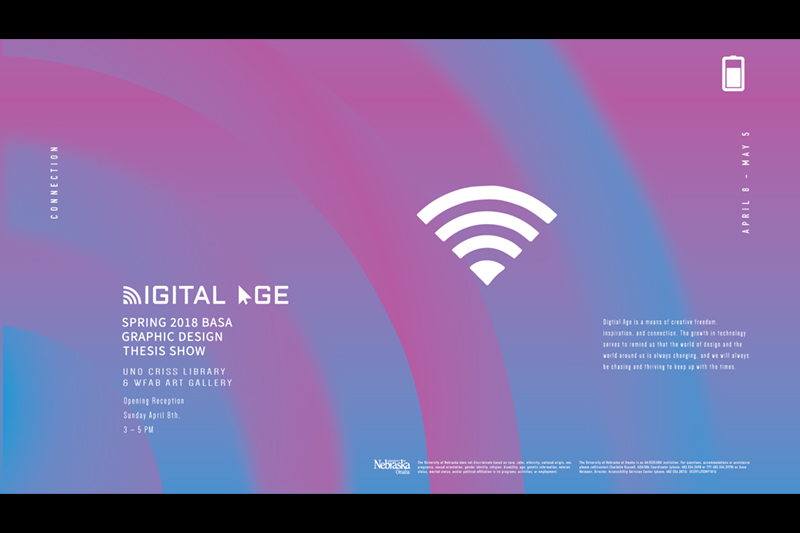 This semester's exhibit features work from:
Nicole Adkins
Jocelyn Aguirre-Vasquez
Kara Bernbeck
Tristan Bernth
Tania Conteras
Sophie Ford
Michael Garrett
AJ Henderson
Sunkist Judson
Kathleen Kendall
Brittany Lawson
Jingyi Liu
Roxanne Milner
Adriana Montano
Elle Mostek
Monique Ramirez
Christina Song
Lorena Trejo-Miranda
Additional works from BFA students can be found in the Weber Gallery.
Contact Us
For more information about including events and announcements in the Criss Library News Center, email us at unocrisslibrary@unomaha.edu.
Unless otherwise clearly stated, any views or opinions expressed as part of events, exhibitors, or presenters in the UNO Libraries (Dr. C.C. and Mabel L. Criss Library and the KANEKO-UNO Library) should not be viewed as endorsements by the University of Nebraska at Omaha (UNO) and do not reflect the official position of UNO or the University of Nebraska system.