Barbara DiBernard Interview
Dr. Barbara DiBernard interview by Luke Wegener for LGBTQ+ Voices: The Queer Omaha Archives Oral History Project now available in UNO Libraries' Archives and Special Collections.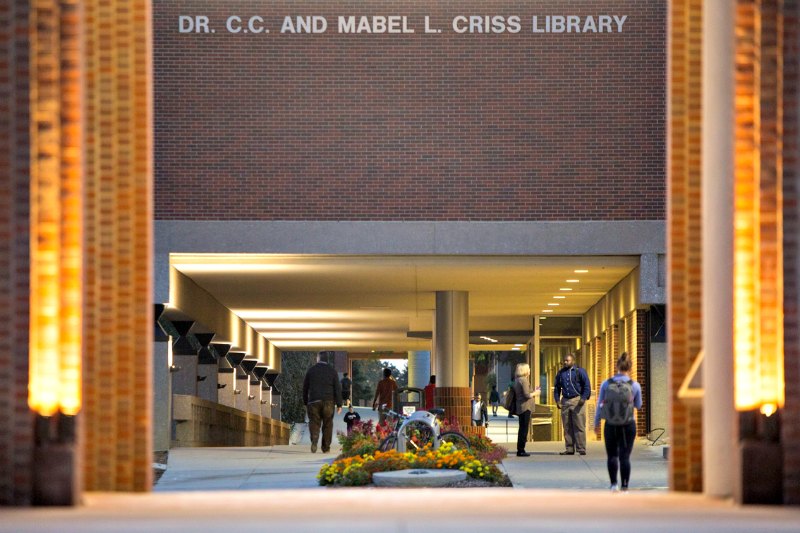 Criss Library
In December 2017, Dr. Barbara DiBernard was interviewed by Luke Wegener, UNO Libraries Oral History Associate, for LGBTQ+ Voices: The Queer Omaha Archives Oral History Project. The wide-ranging interview begins with childhood recollections and continues to current events. The interview is over three hours in length.
Dr. Barbara DiBernard is a retired UNL English and Women's and Gender Studies Professor and LGBTQ+ activist. Quiet and well-behaved as a young girl, Dr. DiBernard experienced an ideal childhood and enjoyed summers away at camp with her best friend. In high school, Dr. DiBernard was unaware of her attraction to women, as it was never presented as an option or openly talked about.
After earning her PhD from SUNY Binghamton in Modern British Literature in 1976, she began teaching at the University of Nebraska-Lincoln in 1978, where she began to discover women's literature and experienced a life-changing feminist awakening. Through writers like Tillie Olsen, Audre Lorde, and Minnie Bruce Pratt, Dr. DiBernard also began to understand and acknowledge her lesbian identity and how it intersected with her passion for social justice and feminism. As she became more grounded and confident in her identities, she started coming out to her students and received mostly positive responses, despite struggling to find support with UNL's administration. Dr. DiBernard was involved with several causes during her career at UNL, most notably the fight spanning two decades to extend benefits to domestic partners of faculty and staff, which was finally granted in 2012 after her retirement.
In 1988, Dr. DiBernard and Judith Gibson, Lincoln therapist, became life partners. In 2000, they joined a lawsuit with the ACLU and Lambda Legal against Nebraska 416, which amended the Nebraska constitution to make same-sex marriage unconstitutional. After the Supreme Court's legalization of same-sex marriage in June 2015, DiBernard and Gibson were the first same-sex couple to receive a marriage license in Lancaster County, Nebraska, which was documented for publications like the Omaha World-Herald and the Lincoln Journal Star. In her interview, Dr. DiBernard also discusses Judy's disability and her passion for disability activism, the impact of the Trump administration on the LGBT community, and reflects on her life of activism and dedication to social justice.
All of this and more was covered in the interview. Dr. Barbara DiBernard's interview is available on the Queer Omaha Archives website and in UNO Libraries' Archives and Special Collections.
This post is the first in a series sharing previews of the new oral history interviews gathered as part of LGBTQ+ Voices: The Queer Omaha Archives Oral History Project.
Support Oral Histories
We rely on external funding to conduct oral history interviews, so once we have exhausted our grant funding and private gifts made by community members, collecting new interviews will be paused until we are able to raise additional funding. We need to hear from community members soon to ensure your stories are captured, preserved, and available for future generations to learn from and enjoy. If you have been contacted by the archives and are considering sharing your story, we hope to hear from you!
If you would like to support continuing the collection of and access to oral history interviews, please consider making a donation to the Queer Omaha Archives or contact us to volunteer with the project.
About Oral History and the Queer Omaha Archives
From the first conversations between students, faculty, community members, and archivists about creating the Queer Omaha Archives, there were plans to include an oral history component in the collecting initiative. Oral history has the ability to share the memories of people and communities who lived through those events with the present and future through the voices of people from our communities. LGBTQ+ Voices: The Queer Omaha Archives Oral History Project is currently collecting oral history interviews from members of the greater Omaha LGBTQ+ communities, sharing their wide-ranging experiences with their fellow Nebraskans and the world through the University of Nebraska at Omaha's Queer Omaha Archives website.
About the Queer Omaha Archives
The Queer Omaha Archives is part of UNO Libraries' Archives & Special Collections and officially launched in 2016. The Queer Omaha Archives collects and preserves materials relevant to the LGBTQ+ community in the region. Archives & Special Collections' material is available for the university community and general public at both the Dr. C.C. and Mabel L. Criss Library and online.
Visit the Omaha Oral History Blogs to learn more.