De-Stress Fest in Criss Library
In partnership with UNO Student Involvement, Criss Library is offering a host of activities during De-Stress Fest: Take Time to Take a Break.
date: 04/25/17 - 05/04/17
time: Criss Library will be open 24/7 periodically through prep and finals weeks. Scheduled activies in the library occur on 4/25-28. See below for details.
add
04/25/2017 12:00 AM
05/04/2017 12:00 AM
America/Chicago
De-Stress Fest in Criss Library
Whether its settling in for a crafternoon, cuddling a stuffed animal, perfecting zen gardening, or rediscovering your Mario Kart skills, the library has you covered for relaxing and refocusing your energy into acing your finals!
true
MM/DD/YYYY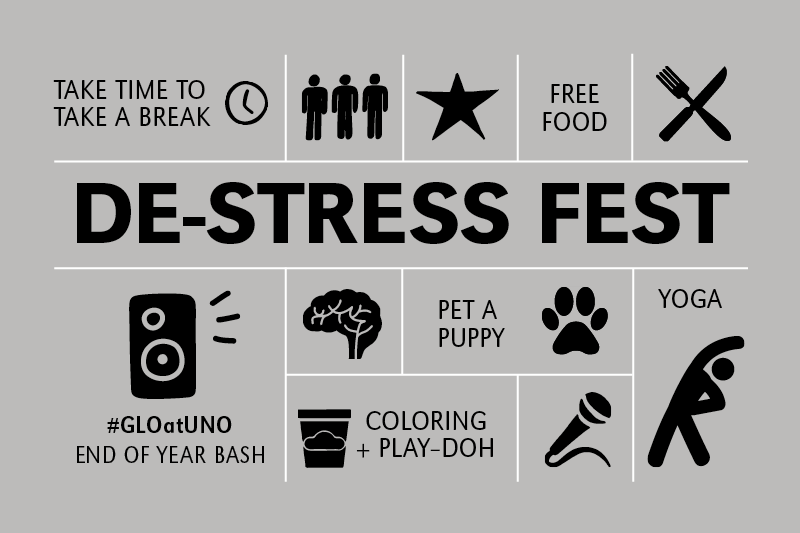 Special Events in Criss Library
---
Escape Reality
Tuesday, April 25 from 4 to 6 P.M. | Main floor near big TV screen
Escape Reality with two virtual reality games at Criss Library. Have a 2D painting experience in a 3D world with Quill, or try your hand at the exhilarating teamwork escape game, Keep Talking and Nobody Explodes.
Crafternoon: Button Edition
Thursday, April 27 from 3 to 5 P.M. | Main floor near big TV screen
Creativity not required... Color or design your own pin back button. We'll provide the button supplies and markers, you provide the creativity, or take home one of our pre-made buttons!

Not in the coloring mood? Don't let relentless studying make you chase your shadow - take a break and create a vinyl sticker in the CPL featuring your best selfie. 
3 to 4 P.M. - Take a selfie in the CPL
5:30 P.M. - Pick up vinyl selfie sticker silhouette
Big Screen Video Games
Friday, April 28 from 7 to 9 P.M. | Theater Room, Criss Library
A Nintendo system will be hooked up so you can play Mario Kart and Super Smash Bros. on the big screen!
Love Your Mug
Finals week, overnight hours | First floor
Love the Earth, Love the Library by picking up a free vintage mug and re-using it during our overnight finals week hours.
Guided Meditation
Theater Room, Main floor of Criss Library
Relax your body and still your mind during these calming guided relaxation sessions.
Wednesday, April 26
9 to 10 A.M. - Nicholas Hall, "Nothing Beside Remains"
10 to 11 A.M. - Maria Caskey, "Enjoy the Ride"
11 A.M. to 12 P.M. - Corbin McMahon, "The End is Never the End"
12 to 1 P.M. - Nalom Deng, "Tree of Life"
Thursday, April 27
9 to 10 A.M. - Chloe Glass, "Universal Consciousness through Vibration"
10 to 11 A.M. - Symone Stokes, "Rebirth through the Lotus"
11 A.M. to 12 P.M. - Rachel Griswell, "Inner Fire"
12 P.M. to 1 P.M. - Taylor Bies, "Santosha – Happiness"
Friday, April 28
11 A.M. to 12 P.M. - Zach Baier, "Balance Within"
12 P.M. to 1 P.M. - Hannah Ervin, "Enlightened"
---
24/7 Activities in Criss Library
De-Stress Stations: table across from interactive video wall on main floor - bubble wrap, snacks, fidget sticks, and stickers
Coloring and Game Tables
Interactive Video Wall: showing puppy bowl, kittens, and other awesome things
Theater Room: meditation and relaxation zone, and afternoon TV show binge
Roving Zen Gardens: find them throughout the library - new location everyday!
Stuffed Animal Cuddlers: five stuffed animals are stashed within the library for you to hug and de-stress during a study break
Motivation Station: Find the rolling TV monitor with motivational GIFs and anti-anxiety GIF
---
Contact Us
For more information about including events and announcements in the Criss Library News Center, email us at unocrisslibrary@unomaha.edu.
Unless otherwise clearly stated, any views or opinions expressed as part of events, exhibitors, or presenters in the UNO Libraries (Dr. C.C. and Mabel L. Criss Library and the KANEKO-UNO Library) should not be viewed as endorsements by the University of Nebraska at Omaha (UNO) and do not reflect the official position of UNO or the University of Nebraska system.
Our Campus. Otherwise Known as Omaha.
The University of Nebraska does not discriminate based on race, color, ethnicity, national origin, sex, pregnancy, sexual orientation, gender identity, religion, disability, age, genetic information, veteran status, marital status, and/or political affiliation in its programs, activities, or employment. Learn more about Equity, Access and Diversity.
scroll to top of page