De-Stress Fest: Take Time to Take a Break
Take time to take a break.
date: 04/25/17 - 05/04/17
time: 12:00 AM - 11:59 PM
add
04/25/2017 12:00 AM
05/04/2017 11:59 PM
America/Chicago
De-Stress Fest: Take Time to Take a Break
You work hard. Take a break. You deserve it!
$_EscapeTool.xml($_XPathTool.selectSingleNode($page, "dynamic-metadata[name='location']/value").value)
false
MM/DD/YYYY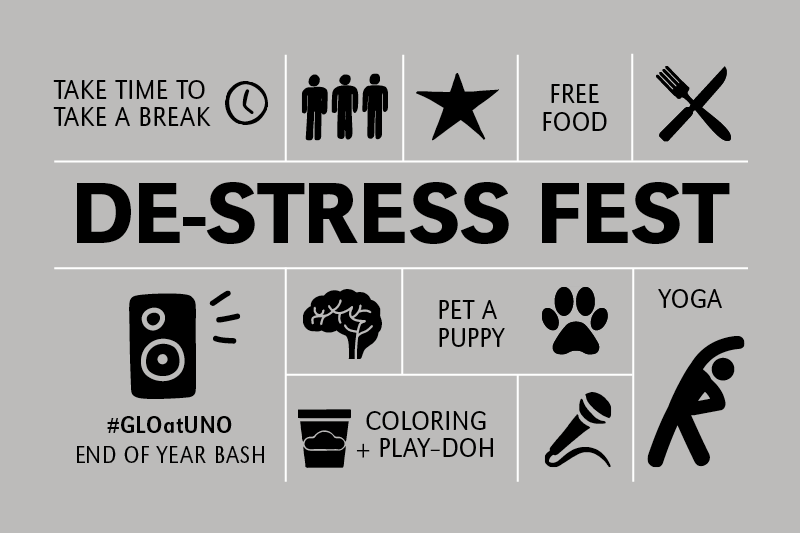 Tuesday, April 25th
Plaza Party
11 A.M.–1 P.M. | MBSC Plaza (South Side)
Stop by the plaza for snacks, giveaways and live music! Dancing is not mandatory, but encouraged!
Escape Reality 
4–6 P.M. | Criss Library
Escape Reality with two virtual reality games at Criss Library. Have a 2D painting experience in a 3D world with Quill, or try your hand at the exhilarating teamwork escape game, Keep Talking and Nobody Explodes.
Slow Roll Bike Ride
5–7 P.M. | Meet in MBSC Plaza B-Cycle Station (South side)
Join UNO Bikes for a 10 minute slow roll through Elmwood Park to demonstrate the ease of commuting between campuses via bike. Students who do not have a bike, may use a B-cycle for free (first come, first served). The Outdoor Venture Center (OVC) will be providing helmets. Ride begins at 5:30 P.M. and head to Godfather's Pizza in Aksarben for free pizza and drinks. Return to campus at approximately 7 P.M.
---
Wednesday, April 26th
Please note: Due to weather, the Paint Party has been canceled. Stay tuned for possible additions to the schedule.
*** 
Maverick Productions Presents: #GLOatUNO End of Year Bash
8:30–9:30 A.M. | Mammel Hall Atrium and MBSC Atrium
Free coffee and donuts with MavPro. Limited amount, first come first served.
11 A.M.–1 P.M. | Pep Bowl
FREE lunch, carnival games, activities, giveaways and music.
2:30–3:30 P.M. | Mammel Hall Atrium and MBSC Atrium
Join MavPro for Maui Wowi smoothies.
4–6 P.M. | MBSC Atrium
Join MavPro for FREE lollipops.
Fitness Challenge 
11 A.M.–1 P.M. | HPER Atrium
Join us for a friendly competition of skiing, rowing and other fitness exercises. Events will be timed, with the top winners receiving cool prizes. If you do not feel like participating, swing by and cheer your friends on! 
---
Thursday, April 27th
Destress Bag Giveaways 
11 A.M.–1 P.M. | Mammel Hall Atrium and MBSC Atrium
Pick up a bag with a free pencil, highlighters, pens, candy, chapstick, and other goodies.
SUP Yoga
11 A.M.–1 P.M. | HPER Pool
Come try Yoga on a Stand Up Paddleboard (SUP) with a certified Yoga instructor. Yoga and stand up paddle boarding are becoming more and more popular, so get on board and try the combination of these exciting sports. No experience necessary.
Play-Doh Power Hour
1–3 P.M. | MBSC Atrium
Grab some free Play-Doh to help take a break from studying.
Crafternoon at the Criss Library: Button Edition
 3–5 P.M. |  Criss Library
Color or design your own pinback button. Criss Library will provide the button supplies and markers, you provide the creativity! Disclaimer: creativity not required; premade buttons available.
Camping on Campus
5 P.M.–9 P.M. (Sundown) | Pep Bowl
Experience what UNO's OVC has to offer. Join the fun, that will include FREE pizza, volleyball, ladder golf, frisbee, bean bag toss, and more throughout the night. This event will shut down at sundown due to cold temperatures late Thursday night and Friday morning. For more information, please contact Joseph Hanseling. This event is for UNO students only.
---
Friday, April 28th
Coloring for Cash
8 A.M.–12 P.M. | MBSC Atrium
Come color and relieve stress. Enter your masterpiece in the Coloring Contest and you could win a UNO Bookstore gift card!
1st place - $100.00
2nd place - $50.00
3rd place - $25.00
Big Pink Volleyball 
12–4 P.M. | HPER 128
The perfect fusion of indoor volleyball and keeping a "Big Pink" force of nature in the air. This is a FREE event hosted by UNO Intramural Sports. You are invited to drop in and play as long as you want. Come in and bump, set, and spike your way to a stress free week!
Big Screen Video Games
7–9 P.M. | Criss Library
Criss Library is hooking up the Nintendo to the video wall so you can play Mario Kart and Super Smash Bros. on the big screen.
---
Monday, May 1st
Destress Zone
11 A.M.–1 P.M. | Community Engagement Center Atrium
Counseling and Psychological Services (CAPS) and NAMI on Campus invite all UNO students to enter this zone and enjoy herbal tea, calming music, relaxation meditations, and mindfulness materials.  Also, enjoy a Stress Relief Sock Neck-Pillow activity.
Free Massages
2–4 P.M. |   HPER Atrium
Take a load off your shoulders and get a free massage in the HPER building.
NERF War
8–11 P.M. |   MBSC Ballroom
Come run around and play with the nerf guns or you can bring your own.  Free snacks will be provided.
---
Tuesday, May 2nd
Tea Time Tuesday
8–10 A.M. |  MBSC Atrium
Stop by and check out the selection of tea to help with stress, anxiety, sleeping, and more.
Legos at Lunch
11 A.M.–1 P.M. | MBSC Atrium
Build and play with Legos and you could win prizes for your creation.
---
Wednesday, May 3rd
Pet a Puppy
11 A.M.–1 P.M. | MBSC Atrium
Come de-stress with the help of some adorable therapy dogs. Please feel free to bring monetary donations to help their cause.
POI Spinning
12–1 P.M. | HPER 228 (Dance Lab)
Looking for a fun, expressive way to destress? Come try POI, a style of performing arts using glowing lights on the ends of strings. This fun activity is not only captivating to try, but also to watch. There will be a facilitator, fun music, and good company. No experience necessary. You must remove street shoes upon entry to the Dance Lab.
---
Thursday, May 4th
International Spring Picnic
5–8 P.M. | Elmwood Park
Free food and outside fun for all UNO students!
24/7 Activities in Criss Library
De-Stress Stations: table near the interactive video wall on main floor and on first floor - bubble wrap, snacks, and more
Coloring, game, and puzzle tables
Interactive Video Wall: showing puppy bowl, kittens, and other awesome things
Theater Room: meditation and relaxation zone, PM binge TV shows
Roving Zen Gardens: find them throughout the library
Stuffed Animal Cuddlers: five stuffed animals are stashed within the library for you to hug and de-stress during a study break
Finals Week Overnight Hours
Love Your Mug: Love the Earth, Love the Library by picking up a free vintage mug and re-using it during our overnight finals week hours.
Thank you to our De-Stress Fest Sponsors
Student Involvement
MBSC
Criss Library
Student Government
Maverick Productions
Wellness Center
Counseling and Psychological Services
UNO Bookstore

Housing and Residence Life

NDA (Network for Disability Awareness)

Thompson Learning Community

UNO Outdoor Venture Center
Contact Us
If you have a story idea, news tip, or other question, please email the UNO News team at unonews@unomaha.edu.
Our Campus. Otherwise Known as Omaha.
The University of Nebraska does not discriminate based on race, color, ethnicity, national origin, sex, pregnancy, sexual orientation, gender identity, religion, disability, age, genetic information, veteran status, marital status, and/or political affiliation in its programs, activities, or employment. Learn more about Equity, Access and Diversity.
scroll to top of page