Karen Kempkes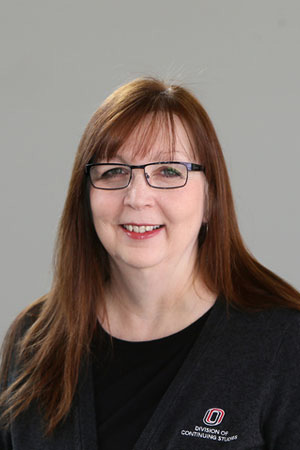 Office Supervisor
Division of Continuing Studies
CPACS 207
6001 Dodge Street
Omaha, NE 68182
Tel: 402.554.4921
Fax: 402.554.2231
Email: kakempkes@unomaha.edu
Educational Background
Bachelor of General Studies with an area of concentration in Religion, University of Nebraska at Omaha
What do you love about UNO?
The balance of history and cutting edge technology that students are able to experience.
If you could go back to college, what would you do differently?
I would not wait until my last semester to take Algebra! I put it off, because I heard so many stories about how hard it was, and how it was such a dreaded class to take. I believed the hype. As it turns out, I liked Algebra. My son told me that I shouldn't worry about whether or not I would use Algebra in life after graduation. He told me that it was a class that was going to teach me to think differently, and that is what I should focus on. He was right. Sometimes things don't make sense immediately, but in the big picture of life, you can see the logic. That is how Algebra worked for me.
Our Campus. Otherwise Known as Omaha.
The University of Nebraska does not discriminate based on race, color, ethnicity, national origin, sex, pregnancy, sexual orientation, gender identity, religion, disability, age, genetic information, veteran status, marital status, and/or political affiliation in its programs, activities, or employment. Learn more about Equity, Access and Diversity.
scroll to top of page