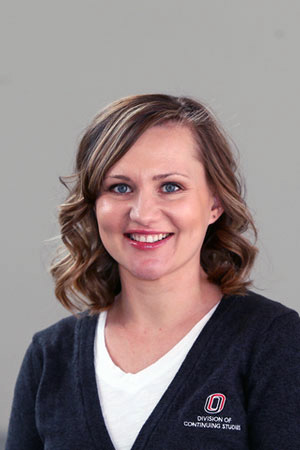 Jessica Swisher
Assistant Director, Success Initiatives
Division of Continuing Studies
---
email:
office:
CPACS 207
6001 Dodge Street
Omaha, NE 68182
office phone:
fax:
402.554.2231
Additional Information
Educational Background
Master of Science, Human Services, Bellevue University
Bachelor of Science, Alcohol and Drug Abuse Studies, University of South Dakota
What I like about the BMS degree program:
What I like most about the Bachelor of Multidisciplinary Studies (BMS) program is that it's forgiving. It doesn't hold a grudge or resentment for past attempts at school that were unsuccessful. It doesn't mind that you have a 1.8 transfer GPA. It welcomes, with open arms, your four transfer transcripts and delights in your technical credit when you thought you wanted to be a welder or maybe still are. It understands that, at 18 years old, maybe you weren't ready for higher education, but with age comes wisdom and now that you're in the right space to continue your degree, the BMS program is here for you!
Advice for our students:
YOU DO YOU. There is no "One Size Fits All" when it comes to the BMS degree. You don't have to fit into a mold - you get to create the mold that is YOUR BMS degree. So find what fits you and thrive!
My favorite quote:
Change what you can, manage what you can't. -Raymond McCauley