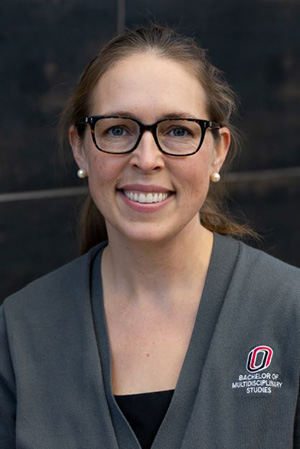 April Paschall, Ph.D.
Senior Associate Director, Learning and Organizational Effectiveness
Division of Continuing Studies
---
email:
office:
CPACS 207
6001 Dodge Street
Omaha, NE 68182
office phone:
fax:
402.554.2231
Additional Information
Educational Background
Doctor of Philosophy, Gerontology, University of Nebraska at Omaha
Master of Arts, Textile, Clothing and Art, University of Nebraska Lincoln
Bachelor of Science, Art, Doane University
What I like about the BMS degree program:
I appreciate the flexibility built into the BMS degree, allowing students the ability to tailor their program of study. The adult and contemporary learner comes to UNO with differing educational journeys—the BMS degree is ideal in helping our students attain their degree by connecting past and present learning to meet their goals.
Advice for our students:
Find something good in every day or one thing you can be grateful for. Going to college with competing responsibilities outside the classroom can be challenging and the path may seem long. Finding joy and showing gratitude will greatly improve the journey!
My favorite quote:
Don't ask what the world needs. Ask what makes you come alive, and go do that. Because what the world needs is people who have come alive. –Brene Brown