CEHHS Welcomes Fourth Cohort of the Teacher Scholars Academy
The Teacher Scholars Academy is a select group of high-achieving teacher candidates who embody leadership qualities and commitment to their communities.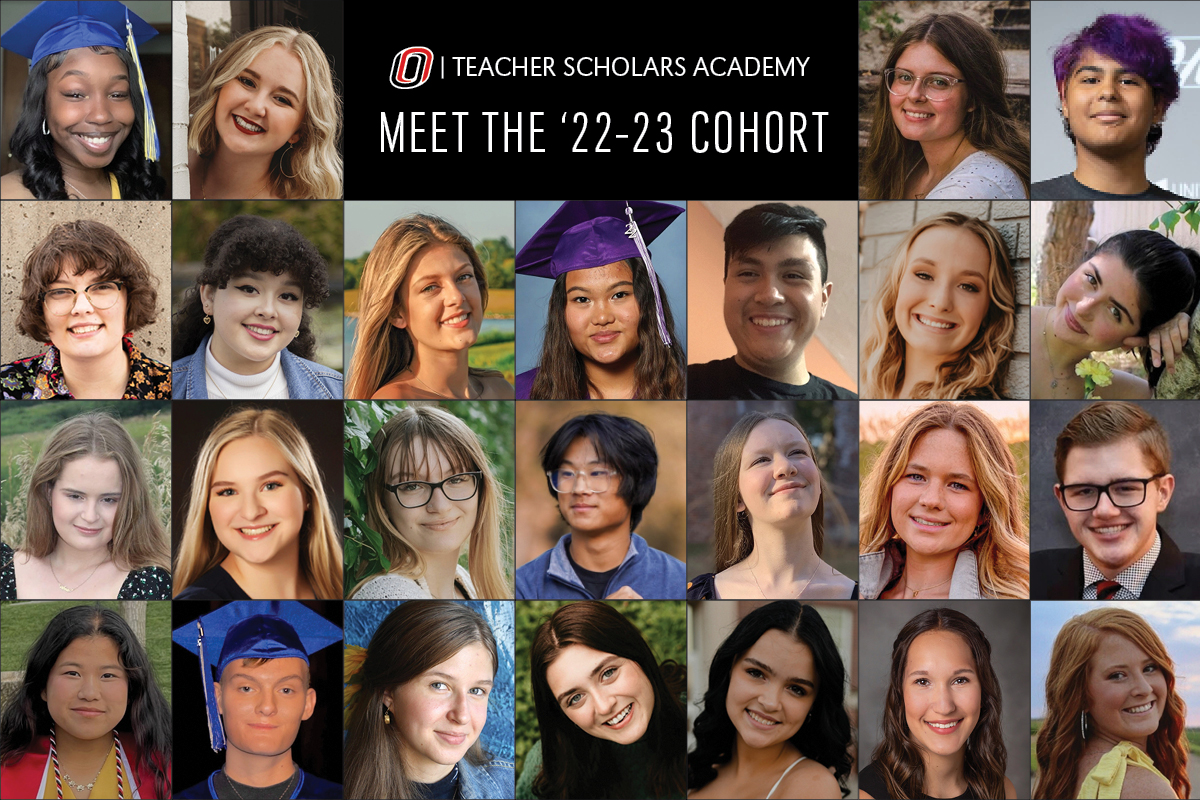 The College of Education. Health, and Human Sciences (CEHHS) is excited to welcome the fourth cohort of students to the Teachers Scholars Academy (TSA). This fall, the Teacher Scholars began pursuing majors in Elementary Education, Secondary Education, Special Education, Early Childhood Inclusive Education, Art Education, and Music Education.
These 25 high-achieving, future Omaha Public Schools (OPS) teacher candidates hold strong academic records, with an average high school GPA of 3.75 and an average ACT score of 25. They represent 18 high schools across ten different counties in Nebraska and Missouri.
As a Teacher Scholar, students will work closely with other high-performing Scholars by engaging in small specialized courses, seminars, and special projects specially designed for each cohort. They will graduate with a strong network of professional peers and will begin teaching careers in OPS.
Experiential learning is a key part of the Teacher Scholar experience, including both service to the community and hands-on educational experiences. Through service learning projects, the previous TSA cohorts partnered with Inclusive Communities, fifth-grade students from Crestridge Magnet Center, and the Union for Contemporary Art for a project, Redlining Conversations. The project explored the history of Redlining in North and South Omaha and how those foundations of structural racism have had lingering effects on the Omaha community.
TSA is led by Dr. Gerry Huber, former director of CEHHS' Office of Academic Advising.
---
Meet the 2022-2023 Teacher Scholars
| Name | Major | High School |
| --- | --- | --- |
| Kennedy Cobb | Elementary Education - Early Childhood | Bennington Public High School |
| Kendall Dorey | Elementary Education - ESL | Wayne Community High School |
| Rylee Edgell | Elementary Education | Blair High School |
| Logan Ericson | Early Childhood Inclusive Education | York High School |
| Christina Fischer | Secondary Education - World Language - Spanish | Omaha South High School |
| Cody Friend | Secondary Education | Central - Springville, Missouri |
| Arlene (AJ) Garcia | Elementary Education - Early Childhood | Bellevue West High School |
| Jose Gonzalez-Hilario | Secondary Education | Omaha South High School |
| Heh Hteh | Elementary Education | Omaha Central High School |
| Jenna Jennings | Music Education | Blair High School |
| Grace Northcott-Ketelsen | Early Childhood Inclusive Education | Freeman High School |
| Jeffrey Luzum | Secondary Education | Millard North High School |
| Lucas (River) Magisana | Secondary Education | Omaha Benson High School |
| Isabella Manhart | Elementary Education - ESL | Omaha Central High School |
| Sydney Millsap | Early Childhood Inclusive Education | Northwest High School - Grand Island |
| Meh Mo | Elementary Education | Omaha Northwest High School |
| Ariana Ortega | Early Childhood Inclusive Education | Omaha Burke High School |
| Anijuah Richardson | Elementary and Special Education | Omaha North High School |
| Juliana Scheopner | Secondary Education - Art | Peacehill Academy School |
| Annie Struckman | Elementary Education | Ord Junior - Senior High School |
| Olivia Tawney | Elementary Education | North Bend Central Jr-Sr High School |
| Kaitlyn Watson | Elementary Education | Lincoln Northeast High School |
| Hailey Younker | Elementary Education | Omaha Central High School |
| Annabelle Ziegerer | Secondary Education - ELA/School Librarian | Bellevue East High School |
| Noah Ziegler | Secondary Education - BMIT | Aurora High School |