H&K Partners with Award-Winning Benson Health Professions Academy
The School of Health and Kinesiology (H&K) is helping to promote pathways to healthcare careers for high schoolers through a partnership with Benson High Magnet School.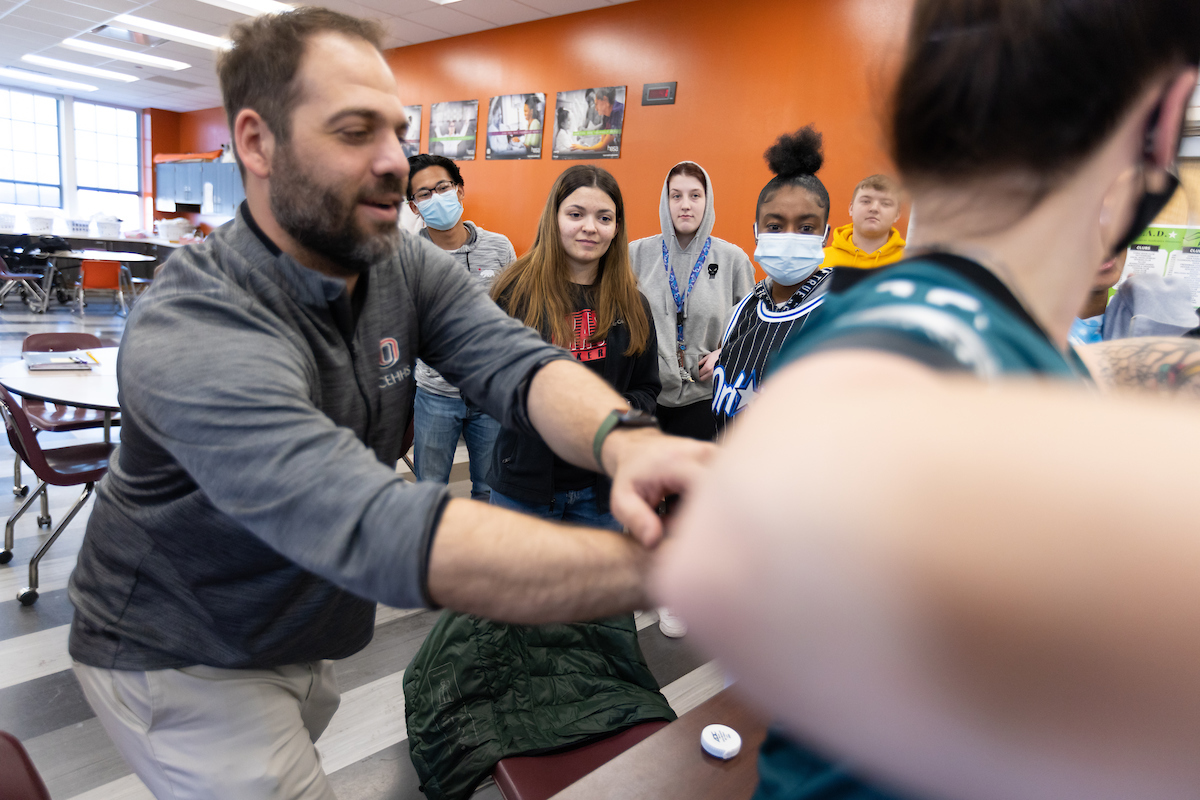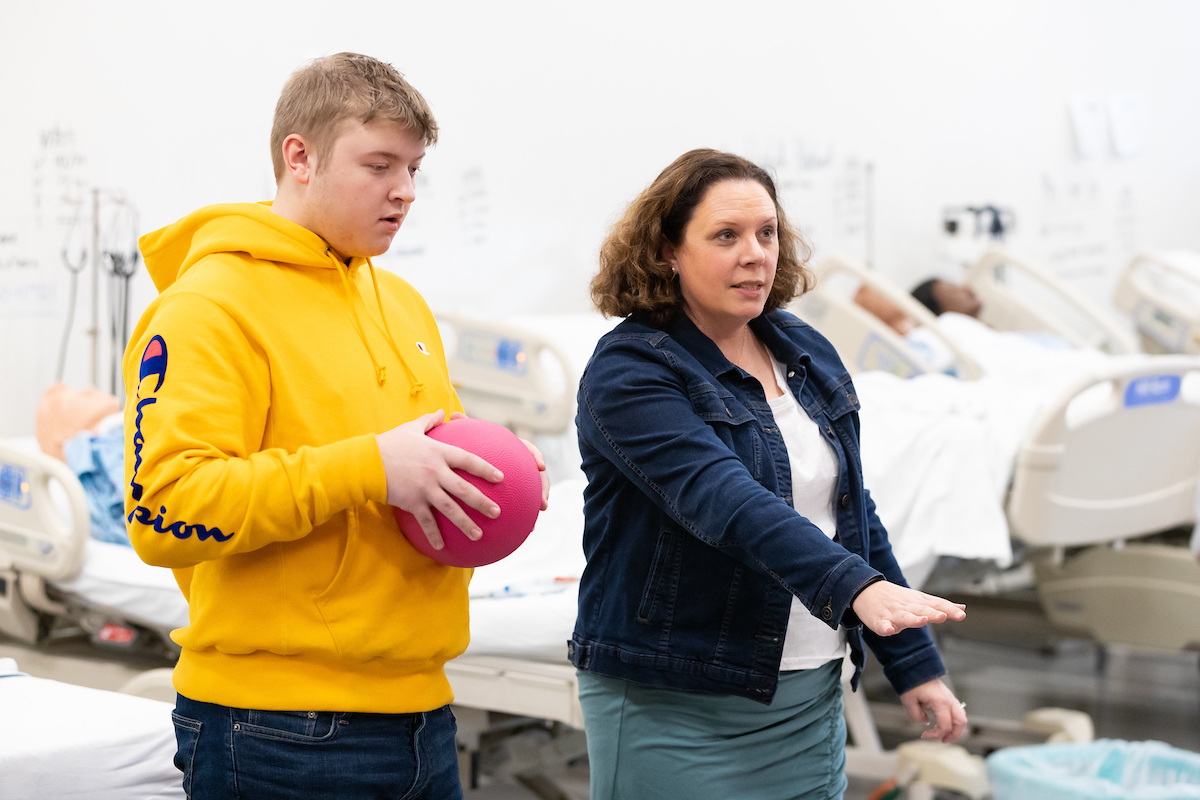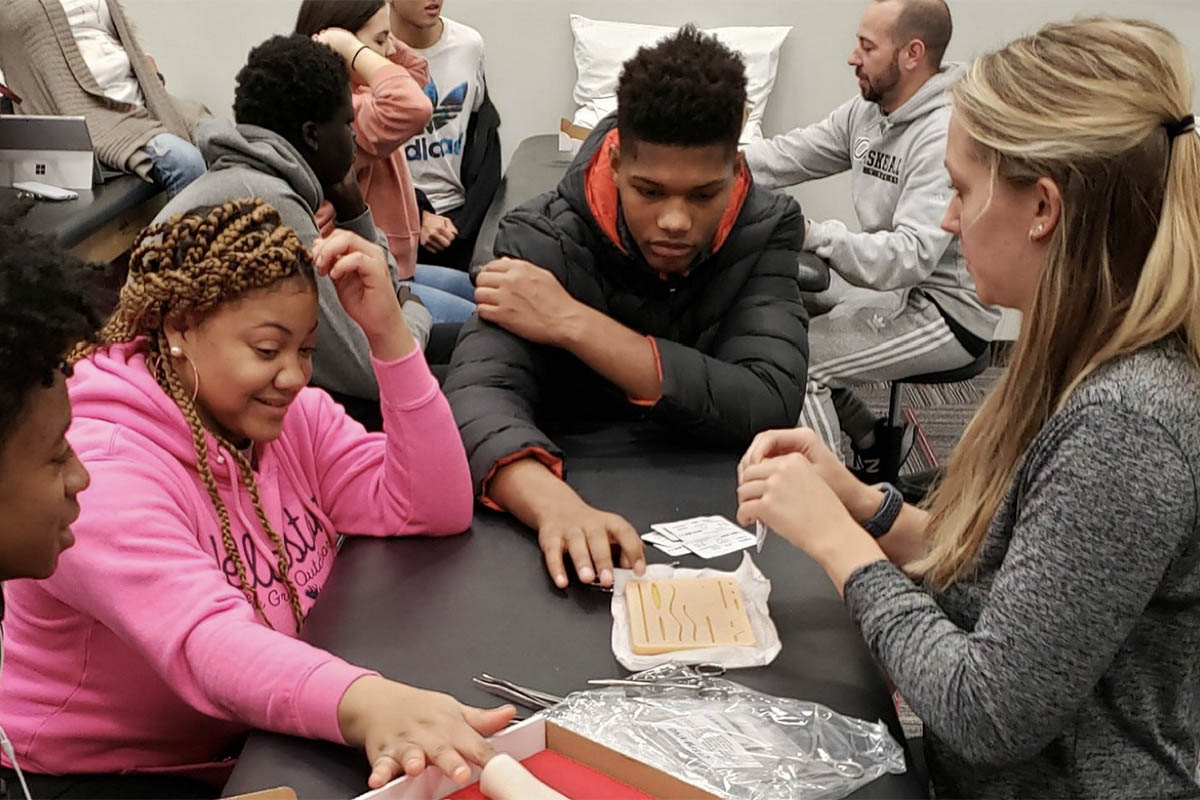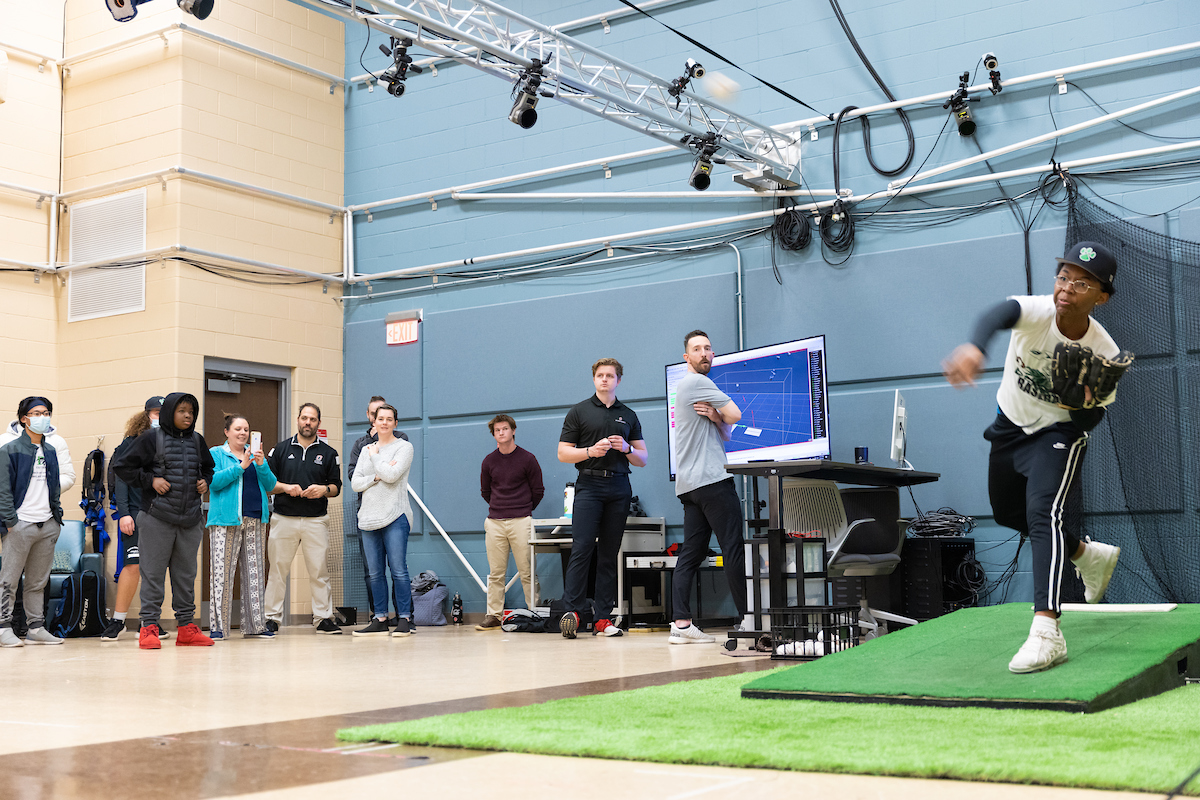 Students at Omaha Public Schools' (OPS) Benson High Magnet School can get a head start in a career thanks to an innovative academy model — and support from UNO. In Benson's Health Professions Academy, students explore and work towards a future healthcare profession by learning necessary skills, earning certifications and college credit, and interacting with professionals in the healthcare field.
Dr. Adam Rosen is an associate professor and director of H&K's Athletic Training Program. When Rosen joined the Advisory Board for the Benson Health Professions Academy in 2019, his goal was to support UNO's metropolitan mission of community engagement through helping to build Nebraska's healthcare workforce pipeline.
"When I first became a member of Benson's Health Professions Academy, I quickly realized the breadth and quality of the program," explained Rosen.
"This academy prepares high schoolers to enter a variety of career pathways including kinesiology and sports medicine, nursing, pharmacology, and mental health professions. The support from their school, OPS, UNO, and the Omaha community helps prepare students for a successful post-secondary education and identify career interests."
Dr. Marcia Adler, an instructor of Public Health, and Dr. Amelia Lanier, an instructor of Biomechanics, serve as Academy Board Members alongside Rosen and colleagues from organizations such as UNMC and Nebraska Methodist College. They assist the faculty and staff at Benson with curriculum development, networking, and experiential learning activities.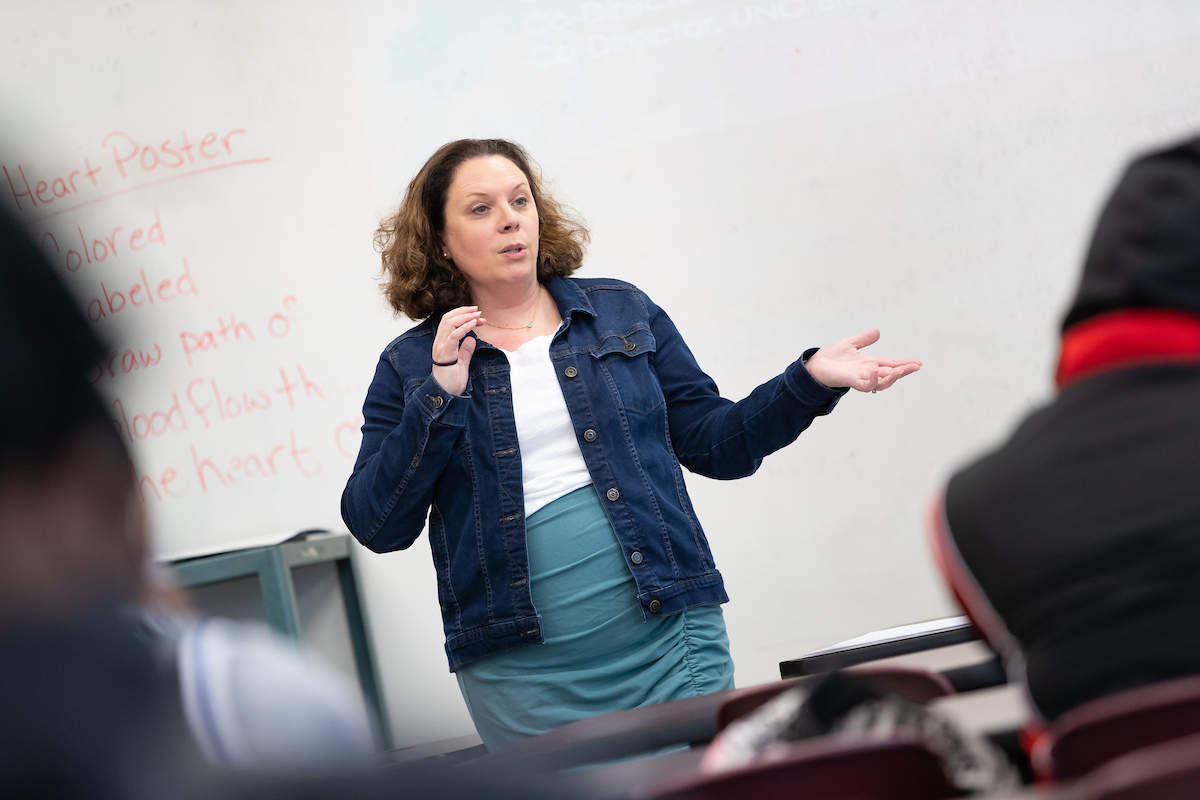 Lead teacher in Benson's Health Professions Academy, Robyn Jernigan, has a special connection with UNO — Jernigan is an alum of the Teacher Education program and a May '22 graduate of the Master of Arts in Health and Kinesiology program. A Benson teacher since 2008, she developed a course during her first year of teaching, Foundations of Healthcare, which gives students a glimpse at 70+ healthcare careers. That course laid the groundwork for the Health Professions Academy, which launched in 2015.
"The Health Professions Academy is an amazing opportunity that allows students to take ownership of their education as well as make real world connections. Dr. Rosen has been vital in helping to develop these strong relationships." said Jernigan.
"The partnership with UNO has given me the support and experiences needed to develop my students into well-rounded, resilient, and post-secondary-ready individuals. UNO faculty have provided classroom activities, field trips, and cohort training. My students have participated in experiences such as training with the Anatomage 3D anatomy table, visiting the UNO Pitching Lab to learn about biomechanical assessments, and working with UNO Athletic Training students on suturing skills and uses of ultrasound and sonogram in sports medicine."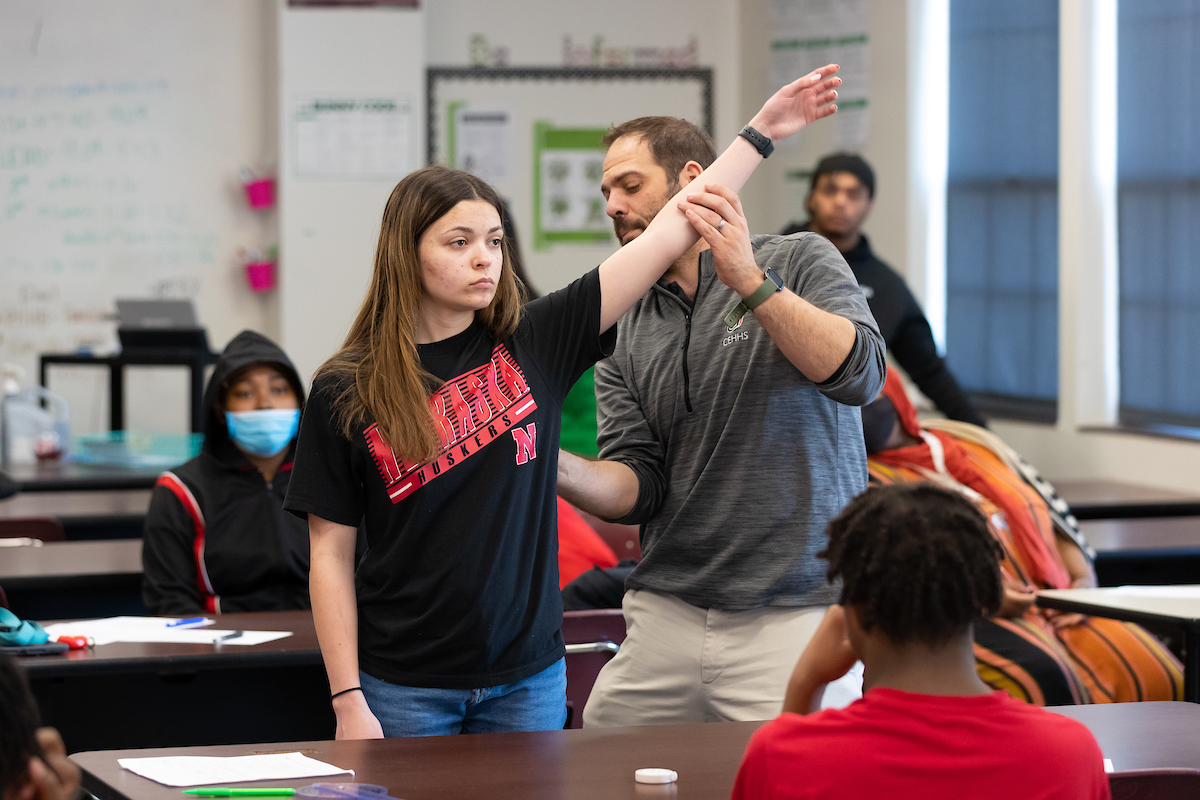 New Benson graduate Anna Burks agrees. "The partnership between UNO and Benson is essential because we get to envision ourselves as working professionals. The field trips, supplies, and experiences that we have gotten through UNO will make us more successful in the future because we are prepared. Benson is our present, but because of the connections we built here, we can see our future."
Burks is an aspiring pediatric occupational therapist and will begin her college education at UNO this fall.
Because of the commitment to quality and community connections, Benson's Health Professions Academy has been recognized with several major distinctions. In 2020, they achieved Model Academy status by the National Career Academy Coalition (NCAC), identifying the program as an exemplary career academy. In Dec. 2021, the NCAC selected Benson for the Jeffrey N. Stein Award, recognizing a school that achieve staff, family and community support for college and career academies. Last July, Benson received recognition from the Nebraska Department of Education as the 2021 Nebraska Career and Technical Education Outstanding Career Academy.
"As part of the selection for Model Academy Status, Dr. Adler and I were interviewed about our continuing involvement in the Health Professions Academy with the NCAC review team," explained Rosen.
"We highlighted the guest lectures, interactive tours of the labs, dual enrollment opportunities, and experiential learning activities. These types of activities are critical to supporting Health Professions Academy initiatives and to preparing students for future healthcare careers. These activities also show the benefits of combined student learning between UNO students and Benson students and the strong pathway of Benson alumni to H&K's undergraduate Public Health and Kinesiology programs."