MOVCENTR E-Newsletter | March 2022
The newsletter features stories from the Junior Investigators, the Pilot Project Awardees, the Research Cores, and COBRE collaborators.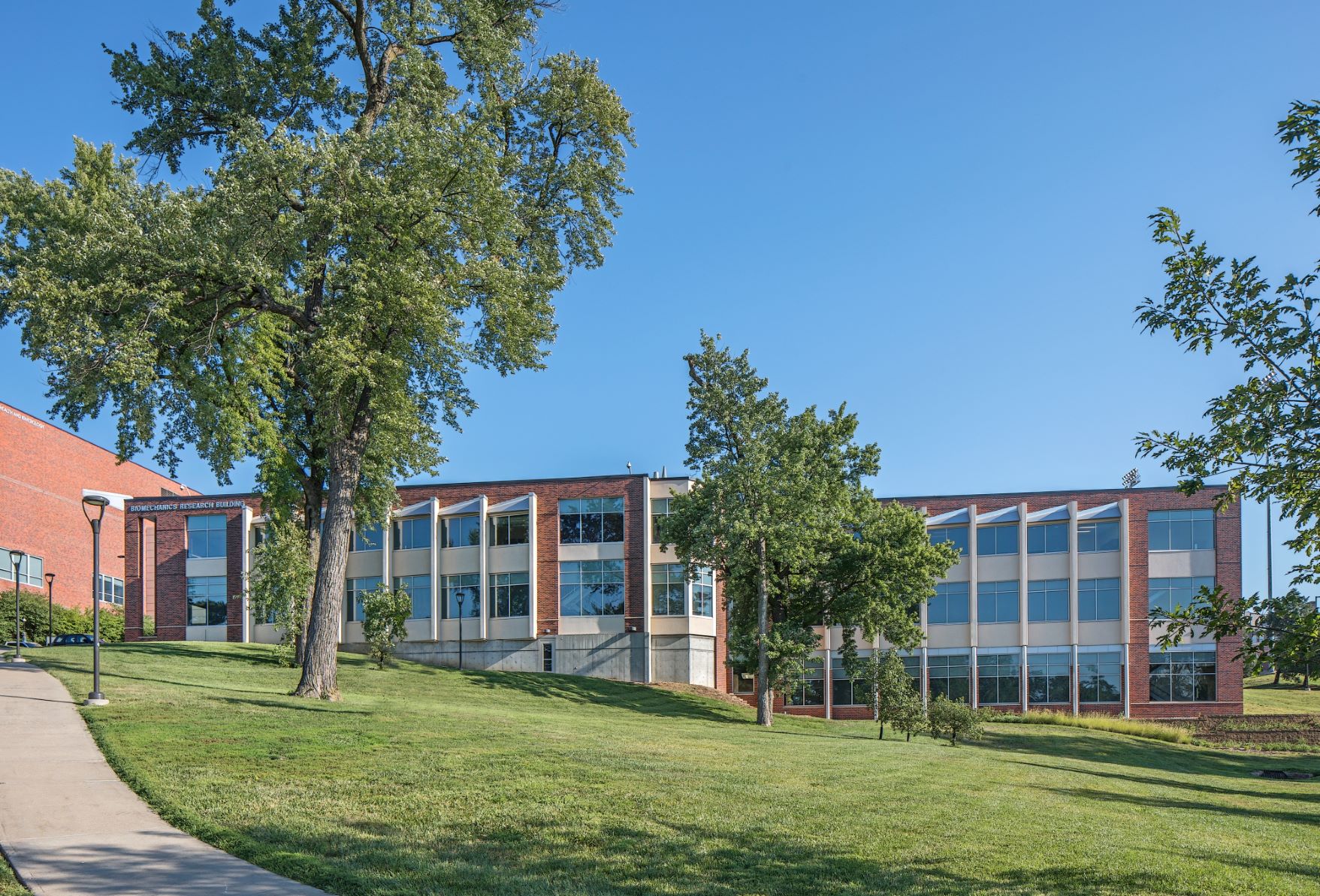 MEET THE MOVCENTR
Dr. Fabrício Magalhães, Laboratory Technician for the Movement Analysis (MOVAN) Core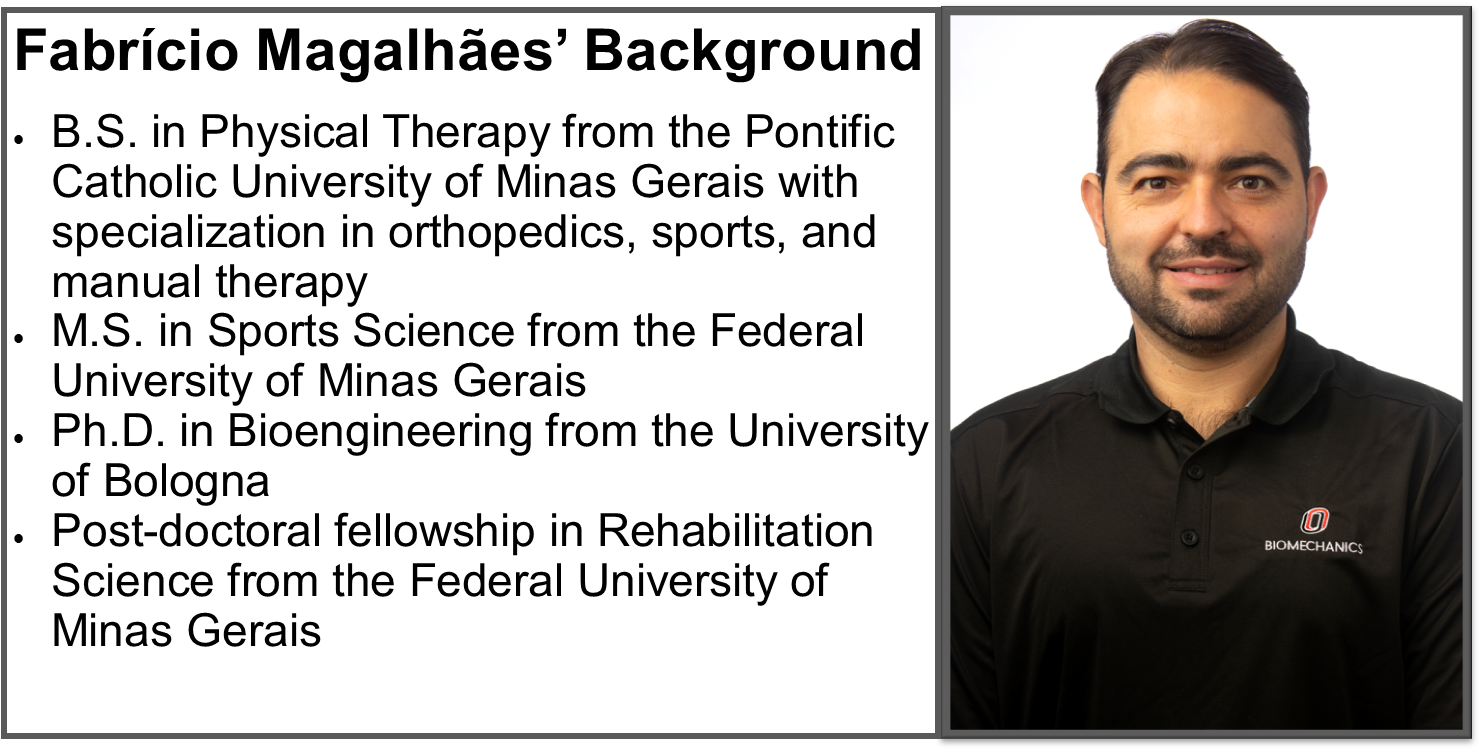 Dr. Magalhães' Story
Dr. Magalhães previously worked as a lecturer and lead full scale research projects in human motion and performance. He was the manager of the movement analysis laboratory at the school of physical education, physical therapy, and occupational therapy of the Federal University of Minas Gerais (Brazil).
"I am thrilled to join the MOVCENTR and MOVAN as a Laboratory Technician."
His professional activities include, reviewing for several scientific journals in the field of biomechanics, collaborate with laboratories around the world (Brazil, Italy, Great Britain, and Colombia), membership with academic associations (International Society of Biomechanics and Brazilian Society of Biomechanics), and has several papers published in peer-reviewed journals.
As an active researcher, he is experienced problem-solving and maintenance of multiple pieces of equipment and have experiences coding in Matlab and Visual 3D.
"I look forward to learning more about each lab that MOVAN operates and to keep thinking of new ways to increase services for our current and future users."
---
REGISTER TODAY: MAY 18-22, 2022
The 3rd Annual Great Plains Biomechanics Conference and the 7th Annual Human Movement Variability Conference


FREE STUDENT REGISTRATION
This year's conferences will offer a hybrid format and have both an in-person and a virtual component. This will be a two-day event plus one virtual day and pre-conference workshops. You can attend the meeting in Omaha or from far away!
Featuring Keynote Speakers (Updated):
Great Plains Biomechanics Keynote Speaker: Dr. Veerle Segers, Ghent University of Belgium
Human Movement Variability Barry T. Bates Keynote Speaker: Dr. Jaap Van Dieen, VU Amsterdam
Activity Schedule overview:
Tours of the BRB, socials, keynote presentations, poster and podium presentations and awards
Pre-Conference Workshops, May 16-17, 2022:

Phase Space Reconstruction, Measure Phase Space Dynamics, Measures of Uncertainty, Fractals and Multifractals

Virtual Poster Presentations, presented by Podium
Livestream for keynote and podium presentations
---
STORIES
2021 UNeMed Innovation Awards: MOVAN Core wins award for Most Promising New Invention: Improved Self-Pacing Treadmill
Since the inception of the Most Promising New Invention awards in 2008, this is the first-time researchers from UNO have won this award!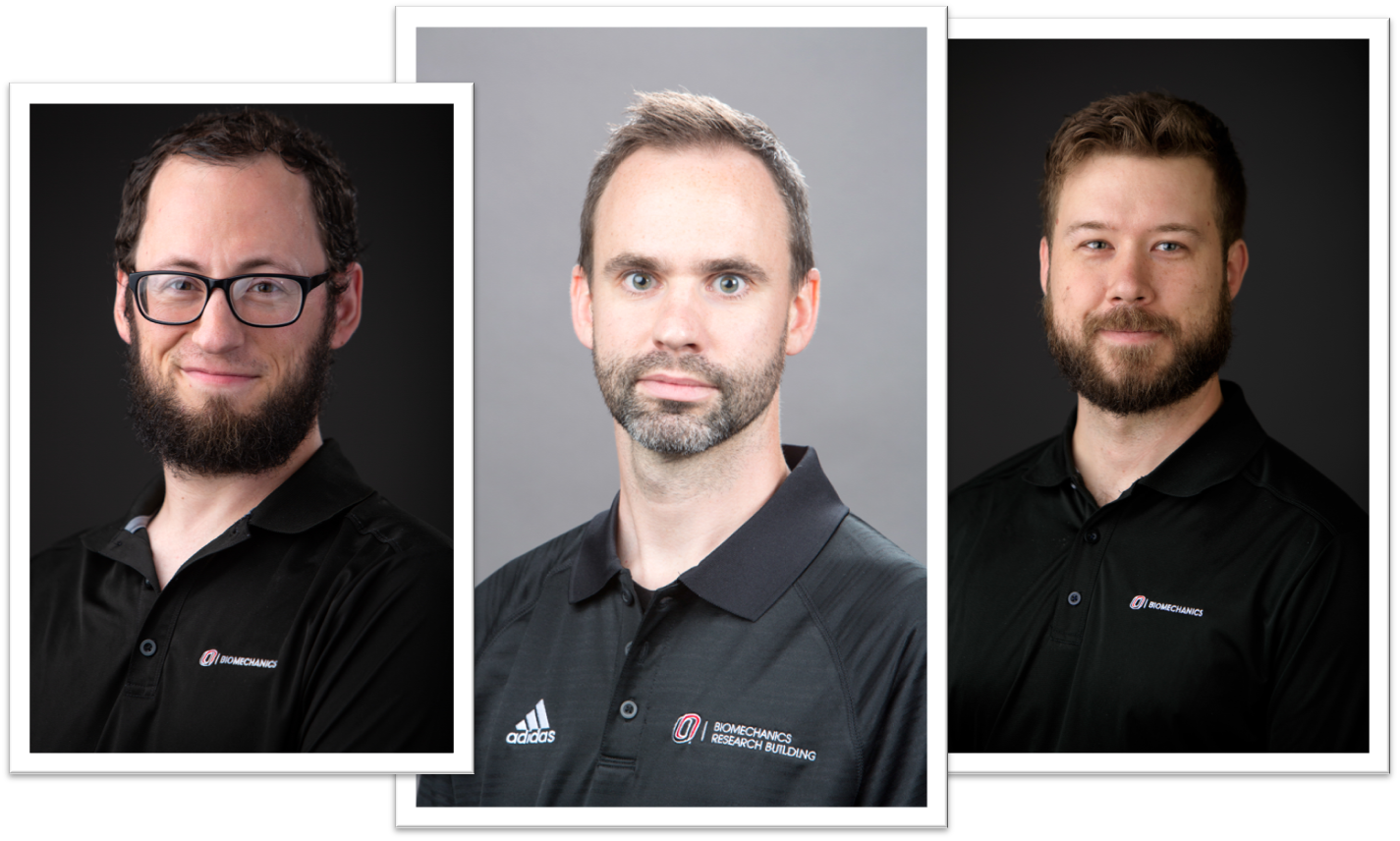 The following story is provided by the UNeMed awards:
The Most Promising New Invention of 2021 is a brilliant twist on an old concept. The device is a self-pacing treadmill developed by Brian Knarr, PhD, Travis Vanderheyden and Russell Buffum at the University of Nebraska at Omaha's biomechanics facility.
The improved self-pacing treadmill is patent pending, and Impower Health, a new startup, has licensed the technology. With the support of UNeMed, UNeTech, and Proven Ventures—a Burlington Capital Fund—Impower Health looks to revolutionize the common treadmill with equipment that adjusts its speed to the runner, not the other way around.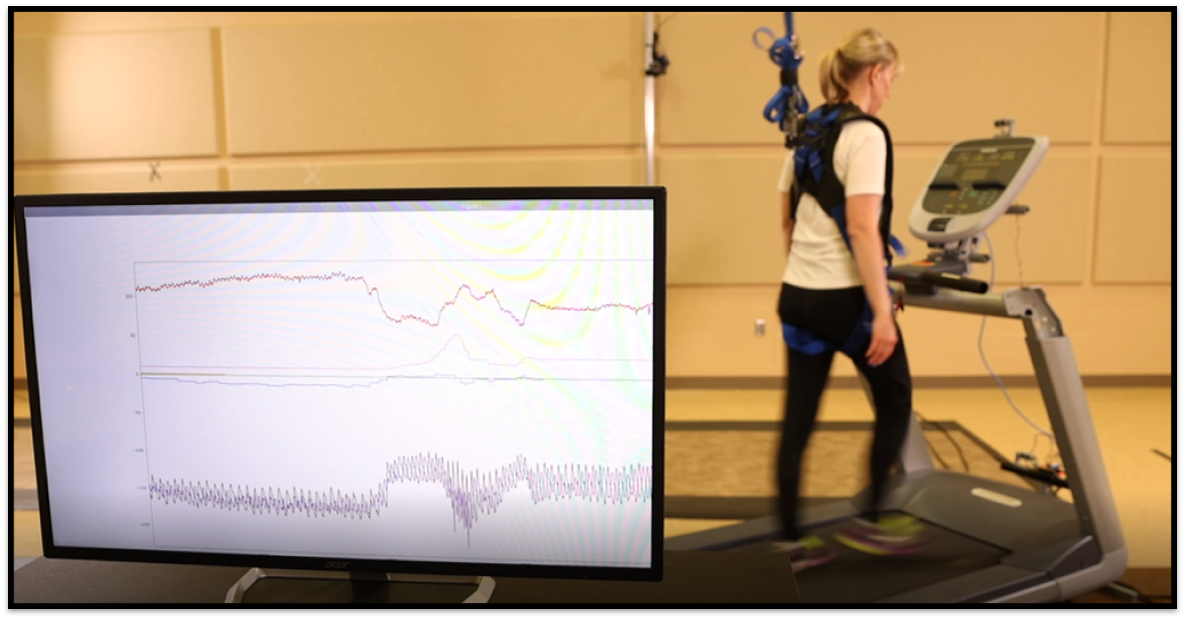 Whether a user wants to run, walk, or trot, the treadmill adjusts to the user's pace, without needing any other input. In speeding up or slowing down to match a runner's speed, the new treadmill will make home and gym workouts safer and more realistic.
The remarkable innovation originally began as an algorithm created that three biomechanics graduate students created in the summer of 2016: Will Denton, Casey Wiens, and Molly Schieber, currently an MD-PhD candidate at UNMC. They developed and successfully demonstrated a robust algorithm, but the project stalled there.
Five years later, Dr. Knarr and his team resuscitated the project, re-writing the algorithm to work with a new sensor array, and creating a module to make the technology work on pre-existing treadmills. The new work sparked additional funding from the University's startup incubator, UNeTech, and keen interest from Doug Miller, a biomedical engineer and former executive at Life Fitness, perhaps the world's most popular and recognizable exercise equipment company.
---

Seminar Series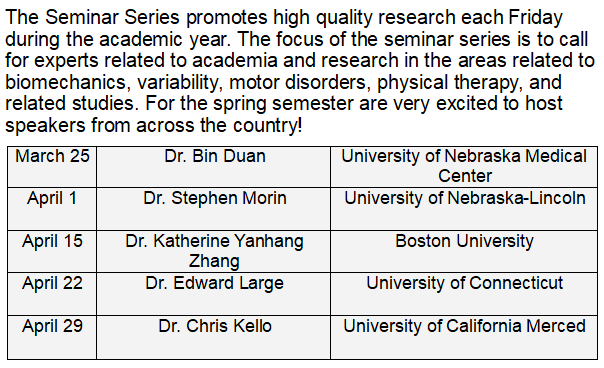 ---

RESEARCH CORE EQUIPMENT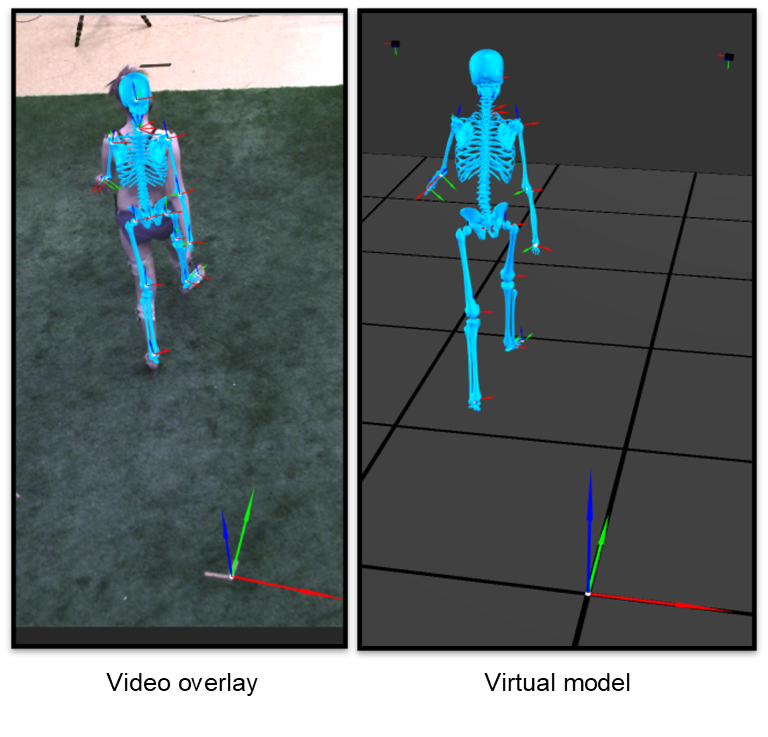 Migus Hybrid Cameras from Qualisys
Main Gait Lab now has 8 Miqus Hybrid cameras from Qualisys that can record marker or markerless motion capture. They have these dual modes that makes them very attractive to investigators. This equipment has enabled MOVAN to expand our markerless motion capture capabilities as clinical patients undergoing motion capture in our Main Gait Lab. They can walk into the smaller sport biomechanics volume and get synchronous marker/markerless recordings with only 1 set-up.
---

RESEARCH CORES
Machining and Prototyping Core
Dr. Brian Knarr, Core Director
Contact: bmchmpcore@unomaha.edu
The Machining and Prototyping Core Facility involves the use of three major facilities within the University of Nebraska at Omaha Biomechanics Research Building: The Machine Shop, Design Studio, and the 3D Printing Laboratory. The most basic function of the Core is to provide services that utilize these spaces and their personnel and equipment. These services are for professional in the University of Nebraska system, the local area, but also to people outside our state to progress their research or other projects. This core can design, prototype, manufacture and repair, maintain, or install a wide range of devices and instrumentation.


Movement Analysis Core
Dr. David Kingston
Contact: bmchmovan@unomaha.edu
The Movement Analysis Core provides resources, education, advisement and services related to the analysis of human movement. Equipment such as motion capture, dynamometry, electromyography (EMG), electroencephalography, functional near-infrared spectroscopy, virtual reality and high-speed digital video are provided. Contact the core for a comprehensive PDF of our facilities, resources and services.


Nonlinear Analysis Core
Dr. Aaron Likens, Core Director
Contact: bmchnonan@unomaha.edu
The Nonlinear Analysis Core provides resources and services necessary for innovative analysis of human movement. These methods go beyond averages by looking at the time-varying characteristics of a time signal. The Core provides access to a multitude of nonlinear analysis tools, assistance in experimental design, data processing, quality assurance, interpretation and dissemination. The Core is also actively exploring and validating new techniques and algorithms for future use. In addition to our nonlinear methods, standard analyses can also be performed.
Contact Us
If you have a story idea, news tip or inquiry please contact us at: